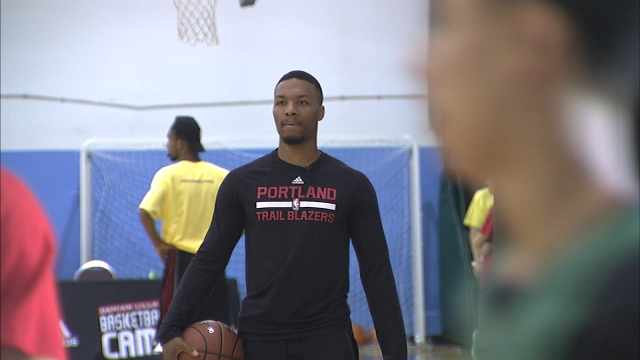 Damian Lillard (KPTV file image)
PORTLAND, OR (KPTV) -
Damian Lillard's rap concert at the Crystal Ballroom is open to all ages.
That, however, is not what the All-NBA point guard for the Trail Blazers had in mind for his first show.
Lillard tweeted Friday that he just found out tickets for the July 15 show were sold to people of all ages.
"My intent was for it to be an 18+ show," Lillard wrote.
Lillard, who performs under the stage name Dame D.O.L.L.A., said that some of his opening acts have "strong lyrics" in their songs.
In taking to Twitter on Friday, Lillard said he just wanted to let parents know that the show was not necessarily designed with children in mind.
The show, which is on Lillard's birthday, is sold out. A quick check of secondary ticket seller Stubhub.com on Friday showed three tickets available starting at $115 each.
The tickets have a face value of $15.
Copyright 2016 KPTV-KPDX Broadcasting Corporation. All rights reserved.