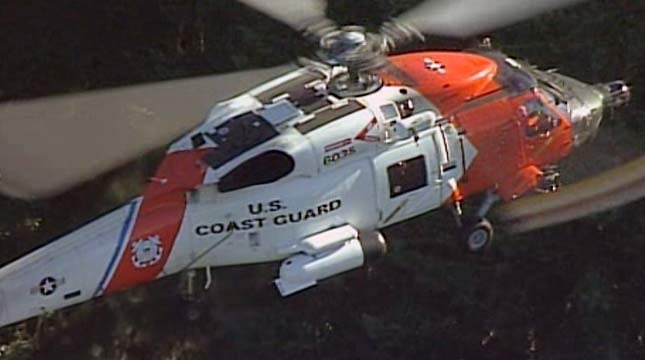 U.S. Coast Guard helicopter (file image)
NORTH BEND, Ore. (AP) - The Coast Guard has rescued a 52-year-old man who appeared to be experiencing a heart attack 34 miles west of the Umpqua River.
An aircrew aboard an MH-65 Dolphin helicopter from Air Station North Bend rescued the fisherman at 4:30 p.m. on Friday. They took him to emergency medical personnel waiting at North Bend Airport.
Watchstanders at Coast Guard Sector North Bend received a call for help at about 3 p.m. after a crewmember aboard the fishing vessel Clipper III collapsed.
Dolphin rescue helicopter pilot Lt. Wesley Jones says their aircrew and first responders worked together to get the man the care he needed.
The fisherman was taken to Bay Area Hospital in Coos Bay. His condition was not immediately known. His name was not released.
Copyright 2016 The Associated Press. All rights reserved. This material may not be published, broadcast, rewritten or redistributed.