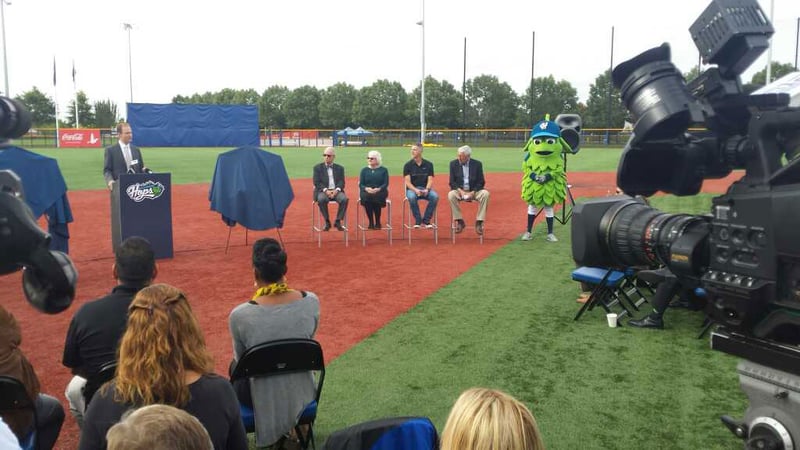 The Hillsboro Hops announced Wednesday that the team will host the 2017 Northwest League versus Pioneer League All-Star Game and events. (KPTV)
HILLSBORO, OR (KPTV) -
Baseball fans will have a new event to put on their calendar for 2017.
The Hillsboro Hops announced Wednesday that the team will host the 2017 Northwest League versus Pioneer League All-Star Game events on July 31 and August 1 of next year.
During the two days, fans will be able to attend festivities including a home run derby, Fan Fest and the game itself on August 1. A full schedule of events will be released later this fall.
Team officials said the game between the two Single-A leagues will showcase players from 16 teams representing 14 major league clubs.
"We are proud to be hosting baseball fans from across this region at the 2017 Northwest League versus Pioneer League All-Star Game in Hillsboro," Hops Vice President and General Manager K.L. Wombacher said in a release. "Our passionate fans, state-of-the-art ballpark Ron Tonkin Field and the City of Hillsboro will make Hillsboro a great location for the two days of festivities."
In addition to the All-Star Game announcement, the team also shared the 2017 schedule, which kicks off on the road June 15 in Everett before the home opener June 20 against Salem-Keizer.
While the team is looking ahead to these events next season, the Hops begin their playoff season Wednesday night. Hillsboro hosts the Eugene Emeralds in Game 1 of a three-game series starting at 7:05 p.m.
Copyright 2016 KPTV-KPDX Broadcasting Corporation. All rights reserved.