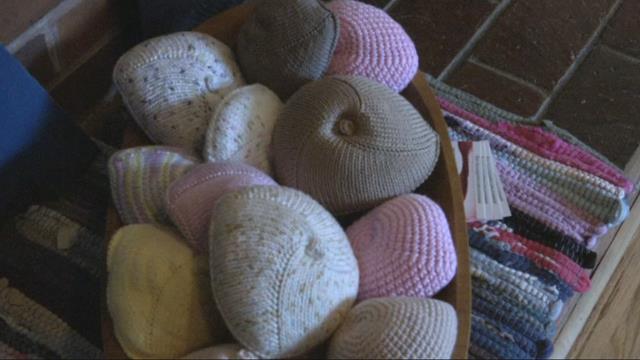 GLADSTONE, OR (KPTV) -
A group of local women are determined to give back what cancer has taken.
With the goal of making breast cancer survivors feel confident, volunteer Pam Anderson knits and crochets at least one breastform a month. She's one of many women nationwide who volunteer for the Facebook group "Awesome Breastforms."
Anderson says silicone prosthetics cost around $500. The group creates colorful cotton alternative breastforms for free. They are designed to be a lightweight, more comfortable option for women with mastectomies. Volunteers say it's a topic that hits close to home.
"I watched the disease progress for over 15 years with my mom. It started as a simple lump in her breast. That showed me how aggressive it is. It's a horrible disease. I couldn't think of a better way to give back and honor my mom than to do something for other women who are in need," Anderson said.
Each Awesome Breastform comes with a size adjustable stuffing pocket and a concave that keeps the material from irritating scar tissues. The group also create swimforms, which withstand water.
"To help women feel like women again. That's irreplaceable. To be a part of something like that is amazing," she said.
Anderson says volunteers have shipped close to 4,000 Awesome Breastforms worldwide since the group started last year.
To learn more about the project, or to order a free breastform for yourself or a loved one, visit AwesomeBreastforms.org.
Copyright 2016 KPTV-KPDX Broadcasting Corporation. All rights reserved.