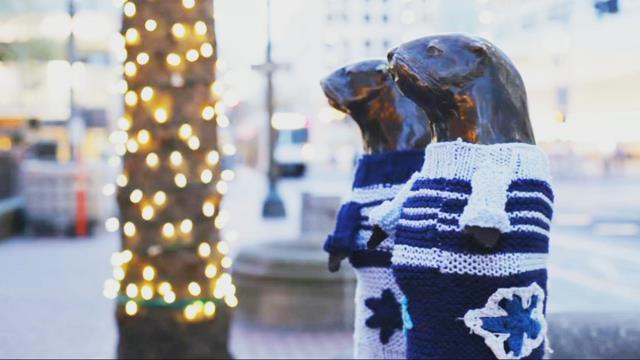 PORTLAND, OR (KPTV) -
Nothing says the holidays are here than the traditional ugly sweater. That's why some Portland artists have yarn bombed statues throughout downtown, hoping to launch us all into the holiday spirit.
"We're Portland. We always joke that Portland says put a bird on it. Well, downtown we say put a sweater on it. It's sweater weather. Everyone loves wearing them so why not get our statues in on it," said Portland Business Alliance Program Director Lisa Frisch.
Each year the Portland Business Alliance hires artists to decorate statues. Jessica Devries is part of a team that crochets and knits everything from ugly sweaters to bright holiday beards. If you're walking through Pioneer Courthouse Square, you can't miss the decked out Allow Me statue.
"It's my favorite part, being down here and being able to see how it affects people in a positive way," Devries said.
Artists rotate outfits on a number of characters throughout the holidays. Snap a picture of you and the statues in your ugly sweater, and tag Ugly Sweater PDX for a chance to be featured on its Instagram page.
Copyright 2016 KPTV-KPDX Broadcasting Corporation. All rights reserved.