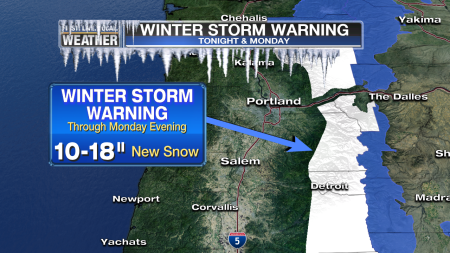 PORTLAND, OR (AP) -
Weather forecasters say the Portland metro area will be drenched with rain thanks to a winter storm moving over the Cascade Range.
The National Weather Service says a chilly Monday morning will have a 70 percent chance of rain showers, mostly before 5 p.m. The likelihood of rain drops in the evening and some areas might be foggy after 11 p.m.
The weather service says the system is dumping snow on the Cascades, where people can expect up to a foot of snow by Monday night. The service says winds aren't strong enough for a blizzard warning, but there could be blizzard-like conditions.
The NWS also issued a winter weather advisory for much of the region just outside the central Oregon cities of Bend, Redmond, Madras and Prineville.
For the latest updates on weather in the area, download the FOX 12 Weather app.
Copyright 2016 The Associated Press. All rights reserved. This material may not be published, broadcast, rewritten or redistributed.