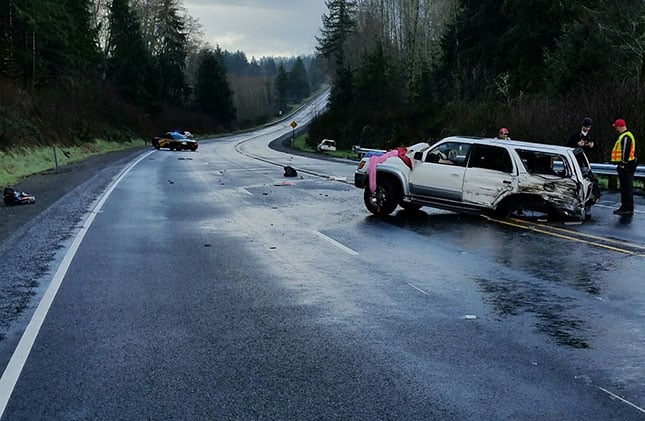 (Photo: Oregon State Police)
CLATSOP COUNTY, OR (KPTV) -
A driver who was outside his car after a crash in Clatsop County was killed when another driver hit him.
Oregon State Police say the incident occurred at about 10 a.m. Saturday on Highway 30, about 15 miles east of Astoria.
Preliminary investigation revealed that a Toyota 4Runner and a Honda Odyssey were involved in a minor crash on Highway 30 due to icy conditions.
The occupants were outside their vehicles standing on the highway when a Subaru Legacy lost control on the icy highway and hit the Toyota 4Runner. 59-year-old Edward C. Carlson of Long Beach, Washington was standing outside that vehicle when he was struck by the Toyota and the Subaru. Carlson was pronounced dead at the scene.
Another occupant of the Toyota was also hit by at least one vehicle while standing on the roadway. She was taken to a hospital with life-threatening injuries.
The driver of the Subaru was not injured. The occupants of the Honda received minor injuries from the initial crash with the Toyota.
Copyright 2016 KPTV-KPDX Broadcasting Corporation. All rights reserved.