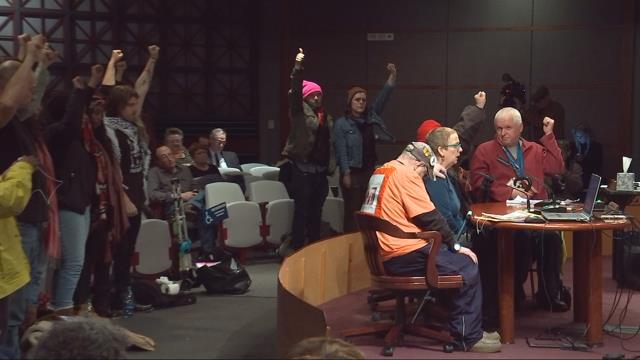 PORTLAND, OR (AP) -
Protests seem to be a way of life in Portland, but the new mayor may be challenging that idea.
The City Council approved an emergency ordinance Wednesday that would allow the city to eject disruptive protesters and ban them from council chambers for up to 60 days in some cases.
The commissioners voted unanimously after months of raucous protests that they say have shut down meetings, disrupted business and prevented others from testifying.
The ordinance is being called unconstitutional by the American Civil Liberties Union and by protesters, who tried to shout down the commissioners as they voted.
Mayor Ted Wheeler says the provision allowing people to be banned from the council chambers won't be used until a federal court rules on its constitutionality.
Copyright 2017 The Associated Press. All rights reserved. This material may not be published, broadcast, rewritten or redistributed.