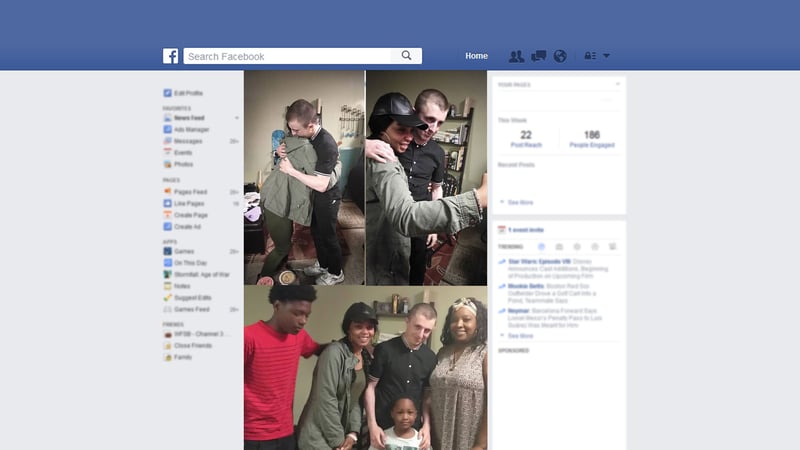 PORTLAND, OR (KPTV) -
New photos are showing the emotional reunion of two of the survivors of the deadly stabbing attack on a Portland MAX train last week.
Dyjuana Hudson posted a series of pictures to her Facebook page late Wednesday night showing the meeting between her daughter Destinee Mangum and Micah Fletcher, the PSU student who was stabbed while defending her daughter.
Writing that she finally had the opportunity to "meet one of the angels that saved my daughter's life," Hudson called Fletcher "one of the best genuine hearted people you will ever meet," adding that her daughter was very happy to meet him and that she made him a shirt in thanks.
Hudson ended the note calling Fletcher one of the family's heroes and adding the hashtag #MICAHWELOVEYOU.
Mangum and a friend were on the train last week when police say 35-year-old Jeremy Joseph Christian began yelling hate-speech filled insults and threatening them.
Fletcher, along with 53-year-old Ricky John Best of Happy Valley and 23-year-old Taliesin Myrddin Namkai Meche of southeast Portland, stepped in to stop Christian, who then attacked the men with a knife. Best and Meche died from injuries in the attack.
In a video posted Wednesday, Fletcher asked the public to keep Mangum and her friend the focus of the discussion of the attack. Fletcher asked the public to consider donating to a YouCaring campaign created to help the two girls. As of Thursday morning, the campaign has raised over $71,000. Fletcher's Facebook video has been viewed nearly 380,000 times in 21 hours.
Copyright 2017 KPTV-KPDX Broadcasting Corporation. All rights reserved.