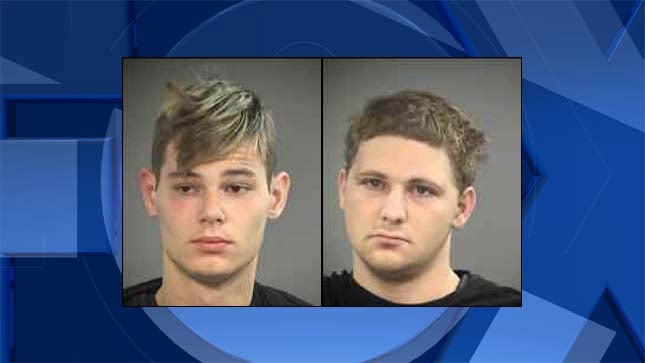 Gavin MacFarlane and Russell Jones, jail booking photos
MEDFORD, OR (AP) -
Police in southern Oregon arrested a 15-year-old girl in the killing of her father, and two men are also charged in the death.
Medford police said Tuesday they believe 50-year-old Aaron Friar was killed with a weapon while he was sleeping. They say his daughter and two men - 22-year-old Russell Jones and 19-year-old Gavin MacFarlane - then stole his vehicle, using it to haul the body to a dirt embankment.
Investigators recovered Friar's body Monday afternoon. An autopsy is pending.
Police say Friar's daughter has been in a sexual relationship with MacFarlane. Detectives believe that caused tension between the couple and the father.
The girl, identified by police as Ellen Friar, is facing Measure 11 charges in this case.
MacFarlane, Jones and Ellen Friar have been charged with murder, robbery and tampering with evidence. MacFarlane is also charged with third-degree rape.
The men were booked into the Jackson County Jail. The girl was lodged at a juvenile detention facility.
Copyright 2017 The Associated Press. All rights reserved. KPTV-KPDX Broadcasting Corporation contributed to this report.