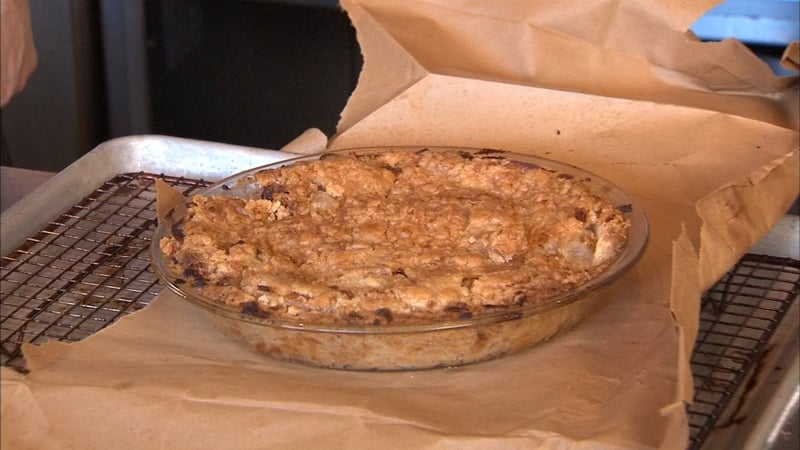 When it comes to Thanksgiving desserts, are you someone who passes on the pumpkin pie? Well, you don't have to miss out this year.
Good Day Oregon anchor Shauna Parson has a brown paper bag apple pie can be whipped up in a flash.
Shauna and chef Jason Roberts of the southeast Portland hotspot Rue put together this delicious dessert in no time flat.
Easy Brown Bag Apple Pie
Crust:
l 1/2 c. flour
2 TBSP cold milk
1/2 c. vegetable oil
1 tsp salt
1 1/2 tsp. sugar
Stir until well blended. (It will be a little oily) Press into bottom and sides of an UNGREASED glass pie pan.
Filling:
7 c. peeled and sliced Granny Smith apples
4 tsp. lemon juice
2 tsp. water
Mix liquid together and sprinkle onto apples. This will keep them from browning, and also help the dry
ingredients to stick.
Next, mix:
2 TBSP flour
1/2 c. sugar
1/2 tsp. cinnamon
1/4 tsp.nutmeg
Toss apples in dry mixture until coated. Then place in pie dish.
Topping:
3/4 c. flour
3/4 c. butter
3/4 c. sugar
Mix with pastry blender until crumbly, and sprinkle over top of apples.
Slide pan into brown paper bag, and seal bag shut. (Best option: stapler)
Bake at 400 degrees for one hour. Remove from bag to cool.
Copyright 2017 KPTV-KPDX Broadcasting Corporation. All rights reserved.