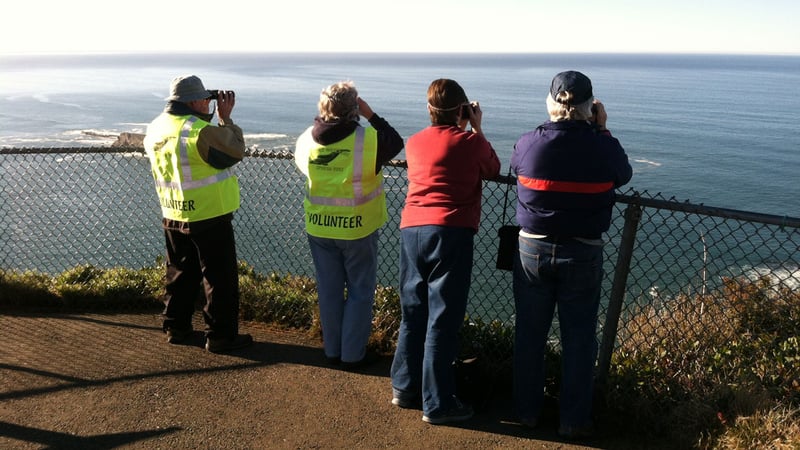 (courtesy Oregon Parks and Recreation Dept.)
DEPOE BAY, OR (AP) -
State Parks and Recreation officials say this week is an excellent time to see whales on the Oregon coast.
Ranger Luke Parsons from the Whale Watching Center in Depoe Bay says an estimated 20,000 gray whale are traveling south from Alaska to warm lagoons off the coast of Baja, Mexico.
The parks department marks its annual whale-watching week by designating 24 "Whale Watching Spoken Here" sites that offer the best viewpoints. Volunteers staff the sites from 10 a.m. to 1 p.m., offering viewing tips and facts about whales.
"Whales are a special part of the Oregon coast," OPRD ranger Luke Parsons said. "Nearly 20,000 people visit our whale watch sites each winter and are educated by our excellent volunteers. I hope visitors walk away feeling a little more connected to these animals, along with a greater appreciation of our oceans."
There are yurts and cabins for camping at state parks along the coast, Visitors can go to OregonStateParks.org for more information and to make reservations.
Whale-watching week began Wednesday and ends Dec. 31.
Copyright 2017 The Associated Press. All rights reserved. This material may not be published, broadcast, rewritten or redistributed.