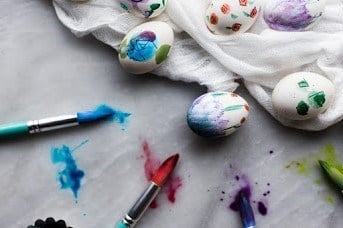 PORTLAND, OR (KPTV) -
Easter is just days away, and this year, MORE really wanted to impress the Easter Bunny. That's why we called in one of our favorite Oregon food bloggers, Karlee Flores. Karlee is behind the blog and Instagram account, Olive & Artisan, where she shows off her delicious, drool-inducing meals and desserts. She came up with an easy way to watercolor eggs and turn them into Insta-worthy works of art.
All you need to make these are hard-boiled eggs, distilled white vinegar, paint brushes, and either a Sharpie or an edible color marker.
If you make these eggs, be sure to post them online and use #MOREEasterEggs so we can see them!
Once you're done with the Easter egg hunt, be sure to use Karlee's recipe for "Beet Pickled Deviled Eggs with Caramelized Shallots." You can find that recipe here: https://www.oliveandartisan.com/beet-pickled-deviled-eggs-with-caramelized-shallots/
And don't forget to follow Karlee on Instagram! https://www.instagram.com/oliveandartisan/
Copyright 2018 KPTV-KPDX Broadcasting Corporation. All rights reserved.