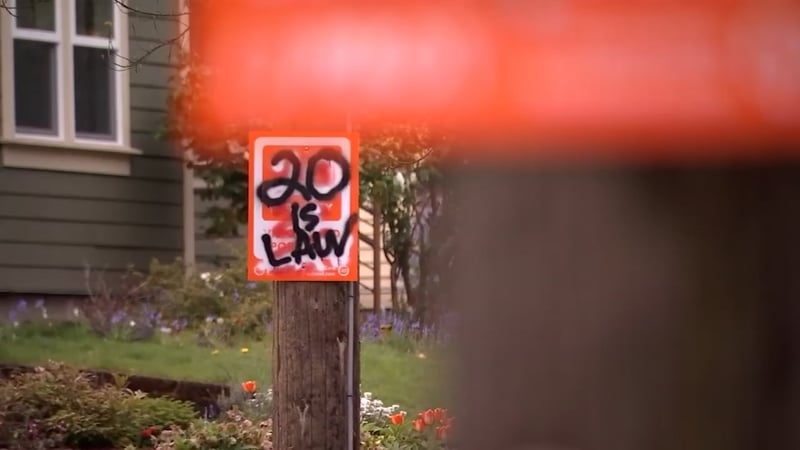 Image: KPTV
PORTLAND, OR (KPTV) -
Vandals in north Portland apparently armed with rattle cans stole and damaged dozens of lawn signs asking drivers to slow down.

Over the weekend people living off North Villard Avenue say they woke up to signs missing or tagged with spray paint.

"Forty of them were stolen," Sandra LaBell said. "The ones that are on the posts were vandalized, spray painted."

LaBell has lived in the neighborhood for 18 years and says over the years cars speeding through the neighborhood has become and increasing problem.

"This is a walking neighborhood, people walk with their dogs." Labell said, "They are not able to get around, people are speeding and won't give them the right of way."

The signs that dot the sides of the streets were among 5,000 handed out by the Portland Bureau of Transportation. They read "20 is Plenty." It's all part of a campaign to get people to slow down on residential streets.

"There is a lot of concern in the neighborhood about the safety," Labell said.

In response to the vandals, the folks on Villard Avenue have painted over the graffiti with their own message that reads "20 is Law."

Portland police say they did take several reports of damaged or stolen signs.
Copyright 2018 KPTV-KPDX Broadcasting Corporation. All rights reserved.