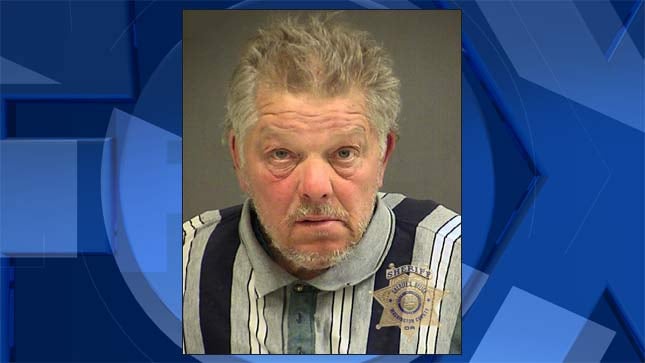 Kenneth G. Lindsey, jail booking photo
HILLSBORO, OR (KPTV) -
Police are investigating broken windows and damaged property at 10 Hillsboro businesses, and a suspect has been arrested in connection with a number of those cases.
Officers responded to Grocery Outlet on the 300 block of South 1st Avenue at 4:31 a.m. Monday. A window on the door was broken and someone went inside the building, but that person was not immediately found.
Officers then discovered other broken windows on nearby buildings.
Kenneth G. Lindsey, 62, was found behind a gas station near South 1st Avenue and Southwest Oak Street at 7:08 a.m. Police said he was in possession of property stolen from Grocery Outlet.
Further investigation linked Lindsey to broken windows and property damage at the Allstate office on the 300 block of Southeast 3rd Avenue, the Gen-X store on the 300 block of South 1st Avenue and the United Financial Office on the 100 block of Southeast 4th Avenue.
Lindsey is currently facing charges including second-degree burglary, first-degree criminal mischief, second-degree criminal mischief and third-degree theft.
Police said, in total, 10 businesses were vandalized in the downtown Hillsboro area.
Anyone with information about this investigation is asked to contact the Hillsboro Police Department at 503-629-0111.
Copyright 2018 KPTV-KPDX Broadcasting Corporation. All rights reserved.