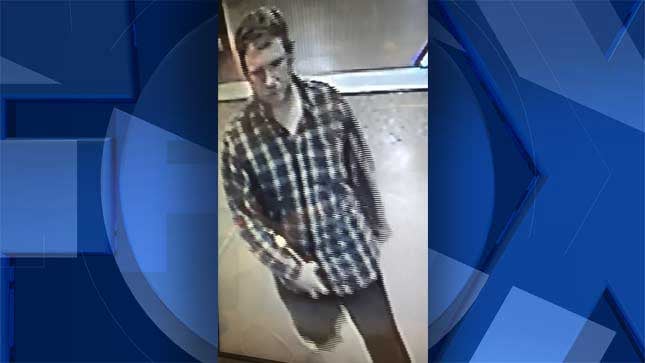 Photo provided by Portland police.
PORTLAND, OR (KPTV) -
Portland police say a suspect is at large after allegedly entering a Portland Fred Meyer with a baseball bat, demanding money and spraying at least one employee with bug spray.
The theft occurred at the Stadium Fred Meyer, located at 100 Northwest 20th Place, the bureau says.
The suspect, a white man in his early 30s, continued to threaten employees after he received an undisclosed amount of cash.
He left the area near the cash registers after a customer wrestled the baseball bat away from him, officers say. No one was hurt.
As the suspect traveled, he dropped the cash, picked up a bottle of wine and left the store.
The man is 5-feet-10-inches tall and weighs around 150 pounds, according to officers. He has brown eyes, red hair and neatly trimmed facial hair.
Responding officers searched the neighborhood near the store but did not locate anyone matching that description.
Anyone with information about this case is asked to call the Portland Police Bureau's non-emergency line at 503-823-3333.
Copyright 2018 KPTV-KPDX Broadcasting Corporation. All rights reserved.