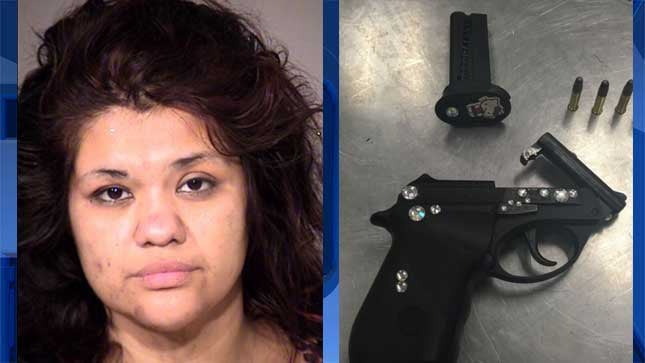 Jacklynn Badroads, booking photo.
GRESHAM, OR (KPTV) -
Gresham police found and returned a stolen gun to its rightful owner earlier this week, but not before a suspected thief made a few stylistic changes to the weapon.
Officers arrested Jacklynn Badroads Monday after her friend, a suspected DUII driver, was found staggering around his car in a Walgreens parking lot and told police there was a warrant out for her arrest.
The suspected DUII driver told police he was visiting the Walgreens at Powell and 182nd with Badroads.
Officers investigated the man's claim and confirmed the woman was wanted on a warrant out of Beaverton Municipal Court.
An officer arrested Badroads and said he spotted a handgun inside her purse bedazzled with jewels and a Hello Kitty sticker stuck to the bottom of the magazine.
The officer says Badroads admitted to being the person who decorated it.
Copyright 2018 KPTV-KPDX Broadcasting Corporation. All rights reserved.