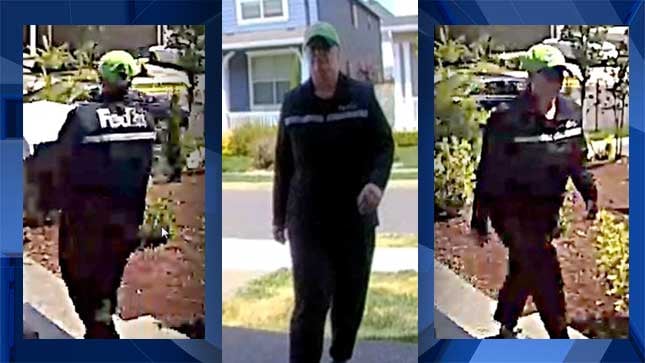 Photos provided by CCSO.
CLACKAMAS COUNTY, OR (KPTV) -
Police and deputies are asking for the public's help identifying a package thief they say impersonated a FedEx employee and swiped packages off residents' front porches.
According to the Clackamas County Sheriff's Office, the thief stole several Amazon packages from a resident's porch in Happy Valley just after 2 p.m. Wednesday.
The resident's home is in the 13000 block of Southeast Kingfisher Way.
Security footage provided by the resident shows a woman wearing a lime-green baseball cap and a jacket embroidered with a silver FedEx logo pull up in front of the home in a newer blue sedan.
The video shows her walks to the porch and grab three to four packages, deputies say.
The suspect drops the packages at the bottom of the porch stairs before loading them into the back seat of the sedan and driving away.
Additional footage provided to CCSO shows the same woman steal a package from a second porch in the 1500 block of Southeast Hidden Falls Drive in Clackamas.
Law enforcement asks anyone with information about this case to call the sheriff's office at 503-723-4949. Anyone who sees the suspect should avoid making contact and call or text 911.