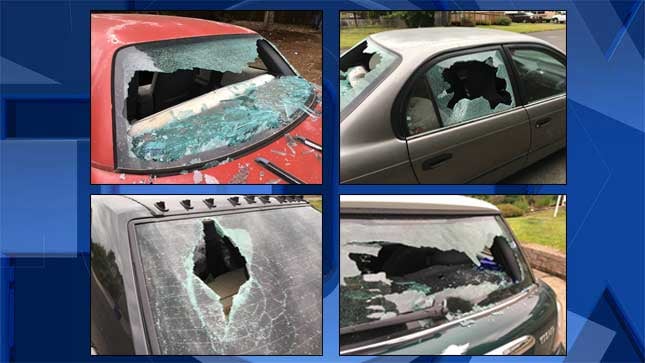 Photos provided by Battle Ground police.
BATTLE GROUND, WA (KPTV) -
Police are searching for a person they say damaged a building and vandalized dozens of vehicles in Battle Ground Friday morning.
Officers say the person went on a "vandalism spree" between 12 a.m. and 5:30 a.m. and damaged 30 vehicles throughout the city.
Many of the vandalized vehicles had smashed windows.
Residents along 12th Avenue, where at least one car was vandalized, say whoever is behind the crimes needs to be held accountable.
"Sounds like a bunch of young punks out having fun, costing people money," Darrell Young, a local resident, said. "It's time to pay the piper if they catch em'."
Battle Ground police are asking for anyone who has seen or heard anything about the crimes to contact them as soon as possible.
They're also asking residents with home surveillance in the areas affected to check their systems for anything suspicious.
The department says those with information should contact Detective Sgt. Kim Armstrong at 360-342-5252 or kim.armstrong@cityofbg.com. Anonymous tips can be reported at www.cityofbg.org/tips.
Copyright 2018 KPTV-KPDX Broadcasting Corporation. All rights reserved.