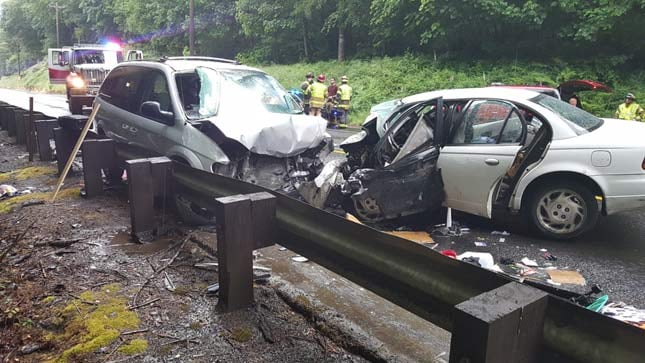 Photo: Oregon State Police
TILLAMOOK COUNTY, OR (KPTV) -
A man died in a head-on crash on Highway 6 in Tillamook County on Sunday.
Emergency crews responded to Milepost 24 at 3:20 p.m. Sunday. Investigators said George Madsen IV, 33, of Tillamook, was driving a 1996 Saturn SL west on the highway when he veered into the oncoming lane and hit an eastbound 2006 Chrysler Town & Country van.
Oregon State Police troopers said it wasn't clear why Madsen went into the wrong lane.
Madsen was pronounced dead at the scene from injuries sustained in the crash.
The 60-year-old woman from Scappoose who was driving the van, along with three passengers – ages 56, 62 and 84 – were taken to Portland hospitals with serious injuries.
Traffic was delayed for four hours on the highway after the crash.
Oregon State Police received assistance at the scene from Tillamook Fire and Rescue, the Tillamook County Sheriff's Office, Tillamook Regional Medical Center Ambulance, Metro West Ambulance and Oregon Department of Transportation.
Copyright 2018 KPTV-KPDX Broadcasting Corporation. All rights reserved.