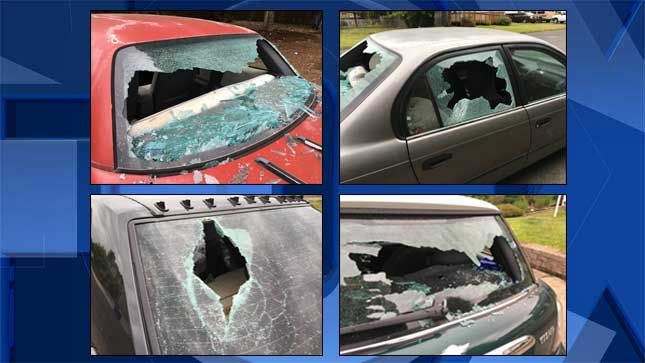 Photos provided by Battle Ground police.
BATTLE GROUND, WA (KPTV) -
Detectives with the Battle Ground Police Department say a video shows persons of interest in a vandalism investigation involving dozens of vehicles.
The department last week asked for the public's help finding a person they say went on a vandalism spree across the city and damaged 30 vehicles and a building.
The crimes occurred Friday, June 8 between 12 a.m. and 5:30 a.m., officers said.
New video obtained by the department captures images of a vehicle and two persons of interest.
Investigators ask residents to watch the video and contact Sgt. Kim Armstrong at 360-342-5252 or kim.armstrong@cityofbg.org if they have any information about the vehicles or its occupants.
Residents can report information anonymously at www.cityofbg.org/tips.
Copyright 2018 KPTV-KPDX Broadcasting Corporation. All rights reserved.