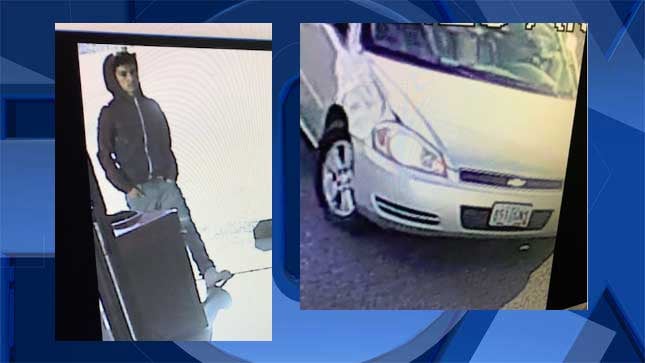 Photos provided by the Umatilla County Sheriff's Office.
UMATILLA COUNTY, OR (KPTV) -
Deputies with the Umatilla County Sheriff's Office say a burglary suspect is at large after walking into a food mart, grabbing an 18-pack beer without paying and then fleeing the scene in a car.
The suspect is described by the sheriff's office as a young Hispanic man.
According to deputies, the theft occurred Saturday around 6:30 p.m. at TAJ Food Mart in the 84000 block of Highway 11.
The sheriff's office says a gas attendant followed the man to a white Chevrolet car with damage to the front passenger side, but stopped when the suspect held a handgun up in the air.
The suspect entered the passenger side of the car. The car was seen leaving the food mart headed toward Milton-Freewater.
The sheriff's office is asking for the public's help identifying the suspect and finding the vehicle.
No arrests have been made and deputies continue to investigate.
Anyone with information should call the sheriff's office's 24-hour dispatch center at 541-966-3651.
Copyright 2018 KPTV-KPDX Broadcasting Corporation. All rights reserved.