From looting and riots to peacefully marching: A look at how Portland protests have evolved over the summer
Updated: Aug. 10, 2020 at 5:20 AM PDT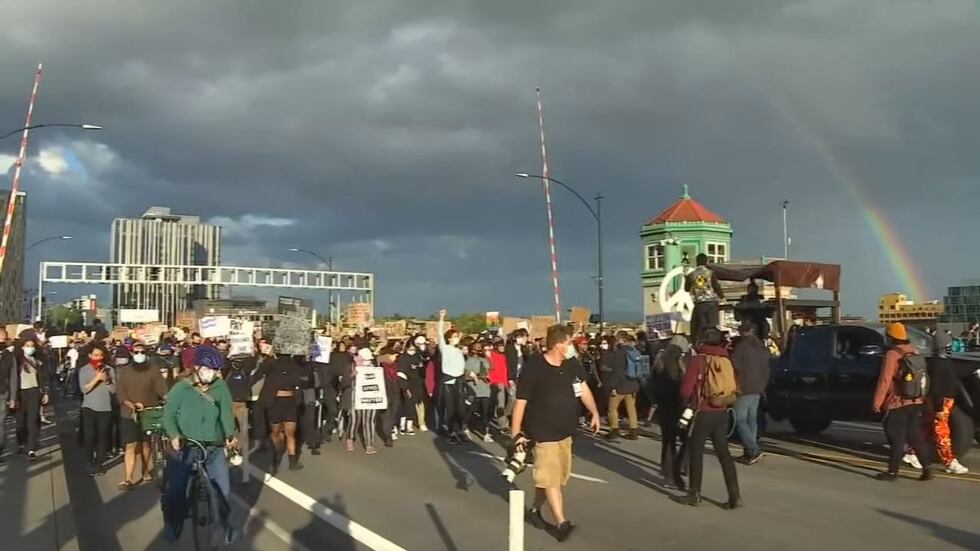 PORTLAND, OR (KPTV) - People have watched Portland protests evolve throughout the summer, ever since the very end of May right after George Floyd's death, from riots and looting to peaceful marches drawing thousands.
Protesters and rioters first took to Portland streets in outrage on May 29 and from there the movement built to defund and change police.
In those first few weeks, there were a handful of young men who became known voices in the local movement, including Xaii Kuu.
"I just wanted to see what Portland could provide for this movement," Kuu said.
New to the city and looking to see all it had to offer, Kuu joined protesters from the very beginning.
"It was pretty amazing, a lot of people turned out it was pretty genuine," said Kuu.
He was one of the protesters in the first few nights who helped pass a megaphone over the fence to Portland Police Bureau liaison officers so protesters and police could communicate.
He was also part of a small group that met with the mayor and then police chief on June 2.
In that month, demonstrators numbered in the thousands often marching over bridges. The group, Rose City Justice, demanded $50 million be removed from the Portland police budget.
There were also smaller crowds late at night who would face-off in violent clashes with officers downtown.
On June 17, the city council moved to cut $16 million from PPB.
Protesters said that wasn't enough. By early July, they were targeting the Multnomah County Justice Center and the federal courthouse.
The Department of Homeland Security said that was why they needed to step in with federal officers, a move that reinvigorated the crowd, brought in groups like the Wall of Moms and put Portland in the national spotlight.
Since those federal officers began retreating with Oregon State Police stepping in, hundreds of protesters have now turned their attention to police union buildings on the east side in what are usually deemed riots.
"I support them but I don't agree, you know, like I go about it a different way but that doesn't mean I can't stand by you or support what you're doing, because I know some people really think they are doing it for my benefit so I support that sentiment and that energy," Kuu said. "I just wish that there was a little bit more focus, a little bit more organization that we all had a clear goal we could all agree on."
And Kuu said this will keep bringing attention to the movement but it will not bring about meaningful change.
"When it comes to reform, I don't think they've accomplished anything," he said of the protests. "We need to mandate and delegate and make that kind of change legislative. We need to make it unconstitutional to be racist, unconstitutional to segregate, unconstitutional to discriminate in any format."
Kuu said back when he was talking with city leaders a few months ago, he received some criticism from other protesters accusing him of being in cahoots with police, but he believes working with leaders and lawmakers is what can really make a difference so he said he's willing to take on that kind of leadership role again.
Copyright 2022 KPTV-KPDX. All rights reserved.