After thunderstorms, flooding displaces some in Clackamas County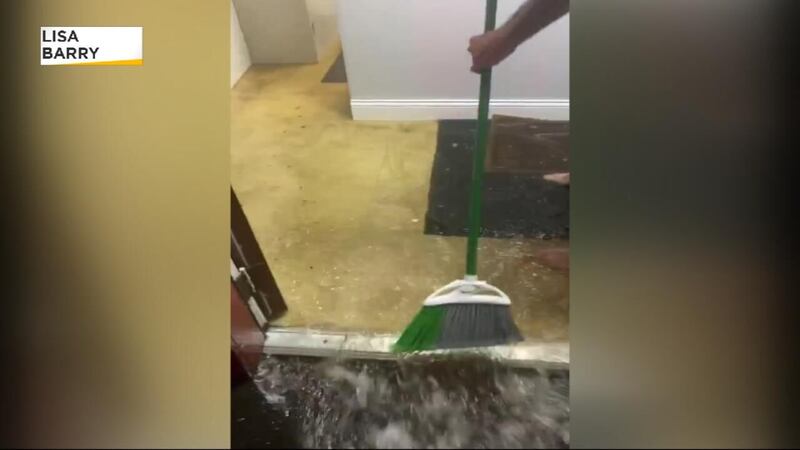 Updated: Sep. 18, 2020 at 12:39 PM PDT
CLACKAMAS COUNTY, OR (KPTV) – While anticipated rain late Thursday night and early Friday morning was a welcome sight to clear smoky skies, the storms also meant flooding for some Clackamas County residents.
The rain hit hard and fast, and with the recent hazardous air, no one has really been working outside to keep storm drains clear – which meant excessive water problems Friday morning.
"3 O'Clock this morning, my daughter hollers at me 'Mom, mom the floor's wet,'" Just Ballew of Gladstone told FOX 12.
"Just as I'm getting up, I see 6 to 8 inches of water coming at me down the hallway and I'm like 'oh my gosh, oh my gosh, I don't know what to do,'" Ballew said.
She is a manager who lives on site at a NW Self Storage facility.
Ballew said water rushed inside – all because of a clogged drain on 82nd drive.
Firefighters had to come and unclog it to get the water to recede.
"This floor here too... It went all the way to the wall. It soaked everything we own. Everything," Ballew said about the water damage in her home.
The flooding really shook up her children.
"They're still crying. I had to have my mom come and pick them up and take them to her house because they're just balling their eyes out."
The floodwater made it into the storage units as well, so Ballew has to call the people who use them.
Flooding also damaged some apartments in Clackamas.
"My living room rug and everything is completely saturated in water… our kitchen back here is all soaked in water as well," Kenya Valencia told FOX 12.
Valencia said she's never heard rain hit the building that hard and then rush in through the doors and windows.
She shared four of her neighbors suffered similar fates in their units.
Valencia said the flooding has convinced her to likely move.
Both Ballew and Valencia said they are now trying to figure out if insurance will cover any of what they've lost and hoping that at least get help from the Red Cross for the next few nights.
Copyright 2022 KPTV-KPDX. All rights reserved.