Another snow-free January in Portland; are snowier Februarys becoming more common?
Published: Feb. 1, 2022 at 9:38 PM PST
Things are back to "normal" this evening. It finally rained this evening in Portland, our first rain in about 10 days, and a mild southerly wind replaced the chilly Gorge wind. The result was Portland's warmest day in over a week as well. We touched 53 this afternoon, a bit warmer than a typical high around 49 this time of year.
A cold front is moving across Oregon & Washington, and much colder air has arrived overhead. This drops the sticking snow level down to around 1,500′ by tomorrow morning. No more inversion with temps in the 20s through the passes. Notice the very low snow level through Wednesday morning. Not quite cold enough for sticking snow in the city, although just scattered showers from this point forward would be a tough way to get sticking snow anyway.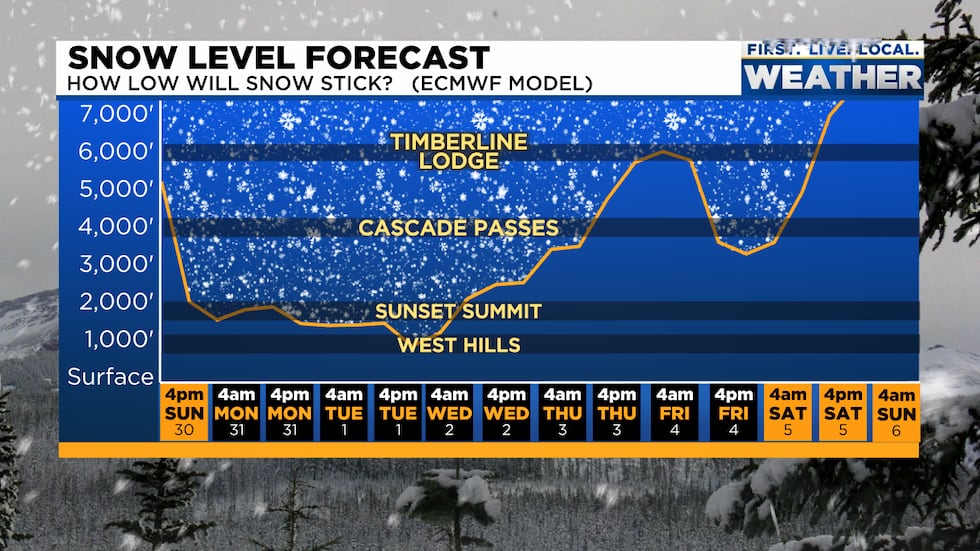 We're overdue for a good snowfall in the Cascades and that happens the next 2 days. 8-12″ next 24 hours then another 6-8″ before we dry out Tuesday evening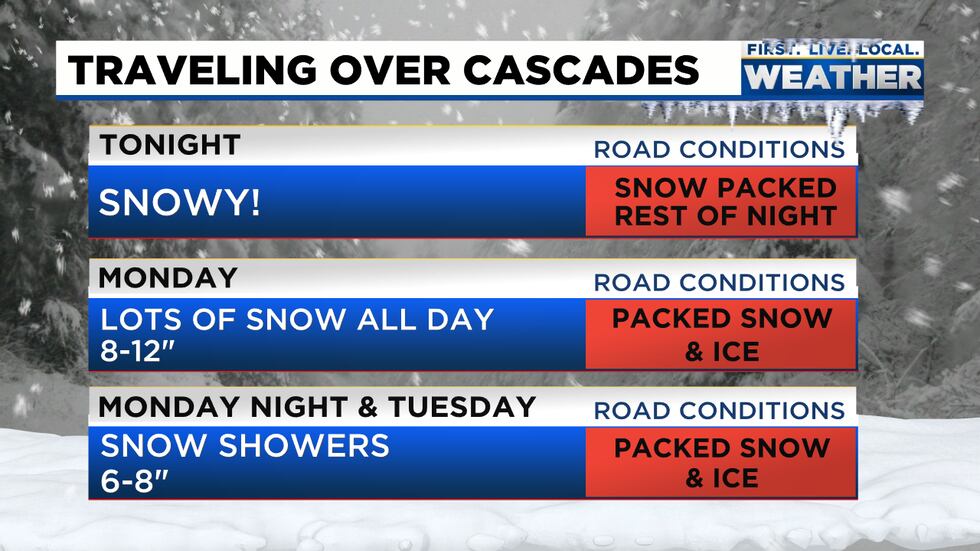 PORTLAND SNOW
Unless something miraculous happens tomorrow, Portland finishes another January WITHOUT measurable snowfall. Last year (January 26, 2021) a trace fell, but not enough to measure. This makes it our 5th consecutive January without snow.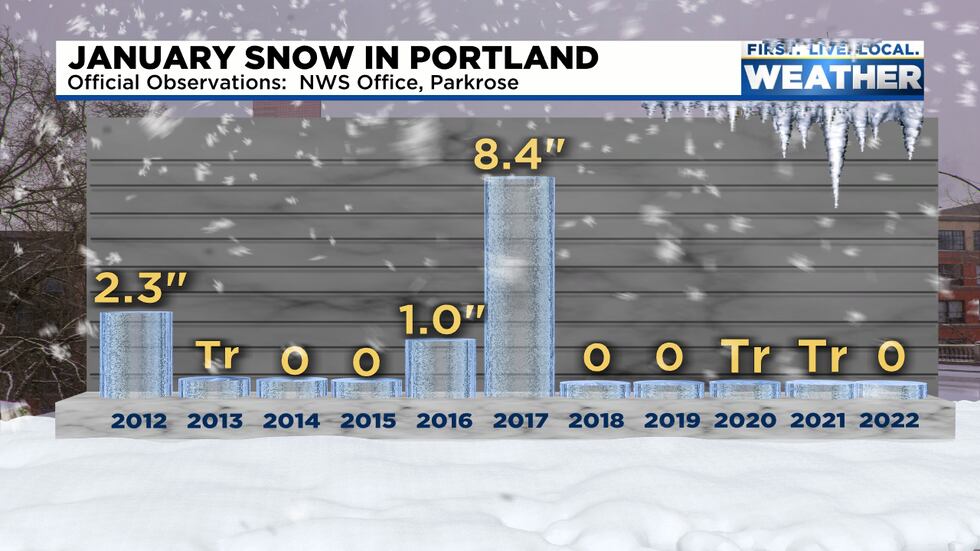 You are thinking "but wait, we've seen lots of snow in February recently haven't we?". That's true. Check out the February numbers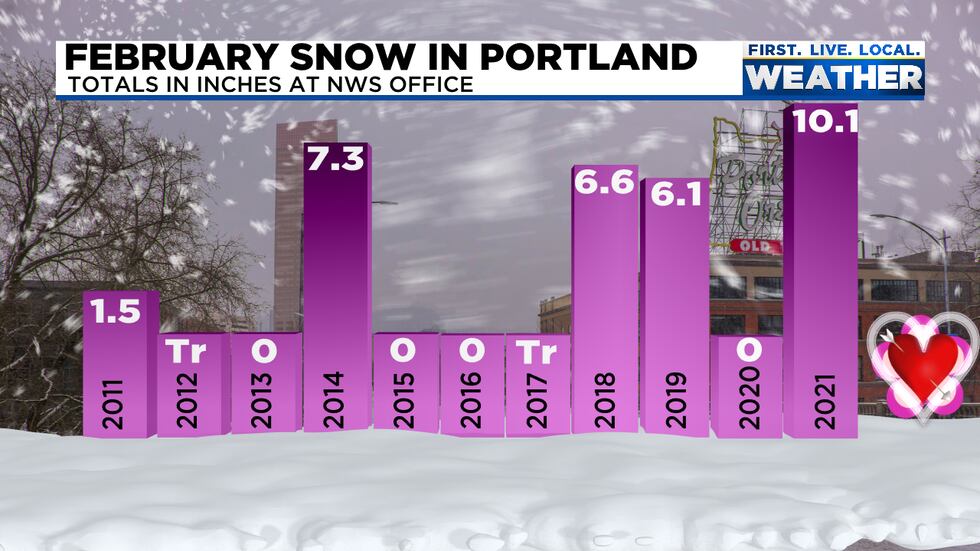 In fact, last February was the 2nd snowiest on record in Portland! It sure DOES seem like we're getting more snow in February, compared to January. PDX records go back a bit over 80 years and I've taken a close look at the numbers. First, numbers for the last 30 years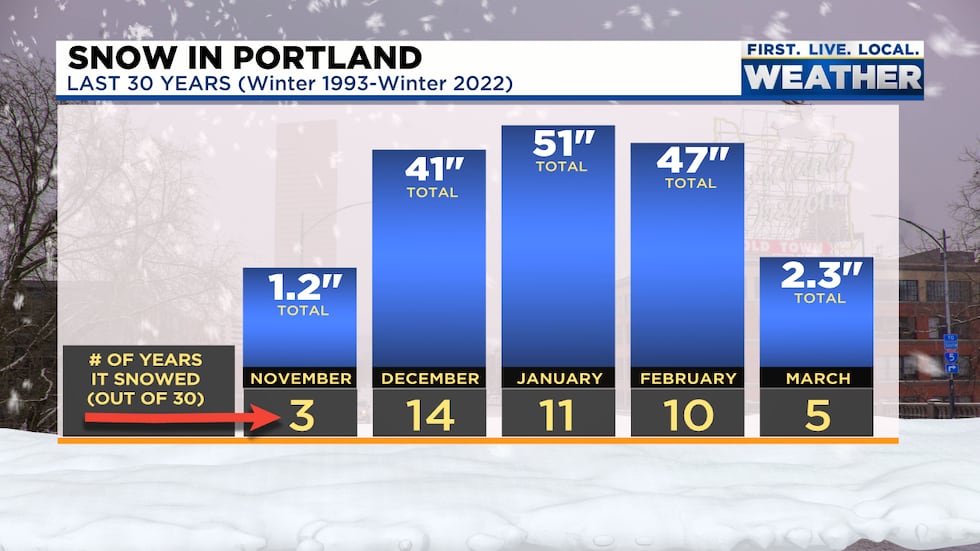 Just so we're all on the same page. The blue bars represent ALL SNOW that fell in the past 30 years in any particular month. Divide that number by 30 and you get our average monthly snow fall. For example, we've seen a TOTAL of 51″ snow in Portland in the last 30 years = we average 1.7″ in any one January. You can add all those numbers up, divide by 30, and find we average between 4-5″ of snow each winter. Not exactly a snowy climate! Most interesting to me is that we are averaging more snow in February than December, and I remember more snow in December growing up in the 70s and 80s. Now look at the bottom row of numbers (in pale yellow). That shows the number of months in which measurable snow was recorded. Example: In 14 Decembers out of 30, measurable snow was recorded in Portland. Not 14 times, just 14 of those Decembers. So the 30 year average says we get snow in about 1/2 of the Decembers. So if you look at the number of months we've seen snow, December & January are still king. That means we've had fewer Februarys with snow, but more of it when it happens. Now look at the previous 30 years: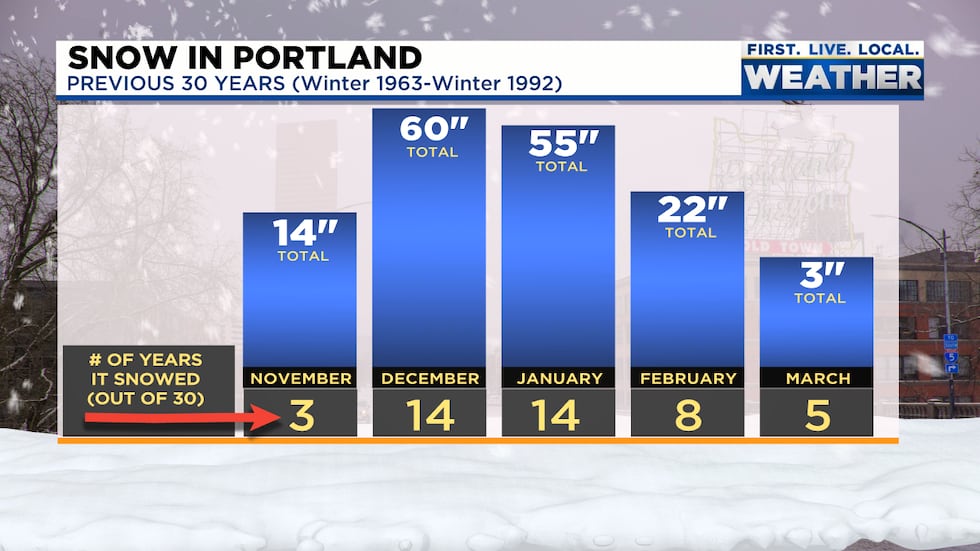 This cuts out the mid 1990s to now. Quite a bit different and more like I remember. More snow AND more months with snow in December/January. Clearly there IS a trend toward more snow in February. Is it a long term trend? We don't know, although I doubt that's the case. With a slowly warming climate one would expect less snow in Portland and that would likely show up on the "margins"...November and late February/March. That may be the case, you notice both of those show less snow. By the way, I've done the 30 year calculations based on the assumption we DON'T GET SNOW THIS MONTH. That way I won't have to recalculate next year if it doesn't snow this year. Any snow in February 2022 will only add to the "late season bias" in snowfall the last decade.
We CAN get snow very late in the season, in March. In fact the 2nd latest on record was right when COVID was first shutting things down 2 years ago. Those snowfalls MOST of the time are light and followed by afternoons in the upper 30s and 40s. They don't shut down the metro area.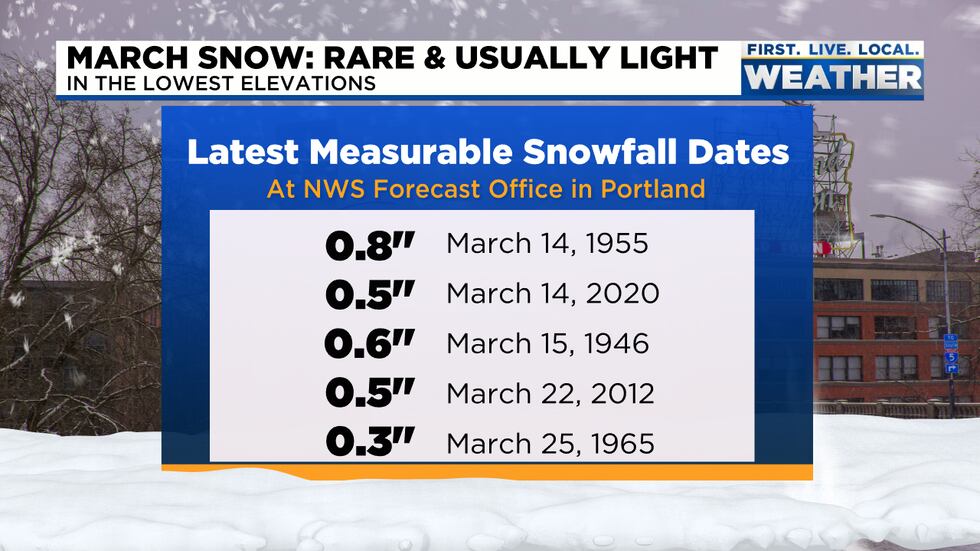 Do I see anything ahead that says we could get snow/cold in early February? Not for now. The mild/dry pattern continues until further notice due to a strong upper-level ridge that wants to remain just off the West Coast...through the next 10 days! This animation shows upper level "anomaly" the next 10 days. Warm colors are higher than normal 500 millibar heights.
You can see the warming trend after midweek in the 15 day ECMWF ensemble chart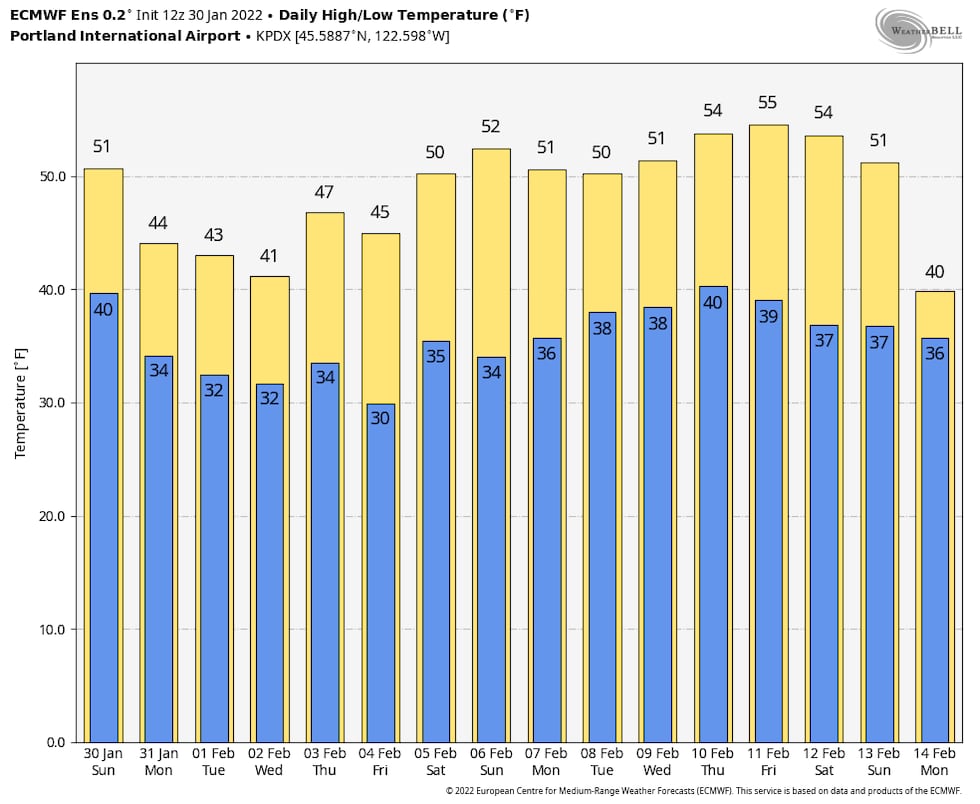 IF that upper ridge were to back up slightly to the west, it COULD allow cold air to come in from the north. That happened in 2018 & 2019. For now models are generally not showing that happening in the first 7-10 days of February. That's it for now...I'll be on TV every evening this week, starting tonight... Chief Meteorologist Mark Nelsen
Copyright 2022 KPTV-KPDX. All rights reserved.