It's official! Oregon & Washington broke/tied all-time record highs during June 2021 heatwave
Published: Feb. 10, 2022 at 9:40 PM PST
Today's big weather news is something that most local meteorologists likely knew or suspected, but it was made official. New state heat records have been set/tied in the Pacific Northwest. An official "Climate Extremes Committee" was formed for both Oregon and Washington. You can find Oregon's report here: including why some even higher numbers didn't make it in. Same thing for Washington here.
During last June's historic heatwave, 1 station in Washington exceeded the old record of 118 degrees. Hanford hit 120 on June 29th.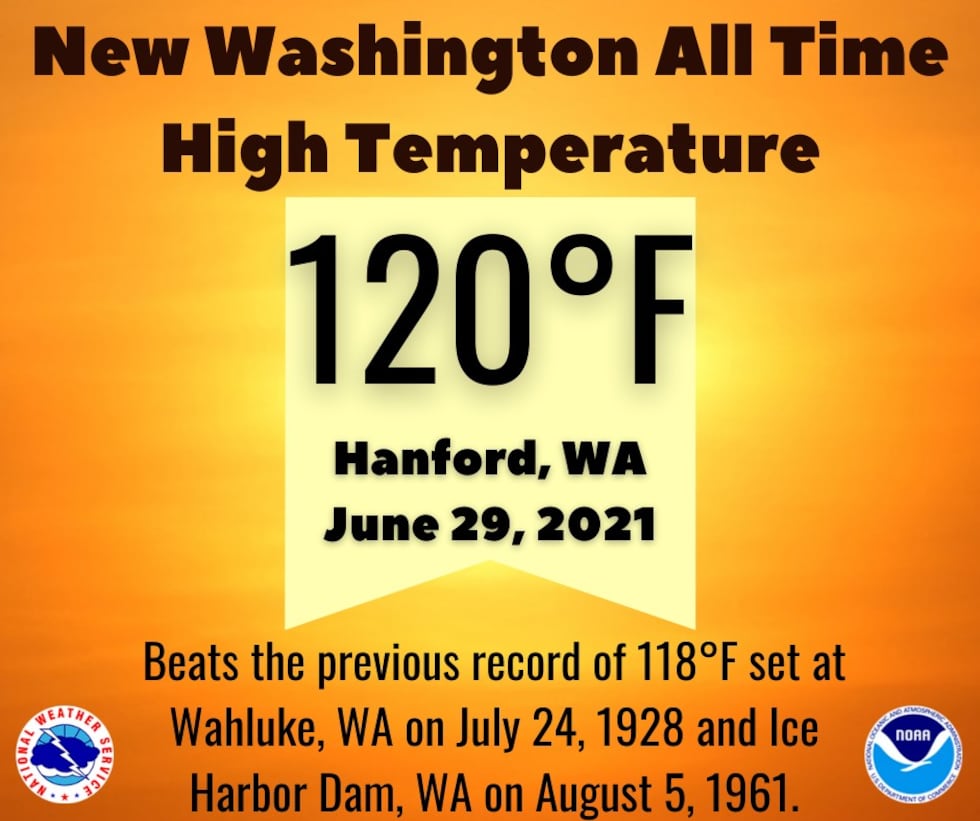 2 stations tied Oregon's all-time record high temperature. It was on the same day that Pelton Dam (between Warm Springs and Madras) and Moody Farms (13 miles downriver on Deschutes river) hit 119.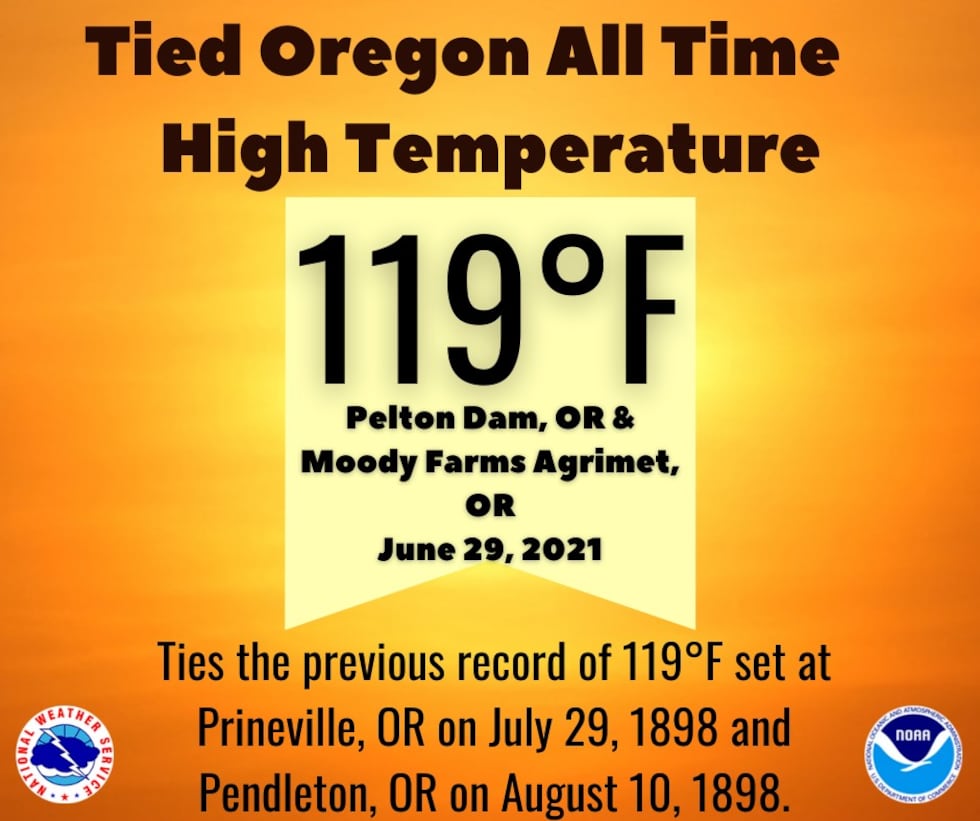 Up until last summer, the all-time Oregon hottest temps looked like this:
Why all the hate for Prineville? More on that in a minute. Putting in last summer's numbers, central/eastern Oregon's all-time hottest look like this.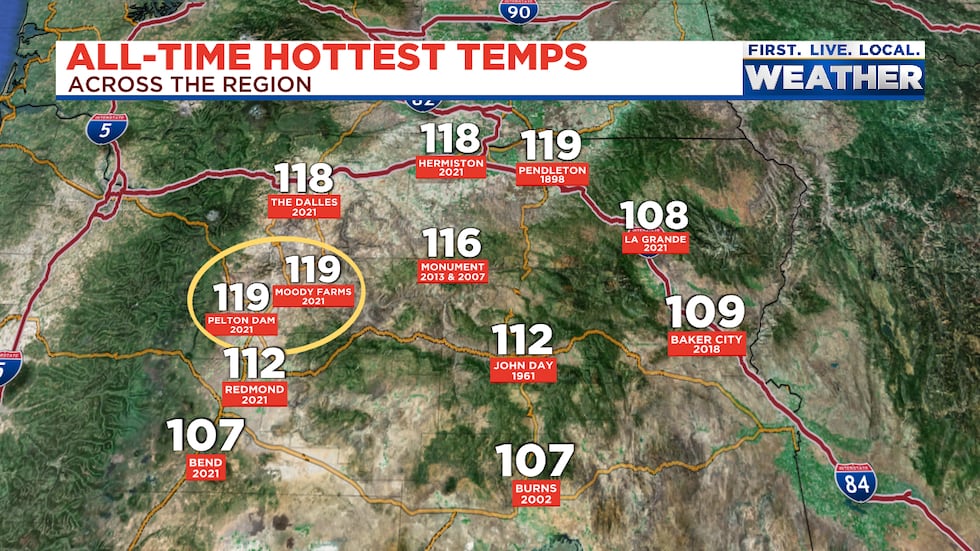 The Dalles and Hermiston hit 118. An important, often overlooked point, is that "The Dalles" in this case is at The Dalles Airport, which is in Dallesport WASHINGTON just across the river. At the official The Dalles observing spot in the city, it "only" hit 115 last summer. And don't forget Salem hit 117 last summer too!
Most surprising to me is that the ridiculous Prineville 119 degree temperature record continues to stand. Why?
Official records show both Pendleton and Prineville hit 119 degrees during a heatwave in late July and early August 1898 (about two weeks apart)
But there has been much meteorological debate over at least one of those numbers. I remember the head of Portland NWS, around 1991 when I started my career, cast doubt on the Prineville reading:
I don't doubt the Pendleton number much, since that area has seen 114 (July 1928) and 115 (August 1961) during the 122 year span following the record.

It's unlikely Prineville ever hit 119, Why? In the 122 years after that time, Prineville only made it to 105 or above on four days! 106 in 1915/1922 and 107 in 1998. Nothing even close to that 119 degree reading while other stations (like Pendleton) have made it to within a few degrees of their all-time records. For example, during the 1928 and 1961 heatwave (when Pendleton made it to 114/115), Prineville only hit 102. Suspicious for sure. Something strange was going on with the readings in 1898 at Prineville IMHO. Now Prineville DID finally hit 109 during last summer's heatwave, but that's still 10 degrees short of the 1898 numbers. Take a look at how many all-time Prineville records occurred during that year!

The climate extremes committee report issued today also very much doubts the Prineville number but chose to leave it for some reason. It needs a big REJECTED in my opinion!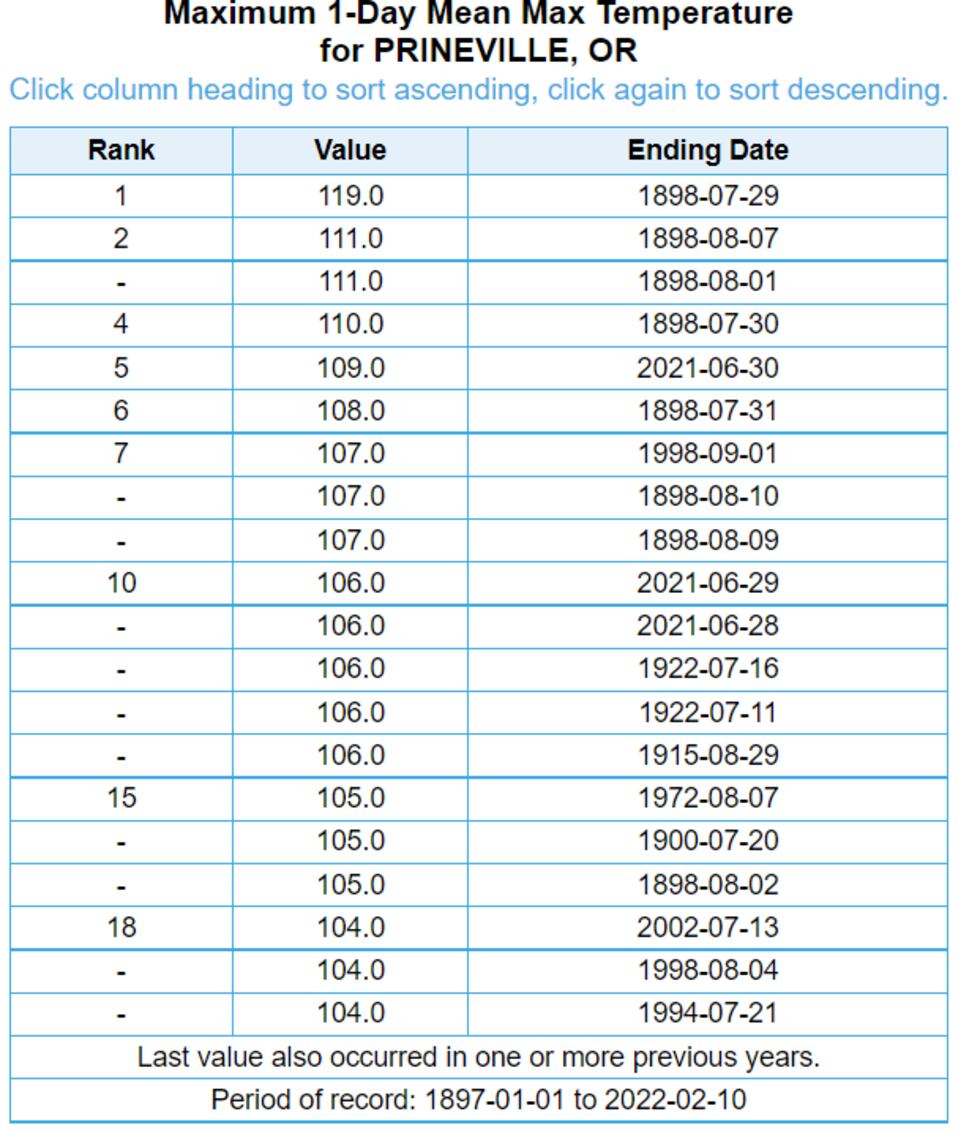 The other numbers on the map above seem reasonable; Umatilla is right at the lowest elevation along the Columbia River. Pelton Dam is down in a hot canyon location in north-central Oregon near Warm Springs. Pilot Rock is just south of Pendleton. Monument and Spray are both along the John Day River, near or below the 2,000′ elevation. Monument hit that number twice, but no longer has a weather station just like Spray. We don't know what happened there last summer.
Weather records are always a challenge!
By the way, Brookings on the southern Oregon coastline hit 85 today, which was the all-time February high temperature there. It appears The Dalles and Redmond likely hit their all-time February highs as well. Expect more of the same tomorrow and Saturday.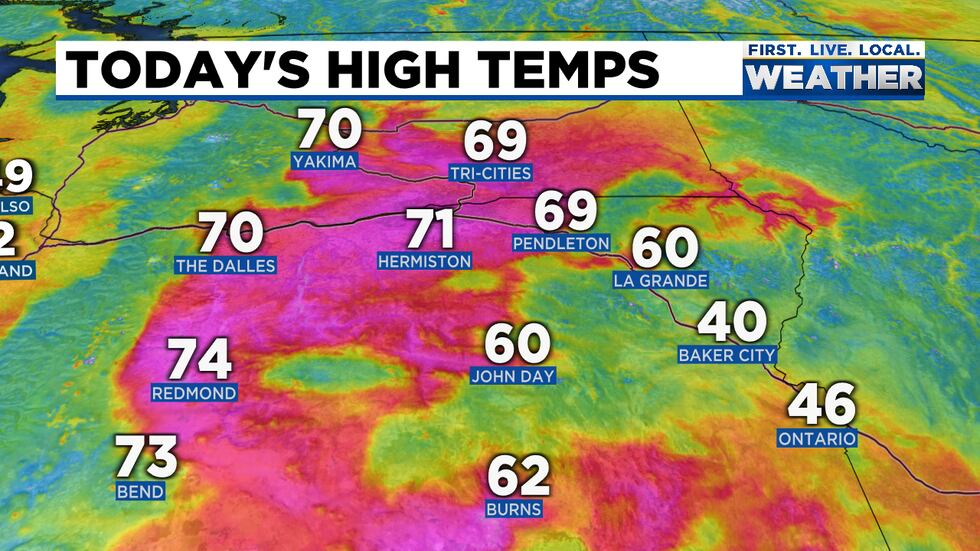 Copyright 2022 KPTV-KPDX. All rights reserved.