Gov. Brown announces ban on large gatherings with more than 250 people in Oregon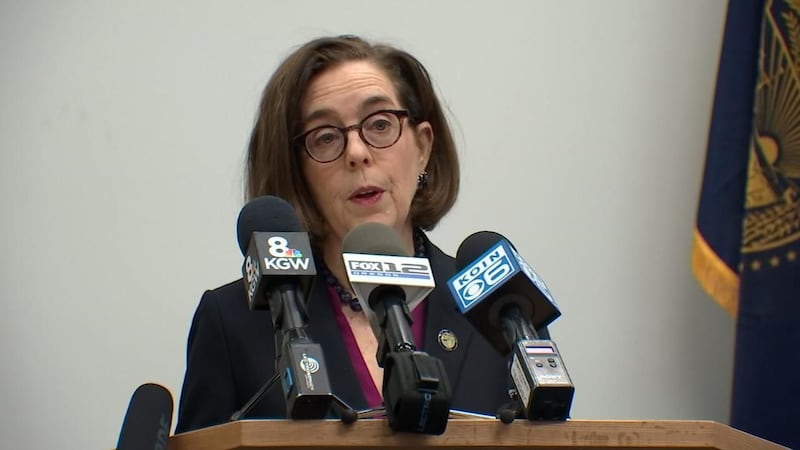 Published: Feb. 14, 2022 at 12:31 PM PST
PORTLAND Ore. (KPTV) - Gov. Kate Brown has announced new rules to slow the spread of COVID-19 in Oregon.
A release Wednesday evening says all large gatherings over 250 people will be canceled statewide, effective immediately for four weeks.
A gathering is defined as any event in a space in which appropriate social distancing of a minimum of three feet cannot be maintained.
The governor is also recommending that all non-essential school-associated gatherings and group activities should be canceled, such as group parent meetings, field trips, and competitions.
She is also recommending increased physical space between employees in offices and work sites, limited in-person meetings, limited travel and staggered work schedules where possible.
Strict limitations announced this week by the Oregon Health Authority and Department of Human Services remain in place for long-term care and assisted living facilities.
Brown will address the strategies at a press conference at 9 a.m. Thursday.
"Nobody is immune to this virus, it can touch everyone," said Brown. "We can't let fear and anxiety stigmatize people. We are seeing cases across multiple counties and age groups, and in people exposed through different circumstances. It's time for us all to do what we can to slow its spread and take care of one another."
In accordance with Brown's announcement, Portland Public Schools said Wednesday evening they decided to proactively begin suspending events that bring together large groups of students, adults and community members together.
The district said the action wasn't related to a presumptive case, and that at this time, there are no presumptive cases at PPS.
Copyright 2020 KPTV-KPDX. All rights reserved.