A rare late season cold blast arrives Monday evening
Winter returns after a 7 week absence!
Published: Feb. 20, 2022 at 6:47 PM PST
7pm Sunday...
Just like the person that swoops in to take your parking spot at the very last moment, winter has decided to make a (brief) comeback this week. It won't be around long, but you sure will notice a change in the weather! Really cold stuff is on the way. The highlights for those of you that aren't into lots of weather talk...
HIGHLIGHTS
Light rain showers turn to mixed rain/snow showers overnight in the lowlands of SW Washington and NW Oregon.

Sticking is unlikely for just about all of us below 1,000′, but a heavy shower could drop a "barkdusting" anywhere. Study up kids, I think a snow day is unlikely and the morning commute should be "normal"!

Light showers and sunbreaks continue through early afternoon Monday with temperatures into the lower 40s

A strong easterly wind suddenly shows up between 4-8pm Monday all across the metro area and temperatures drop...brrr! Easterly gusts 30-35 mph are possibly anywhere as cold/dry air descends off the Cascades.

At the same time, skies turn mainly clear and showers end by sunset.

Clear, cold, & windy is the story tomorrow night through Tuesday. Lows in the 20s, highs in the 30s. This will be the coldest we have seen since the week between Christmas and the New Year.

Wednesday will be colder & calmer in the morning. Some areas west of the Cascades will dip into the upper teens. Even in the city I expect lower 20s in calm areas.

IF you took off your snow tires already, no reason to panic, roads should be mainly (or all?) clear this week
IF you have turned your outdoor faucets or water lines on...drain them again. I just did that with my exposed chicken/duck water lines.

This is NOT really pipe-busting cold, just similar to what we've already experienced this winter. And I expect all days we'll see temps rise above freezing with sunshine.

Normal weather is back by Friday at the latest...Highs into the 40s and then 50s next weekend.
DETAILS
I almost "cancelled" winter on-air and in a (still in draft mode) blog post last Tuesday. I had the fork ready and almost hit PUBLISH, but then noticed the ECMWF model was suddenly showing a sharp upper-level trough digging south over us about a week out in time (for tomorrow/Tuesday). So I figured I would give it one more day. Good move. On Wednesday the Euro looked the same! But GFS/GEM models were having none of that, forecasting mild this week. Now the GFS was trying for a winter return regularly from early January through mid February...way out in time, the weather geeks are used to that. But this was the first time the Euro tried to push cold/dry arctic air south over us within the 7 day forecast. Apparently it was right and here we are! Not much changed in the last 4 days while I took a little mini-vacation, except other models have turned colder like the Euro and now all are in agreement.
So the two questions in this pattern are always: How cold? & Could it snow to sea level? The answer is "quite cold" for late February, and no, little or no snow in the valleys.
First, check out the northern flow over us at 500mb right now. There are two "shortwaves" sliding south. One is the first dotted line, bringing cold showers today. The 2nd is heading south now
That 2nd one arrives overhead tomorrow evening. The coldest airmass overhead follows this 2nd wave.
Sticking snow isn't a guarantee at sea level until the cold air flows in tomorrow night behind that wave. 850 millibar temps (temp in C at 4,000′) are "only" -5 to -6 tomorrow, typically not cold enough in onshore flow to bring snow to sea level. It's only on Tuesday that the coldest air arrives overhead. All models agree on -9 to -10 at 850mb over Salem by Tuesday afternoon. But at the surface we're totally dry long before the coldest air arrives; that's common in our climate. In fact showers will likely be gone by 7pm tomorrow. The WRF-GFS tries to give some hilltop dustings tomorrow morning...seems reasonable. This pattern is excellent for Cascade snow, Mt. Hood will end up with a much needed 18-24″ by the time it dries out tomorrow evening.
Check out the cross-section from the WRF-GFS. Look at the dramatic arrival of easterly wind late tomorrow afternoon/evening
Green colors are high relatively humidity and clear = dry. Quick drying as the cold air starts pouring in (circled). I think this next graphic is even more interesting. It shows the dry air coming right over the Rockies and surging over the Cascades from 4am Monday through 10am Wednesday. Dewpoints may drop to zero or even a bit blow west of the Cascades. That's harsh on plants and our skin, especially combined with wind. A similar event February 16th-19th 2006 dropped dewpoints to -7 at PDX; I remember "scorched" looking Douglas Firs in several spots around town and on my own trees. Peak gust with that dry air was 50 mph at PDX!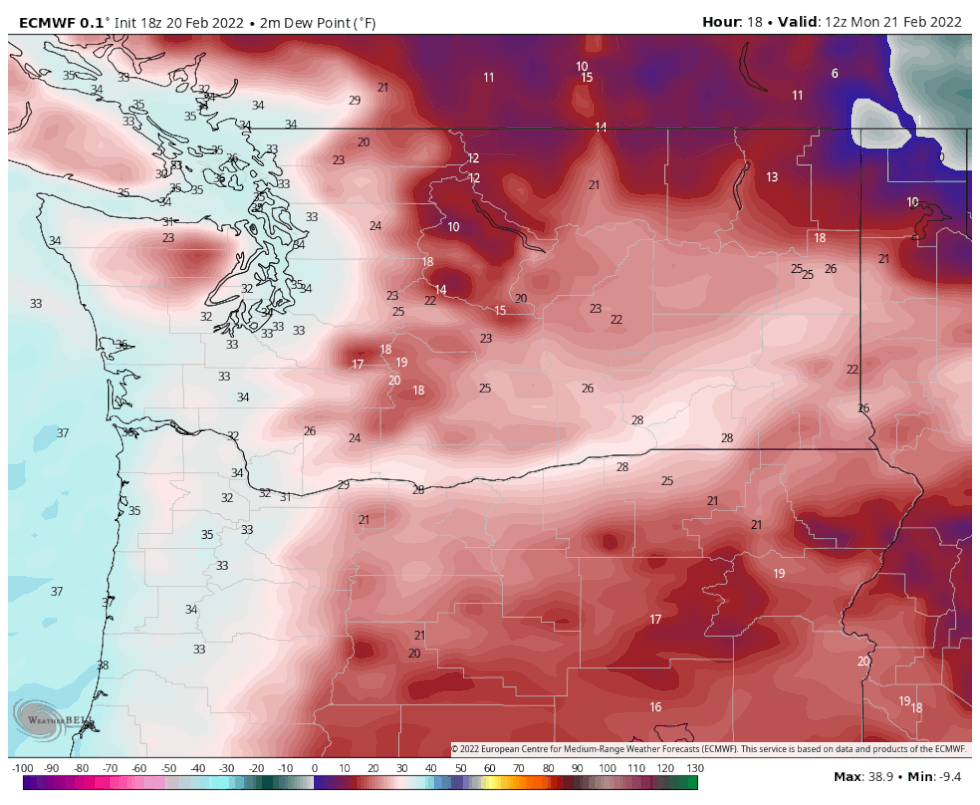 I think gusts to 50 mph with this event are unlikely since pressure gradient isn't as strong, but it IS interesting the WRF-GFS shows much stronger wind in Clark County than we'd typically see with this setup. That tells me we've got a nice downsloping wind tomorrow evening coming off the Cascades. I think the wind arrival may be quite abrupt like during the Labor Day Windstorm in 2020.
COLD AIR: It's interesting that 3 historic late-season cold snaps in our area (1960, 2006, 2011) all saw 850mb temps bottom out between -9 and -11 at 850mb over our area. The same is coming up Tuesday/Wednesday. Nice consistency. For some reason the Euro has tended to be colder forecasting surface temps only around freezing Tuesday and Wednesday. That seems too cold with no snow cover, although a high only around freezing did happen in that 2011 event under sunshine. Right now we're forecasting 36 and then 38 for highs those two days. That seems reasonable. Record low high temperatures are 34 for Tuesday and 39 Wednesday; I think we can break that 2nd record...if the wind doesn't die down too much. For lows, with such a dry airmass and totally clear skies Monday and Tuesday nights, theoretically we should be able to see some upper teens in outlying areas and 20-25 in the city. But that will depend on calm conditions. I'm thinking there will be far too much wind tomorrow night for us to get crazy cold, but the record low is only 27 Tuesday. We should be able to beat that one. Wednesday morning's record is 24 and we can probably do that at PDX if the wind goes calm. IF we don't get cloud cover early Thursday morning, low 20s should be doable for one more day...maybe a 3rd record low temperature then. We will see. Here's the Euro ensemble forecast low/high temps the next 15 days. This time of year the cold doesn't stick around long, well, except in 2019. That one kept going into early March.
That's it for now, throw on an extra blanket for the next few days!
Copyright 2022 KPTV-KPDX. All rights reserved.