Portland man killed in pileup involving nearly 65 vehicles on I-5 in Linn County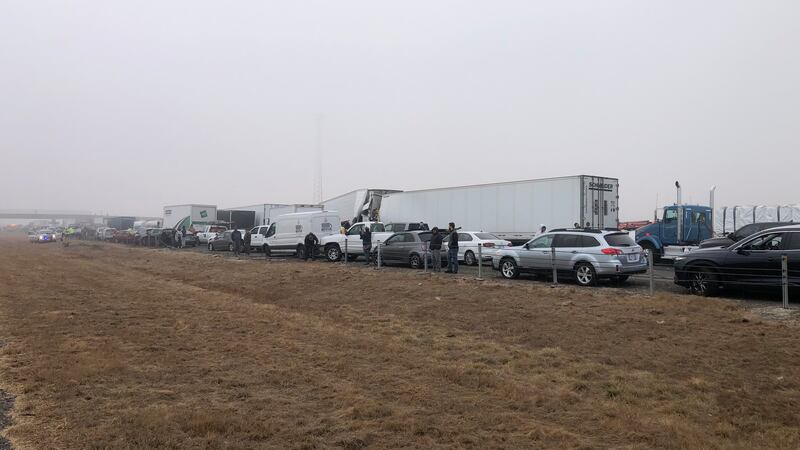 Published: Oct. 19, 2022 at 9:24 AM PDT
LINN COUNTY, Ore. (KPTV) - A stretch of southbound Interstate 5 was closed for several hours Wednesday after a deadly crash involving dozens of vehicles occurred in Linn County.
The Oregon Department of Transportation said the southbound lanes of I-5 were closed at milepost 216, the OR-228 Halsey-Brownsville exit, due to multiple crashes.
Shortly before 4 p.m., a jackknifed semitruck closed southbound I-5 south of U.S. Highway 20. As of 4:30 p.m., one southbound lane was reopened between U.S. 20 and the Corvallis exit.
"Delay travel southbound and take extreme caution on alternate routes. They are very busy," ODOT said in an update. "Be patient, slow down, take alternate routes, and watch for emergency responders."
Oregon State Police said preliminary investigation estimates 15 to 20 commercial motor vehicles and 45 passenger vehicles were involved in the pileup.
One person, identified Friday as 29-year-old Phillip Frye, of Portland, was killed in the pileup. OSP said four others were injured, one in serious condition.
According to OSP, the preliminary cause of the crashes is heavy fog in the area.
School buses from Eugene arrived to the scene to help relocate 30 to 40 stranded motorists. DEQ and HazMat has responded to cleanup any leaking fluids on the interstate.
ODOT said the closure will last for most of the day. Traffic was being detoured at the Highway 228 exit to Highway 99E. Drivers were being asked to avoid the area and take alternate routes.
Copyright 2022 KPTV-KPDX. All rights reserved.