Windy & Wet (At Times) Wednesday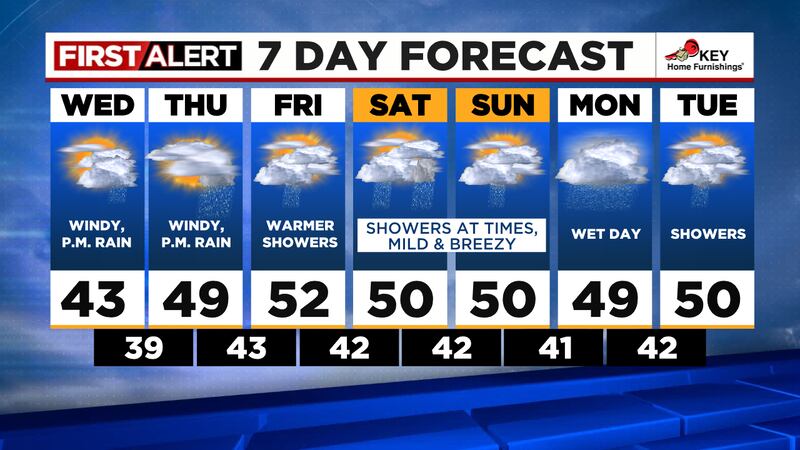 Published: Jan. 3, 2023 at 3:15 PM PST
We got some sun mixed with the clouds today, but now rain showers are on the way for this evening. Expect to see some wet weather this evening, with just isolated showers later tonight. Temperatures should cool down into the mid to upper 30s overnight, with more clearing in the skies early tomorrow morning. We will also be breezy tonight and winds will pick up in the morning.
We should start tomorrow with more sunshine, but it will be quite windy. Late morning, the clouds will increase and showers will again arrive in the afternoon. We look to dry out for the evening, but winds will get a little stronger into the night. Expect wind gusts through the metro area tomorrow up to 40 MPH, with gusts closer to the gorge around 50+ MPH. The windy conditions will extend to the coast as well. While we see a few showers, the gorge will be windy with more of a wintry mix. Hood River could pick up up to 1″ of snow, and some light freezing rain is also possible. Wind gusts through the gorge are expected to be around 55 MPH. The mountain should also pick up some snow tomorrow, somewhere around 1-3″. Temperatures in the Portland area tomorrow should be cooler, with highs in the low to mid 40s.
Windy conditions will continue into Thursday. Rain will again arrive in the afternoon, but temperatures should be a bit warmer, in the upper 40s. Temperatures will continue to warm slightly into Friday and winds should be calming through the valleys as well. We'll see showers on and off Friday and into the weekend. Temperatures will remain slightly above average through the weekend and into next week, right around 50. We expect rain and showers early into next week.
Copyright 2023 KPTV-KPDX. All rights reserved.