A mild January continues, but a much drier weather pattern is ahead
Still no sign of an "arctic blast" or lowland snow
Published: Jan. 16, 2023 at 7:19 PM PST
The weather pattern these past 3 weeks has been somewhat monotonous; lots of clouds, rain at times, and temperatures a bit warmer than average. The Christmas Weekend ice storm was the beginning of a long wet period; lots of (usually) weak weather systems bringing regular rainfall. The only dry day (without measurable rain) in Portland this month was New Year's Day!
That gives us 15 consecutive "rainy days" in Portland as of this evening. I make the giant leap of faith that incoming showers will deposit at least .01″ rain at PDX before midnight of course. Which brings up the question...
What's the longest consecutive rainy stretch in Portland weather records?
It's 29 days; nope, not quite the biblical 40 day stretch, but close! You may be thinking we MUST have gone 40 days or more in the past. Most likely it's been a situation with 20 days, then a dry day or two, then another 20 days. Here are the numbers; notice total rainfall at mid-month is about normal.
In a typical year, we are wettest from late November through December, then (believe it or not), rain starts to back off a little bit in January and February. One of those 3 years sticks out. January 1950. Any serious local weather geeks knows about January 1950. Who would have thought that THE coldest, and THE snowiest month in Portland's history would also contain the longest "rainy" stretch! 41″ of snow fell that month on 21 separate days! All the melted snow, freezing rain, and liquid rain added up to 10.10″ precipitation for the month...a soaker. BTW, the 2nd coldest month was the previous January...1949.
DRIER PATTERN AHEAD
Quite a change is in store for the West Coast. The persistent westerly flow that brought flooding to California and consistent (lighter) rain to the Pacific Northwest will dry up later this week. The pattern change is a strong upper-level ridge of high pressure developing over or just west of the West Coast. This graphic shows 500 millibar height from the ECMWF model ensembles. Warm colors represent higher than average heights, cool colors lower than normal. This goes from now through the next 15 days.. Each image of the animation represents a 5 day average.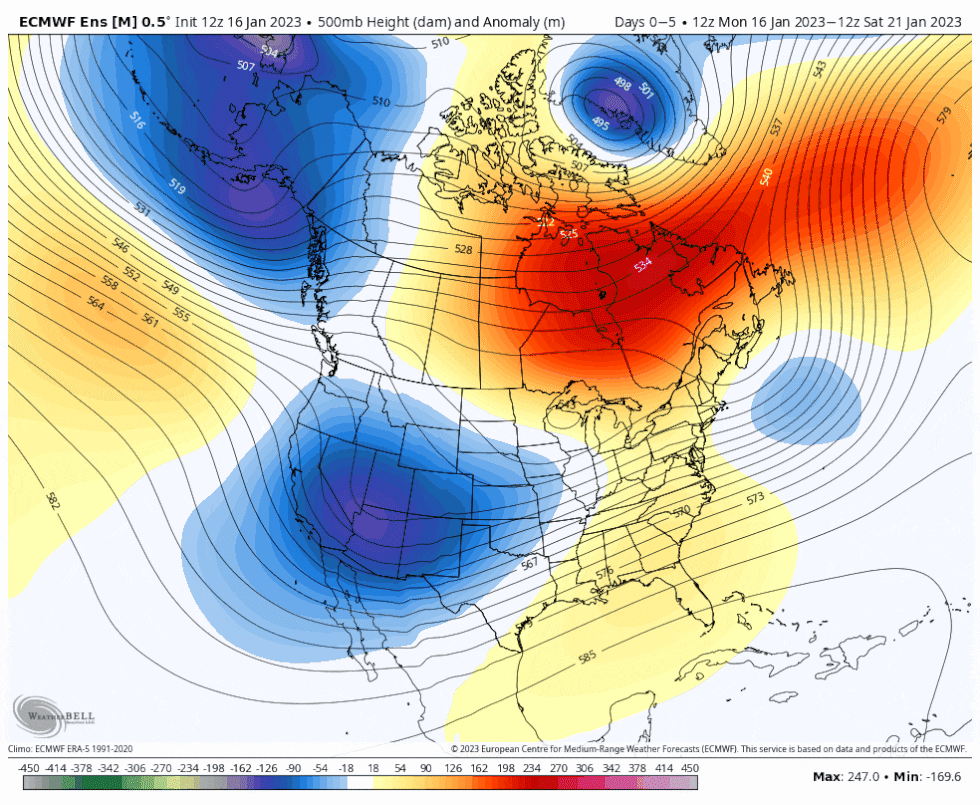 Higher heights mean more sinking motion in the atmosphere = drying and less cloud cover. The result is drier than normal weather beginning this Thursday and continuing for the following 7-10 days. From the Canadian model ensemble average...well below normal all along the West Coast over the next 10 days
Models are in agreement on this big change. See the ECMWF ensemble forecast for Salem rainfall. Not much happens from this Thursday all the way through Saturday the 28th (both circled below)
As of this moment, there's no strong signal that the big ridge could back up and allow an arctic blast to flow south into the region. Remember we started with dry ridging in mid-December, then transitioned into the cold pattern for a week or so as that cold air came south. GFS temperatures are very stable for the next 10+ days. This IS the ensemble average, but I'm not seeing many members going REALLY cold next week.
Due to the ridge being slightly west of us, I don't see a long (or significant) period of strong easterly Gorge wind. That's good, because it has been a ROUGH season so far. At this moment, Troutdale has seen as many "gusty east wind days" as ALL of last November through February!
November and December combined saw more windy days in the east metro than any other November+December since 2006. Too much wind. We will see how many FOR SALE signs go up in Troutdale, Camas, Gresham, and Corbett this coming spring...Remember the wind peaked on December 23rd with a gust to 88 mph in Corbett, 93 mph beside Women's Forum SP viewpoint, and who knows how strong at Vista House. Oregon State Parks folks tell me they will be replacing the anemometer that blew away that day, hopefully with something a bit stronger.
SUMMARY
After a bit more rain later Tuesday and Wednesday, we'll see far more dry than rainy days for at least a week or so.

Temperatures cool to near normal or slightly below the next 7-10 days, but nights will cool and frost becomes more common

There's no sign of a long east wind period for at least the next week

There's no sign of cold arctic air or lowland snow through early-mid next week...at least through the 25th

I don't see windstorms or flooding in this weather pattern

Your life should remain relatively unaffected by weather for another 7-10 days
Copyright 2023 KPTV-KPDX. All rights reserved.