Jokic leads Nuggets past Blazers for 14th straight home win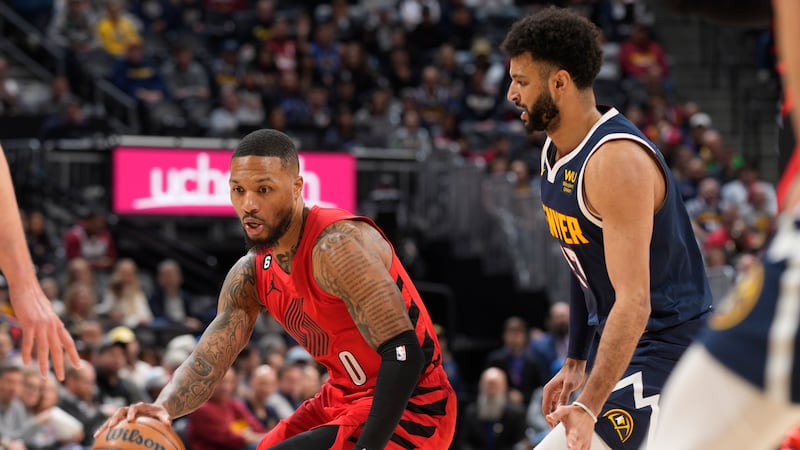 Published: Jan. 17, 2023 at 8:43 PM PST
DENVER (AP) — Nikola Jokic had 36 points as part of his 13th triple-double of the season to offset a 44-point performance from Damian Lillard, and the Denver Nuggets won their 14th straight home game by topping the Portland Trail Blazers 122-113 on Tuesday night.
Jokic, who was 13 of 14 from the floor, finished with 12 rebounds and 10 assists. The Nuggets improved to 13-0 this season when the two-time reigning NBA MVP records a triple-double.
The Nuggets were without head coach Michael Malone, who missed the game after entering the league's health and safety protocols. Acting coach David Adelman stepped in and the Western Conference-leading Nuggets didn't miss a beat.
It was a game that, at times, turned into the Jokic vs. Lillard Show. This was Lillard's 214th career game with 30 or more points.
Michael Porter Jr. had 23 points and Jamal Murray added 17 for Denver, which improved to 20-3 at home as a capacity crowd braved a snowstorm that was starting to hit the city.
The Trail Blazers dropped their eighth straight road game.
Denver led by 13 points in the fourth quarter, but saw the Blazers slice into the lead. A Bruce Brown dunk helped spark another run by the Nuggets.
This time, there was no need for any late-game theatrics by Jokic, who hit a last-second, game-winning 3-pointer against Orlando on Sunday.
Lillard had a big first half with 30 points. He's no stranger to turning in a big half against Denver. He had 32 points in the second half against the Nuggets on Dec. 8.
TIP-INS
Blazers: F Jerami Grant had 18 points, while C Jusuf Nurkic grabbed 10 rebounds. ... Lillard was 14 of 14 from the free throw line.
Nuggets: F Aaron Gordon had 11 points. ... Denver closed out the season series against Portland with a 3-1 mark. ... It was Jokic's 89th career triple-double.
CHAUNCEY BILLUPS COURT
While in town, Denver native and Blazers coach Chauncey Billups attended a pep rally at his old high school, George Washington, where the basketball court was named in his honor. His daughter accompanied him to the event.
"I have some great memories obviously there," Billups said. "It's where it all started. It's where I decided that I was going to take this basketball thing very, very serious and see where it took me. It was fun to go back over there — see the court, see it named after me, the logo on the court. It was cool."
UP NEXT
Blazers: Start a six-game homestand Thursday against Philadelphia.
Nuggets: Host Minnesota on Wednesday night.
Copyright 2023 KPTV-KPDX. All rights reserved.