Saturday morning's surprise snow; some brief wintry fun
Published: Jan. 21, 2023 at 12:36 PM PST
Well that was exciting! A bit of snow and ice pellets in the air this morning in the Portland/Vancouver metro area, and even sticking for a short time up in the West Hills.
11am view at Sylvan exit on U.S. 26 shows snow sticking to roads up at 800′.
Seems surprising (and it was) since our forecast called for "cold showers" at mid-morning. But there WERE strong hints some sort of frozen mix could briefly fall this morning. We mentioned it in the forecast for the Gorge because we knew it would be a little colder out there. And this morning our meteorologist Drew Reeves mentioned it as a possibility on-air from 6-9am and online.
First, temperatures will continue to warm today as milder southwesterly wind pushes in. There won't be any more snowy fun in the lowlands today.
What happened?
What worked correctly is that a cold front moved onshore with precipitation after a chilly night; some spots were down below freezing last night. That's always a tricky situation and it looked like a close call. Several models were holding off precipitation until closer to noon; at that time it would be too warm to get snow to stick. There were hints that precipitation might be mixed to start. Take a look at our GRAF model output, note temperature just above freezing as it was warming just about the time precipitation starts. Notice the southerly wind too = mild + warming. There wasn't going to be a snowstorm this morning.
Our two best models, the WRF-GFS from UW, and IBM's GRAF showed no sticking snow in the lowlands this morning, but at the same time they were sure implying it could be in the air.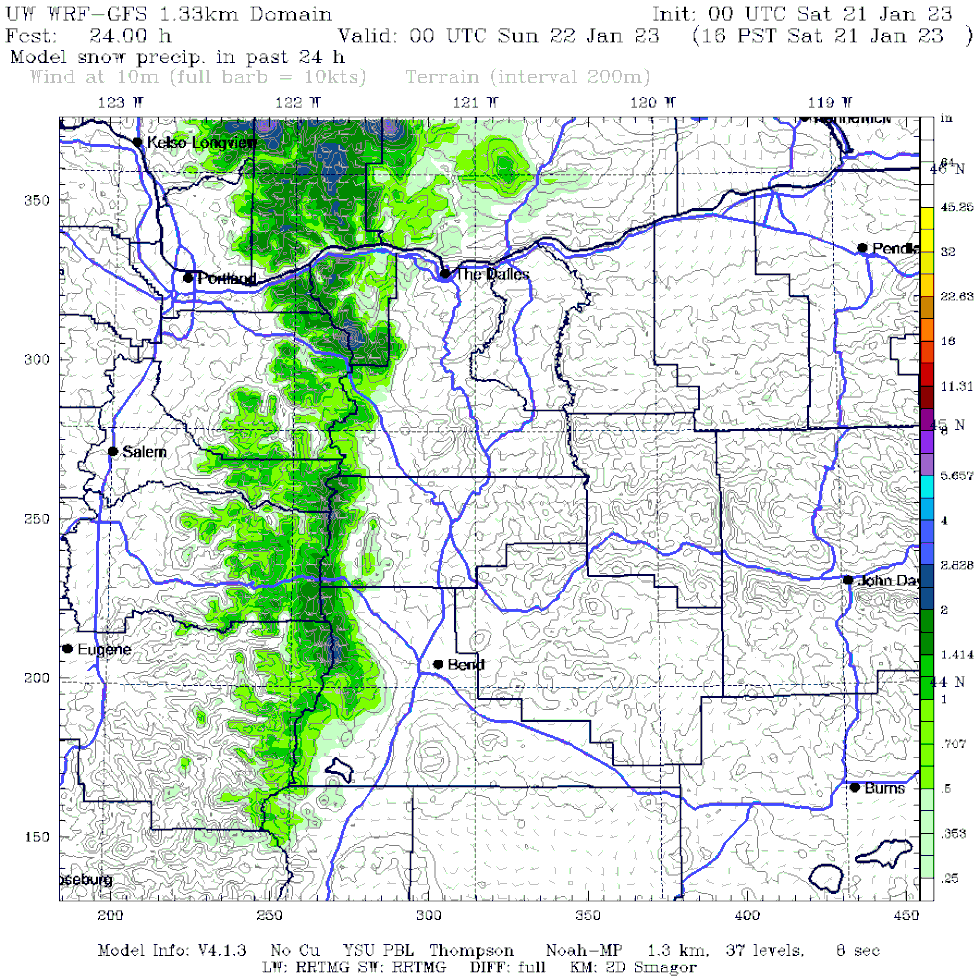 Check out the Euro sounding from last night's run. It comes out about the time I'm in the 10pm newscast. It was forecasting DRY at 10am today (it was a little slow with precip arrival). Red line is temperature, green is dewpoint. Most important, the blue line. That's "wet bulb temp". Precipitation falling into the airmass at that time would cool the air temperature to the blue line. This sounding says IF precipitation starts at this time, it should be all snow. That's what happened
The same model forecast at 1pm says milder southwesterly wind has saturated the low level airmass (that's what IS occurring now), and snow level should up around 2,000′ by that time.
Our 1am GRAF model had really picked up on things, forecasting snow in the air in most of the metro area but slightly (by 1-3 degrees!) too warm for sticking. This screamed "conversational snow" for Saturday morning coffee time. And that's mainly what happened.
Basically models were "catching up" a bit during the night. But just 2-3 degrees up or down can make a big difference!
So yes, definitely a surprise for most of us to look out the window and see snow this morning. But no, meteorologically it wasn't as if I woke up and said "how the hell did that happen?".
A simple "rain might be mixed with snow in the morning" would have covered it while I was on during the late newscasts last night. That way you could have looked forward to enjoying your Saturday morning coffee while enjoying the wintry flakes fall. Well, some of you. Many of us just saw rain showers this morning anyway and have no idea what this blog post is about.
By the way, here's your FIRST ALERT that we see a pattern change coming up NEXT weekend and beyond. We're talking at least 7-9 days out. The last few days of January will feature cooler air coming in either from the north, or northwest off the Pacific. I'm not saying we see anything like December's cold/ice, but the warm and wet pattern is going away for awhile and colder Canadian air will be lurking to the north. I'll write a nice long blog post about that on Monday. We've got a week of uneventful weather ahead first.
Copyright 2023 KPTV-KPDX. All rights reserved.