Winter isn't finished yet; colder days return in final days of January
Snow in the lowlands a possibility at some point beyond Saturday
Updated: Jan. 23, 2023 at 3:01 PM PST
We all know January as been very mild. Temperatures are running several degrees above average; the official climate station at PDX hasn't even dropped below 32 degrees! That mild weather continues through Friday and probably Saturday too, but then we see a change in the last 4 days of the month.
For those with short attention spans...also known as TL;DR (too long, didn't read):
Quick Summary
Mild weather continues through Saturday (the 28th). Weather likely won't affect your life much the next 5 days. Continue with your normal daily lives

Cold air will likely arrive in the Portland metro area, and all parts of the region, Saturday night or Sunday.

That means high temperatures fall into the 30s in Portland for Sunday and probably stay that way next Monday. At this point we don't see the REALLY cold stuff that appeared in December. Remember the afternoon high of 23 just 3 days before Christmas??? 35-39 would be much more reasonable, but still cold.
As the cold air arrives, will there be enough moisture around for snowfall? That IS a possibility Saturday night or Sunday morning and several of our models are producing that right over the metro area and points north (not so much south of Portland). Others say it'll be too dry.

So the question "Will it snow at my house Saturday night?" is answered at this point by "that's possible".

NEXT week could be a busy weather week with cold air interacting with moisture to possibly produce snow. But models are all over the place that far out in time.

We will be in a cool period Sunday through at least the first few days of February, keep a close eye on the forecast. It's time to pay attention again!
The Change Ahead
The pattern setting up is a classic one for cold & snow fanatics (yes, there really are people like that!). It doesn't always produce snow, nor does it always send a really cold modified arctic airmass into the region. But when Pacific Northwest meteorologists see this setup, we watch closely!
A strong upper-level ridge is sitting over the far Eastern Pacific, just off the west coast of North America. It'll be there through Thursday, blocking storms and keeping us dry; a nice change after almost 3 weeks of continuous rain. Here's the view Wednesday; uneventful weather
But then a strong upper-level "shortwave" trough crosses over the top of the ridge and digs down the eastern side. By Friday, that first trough is over us. Showers, cloudy, but mild since flow is onshore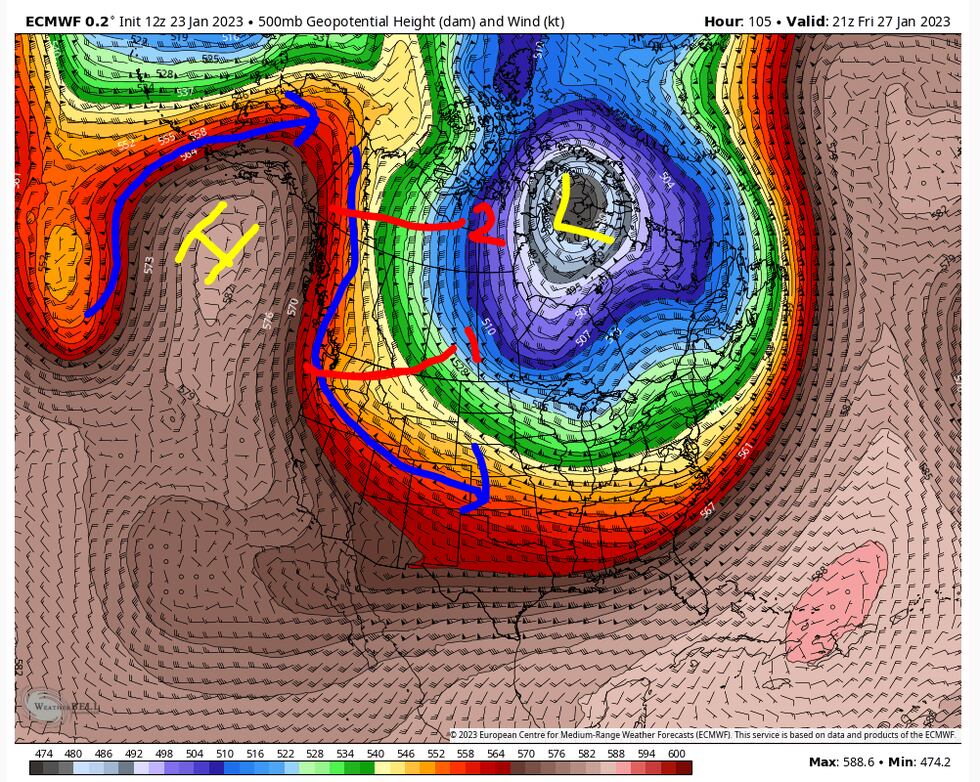 See #2 up above? That's a 2nd and much colder trough digging down the back side of the ridge. So the ridge "retrogrades" or backs up to the west. And THAT opens up the door to the north. Cold air comes pouring south. By Sunday morning, that system is directly overhead (and heading south).
What you don't see at the surface (this is up at 18,000 ft.) is cold/dry arctic air has surged south as well. It's banked up against the east side of the Cascades at this point and pouring through the Columbia River Gorge. All models look about like this at 5,000′ Sunday morning; temperatures are in Celsius. BTW, everything is in Celsius on most weather maps. This means it's about 10 degrees Fahrenheit up at Government Camp Sunday morning...brrr!
This setup is THE SETUP you want to get cold/snow into the region. Some moisture gets picked up by the cold air heading out over the ocean. Then a little extra lifting as that surface wedge of cold air pushes into the region. Sometimes we get NOTHING snow-wise out of this pattern as cold air arrives, other times maybe up to 2″. It depends on how that upper level trough digs south too. If it just moves by quickly and slightly east of where the Euro model shows it (above), we are typically just dry and a chilly east wind begins to blow. Since we're still 5+ days out, it's a real guess exactly how this turns out.
Models are in very good agreement on at least a short period of cold weather. GFS ensemble temperatures seem reasonable
The WRF-GFS meteogram shows enough moisture for snow sticking late Saturday evening and cold days Sunday through Tuesday. Saturday 4pm is highlighted with the yellow line. This model has been notoriously cold in the extended time range the past 2-3 winters. Maybe some sort of feedback from snow-covered ground. So let's just assume it'll be 5+ degrees warmer than what it shows.
And then notice about 1/2 of GFS ensemble members produce noticeable snow in Portland on the chart below. That's a decent indicator that SOMETHING is up for this weekend. But what we aren't seeing yet? MOST of those members producing snow; this situation is very much still evolving.
My final point is that we've probably got some sort of weather action on the way sometime between Saturday night and next week and it could involve more than one chance for snow. The two extreme possibilities I see right now:
1) We pick up 1-3″ of snow Saturday night, Portland is frozen all day Sunday and Monday, then a little more snow falls around Tuesday or Wednesday next week. 3-4 days of icy/cold stuff.
2) A chilly east wind arrives Saturday night, a few flurries fall, but doesn't affect any of us. Temperatures only reach around 38-42 for a few days, then it's back to milder/wetter the middle of next week and beyond. No real snow falls in Portland and it's just a bit cold for a few days. Your life continues the same Sunday and into next week.
My gut feeling is it'll be somewhere in between. But I'll be at work all week; no scheduled time off until the end of February!
Copyright 2023 KPTV-KPDX. All rights reserved.