Attackers kill 1, wound 4 during Oakland music video filming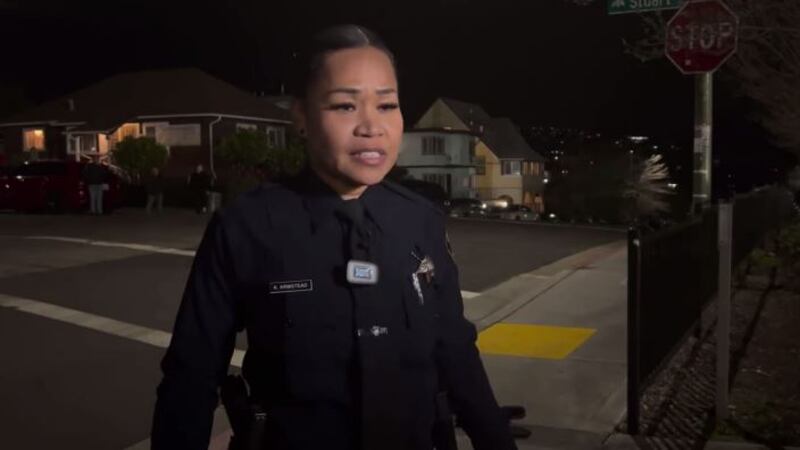 Published: Jan. 24, 2023 at 1:37 AM PST
|
Updated: Jan. 24, 2023 at 9:33 PM PST
OAKLAND, Calif. (AP) - A shooting during filming of a music video at an Oakland gas station that killed one person and wounded four others may have been gang-related, police said Tuesday.
Gunfire erupted at around 6 p.m. Monday at the Valero station on MacArthur Boulevard, authorities said. One of those wounded was in a car that was struck by bullets.
Police originally said there were eight shooting victims, including the person who died. But in a Tuesday update they said three people were injured in a car accident as they drove away from the scene.
Bullets also struck a business but nobody was hurt, police said.
The shooting killed 18-year-old Mario Navarro.
"I'm heartbroken right now," Navarro's cousin, Olga Navarro, told KTVU-TV. "He was really sweet. He kind of liked music. He was really good."
At least 19 shots were fired, according to a photo of the shell casings that appeared in the East Bay Times.
About 40 to 50 people were there for the filming, police said. They didn't say who was making the video and whether the production had been legally permitted.
"While the recording was occurring, gunfire broke out from multiple shooters in various directions," acting Oakland Police Chief Darren Allison said at a news conference.
It may have been a targeted attack, Allison said.
Shell casings for bullets ranging from semiautomatic handguns to rifles were found at the scene, Allison said.
No arrests were immediately made and police didn't identify the gang involved.
"The biggest threat to us right now is retaliatory shootings — the groups going back and forth, and we continue to see violence that will stem from this particular incident," police Capt. Tony Jones said.
The shooting took place only a few hours after a gunman killed seven people at two locations on the outskirts of Half Moon Bay, about 30 miles (50 kilometers) south of San Francisco. A 66-year-old farmworker faced murder and attempted murder charges in a crime authorities said was a case of workplace violence.
Half Moon Bay is 24 miles (38 kilometers) southwest of Oakland and about 30 miles (48 kilometers) south of San Francisco.
Copyright 2023 The Associated Press. All rights reserved.