Cold weather arrives Saturday night, but sticking snow tougher to find
Published: Jan. 25, 2023 at 9:06 PM PST
Portland's official snow total so far this season is a HUGE 0.2″. That's just a skiff of snow twice. We've seen more freezing rain than snow so far...
If you are hoping for some "sleddable" snow in the metro area, or anywhere west of the Cascades, that's looking increasingly unlikely this weekend. But cold air IS on the way.
Highlights for lowlands west of the Cascades
Mild weather continues through Saturday. Weather likely won't affect your life much through at least sunset Saturday.

Cold air will arrive on a gusty east wind Saturday evening with temperatures dropping into the 30s, and eventually upper 20s by sunrise Sunday.

As the cold air arrives, will there be enough moisture around for sticking snow Saturday evening? It appears increasingly unlikely the two will match up for a widespread coating of snow. Models are in great agreement that it'll likely be dry for most of us by 10pm at the latest, especially in the metro area. Temperatures won't drop below freezing until later in the evening. By the time temperatures are down to freezing or below, we'll probably be mainly or all dry.
Will it snow at my house Saturday night? West of the Cascades anyone could see snow in the air Saturday evening, or mixed in the rain showers. But for reasons mentioned above, it seems unlikely you get real snow at your home.

Sunday and Monday should be totally sunny days! But high temperatures will only be in the mid-30s...Brrr! Still, that's 10 degrees warmer than what we saw in December. Plus, a breezy east wind Sunday (not too strong) will go calm Monday = it'll feel more reasonable that day.

At this point this doesn't appear to be a historic or record-setting cold airmass. Partly due to extreme cold we've seen in the past this time of year, but also the airmass just isn't historically cold.
This graphic shows what we DON'T expect...yes, I referred to 1″ of snow as a "snowstorm" in Portland. My point is just that anything more than that is unlikely
What's new this evening
It's nice that once again, 3-4 days ahead of a cold weather event, models are in surprisingly good agreement. The bitterly cold upper-level polar vortex will remain anchored over Hudson's Bay the next week, but several cold "waves" of energy will rotate southward down the western side of that low. Notice that greenish trough rotating down through PACNW Saturday night. It's moving quickly south instead of lingering right off the coastline. THAT is why models are drying things out so quickly; we don't have any significant time spent with moisture riding over the cold air. These quick-moving shortwaves rarely produce any significant snow for us.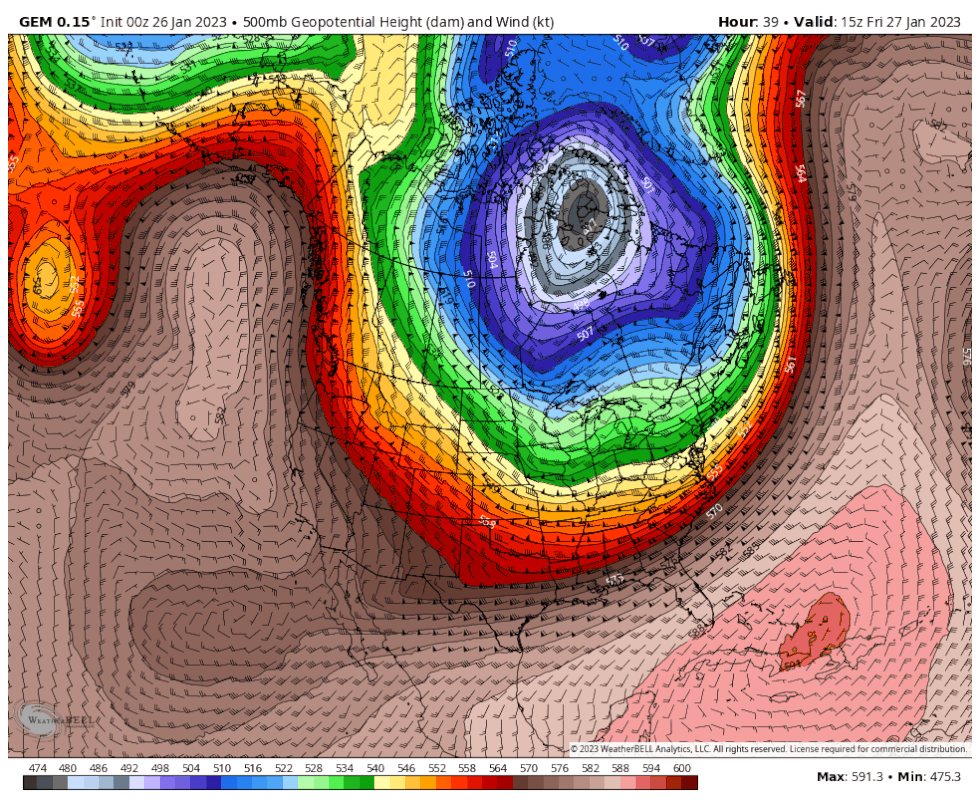 That was the GEM model, but other models look almost exactly the same in the upper levels of the atmosphere. That's both timing and intensity of the upper trough. Models are still in some disagreement over how cold the airmass will be. 850mb temps on the GFS model only dip to around -8 to -9...barely even "arctic air". Yet both the GEM and Euro have been forecasting numbers down around -10 to -15...much colder. This is where ensemble forecasts are very helpful. Both GFS and Euro ensemble average bottoms out around -9 to -11. It's hardly a major arctic blast, but plenty chilly. Under sunshine that would give us a high temperature around 35 in late January. The GEM ensembles are a bit colder, around -12. That's a bit chillier. Regardless, we will not be seeing a repeat of the low-mid 20s we saw on Thursday the 22nd of December. That day was brutal with cloudy skies, a few afternoon ice pellets, and wind gusts 40-50 mph blowing across the metro area. This should be far more tolerable.
The reason I'm really downplaying the sticking snow chance? As mentioned above this upper-level shortwave is really trucking along heading south Saturday night. Look at the dramatic change from onshore mild flow to offshore cold flow. Timing is slightly different on each model, but they ALL look like this. Euro 5pm Saturday...sunset. Rain showers and temps near 40.
4 hours later? 9pm... Cold east wind has arrived, temperatures have dropped, rain showers change to snow showers...and then...it just stops
5 hours after that? 2am Sunday all precipitation is gone and skies have gone clear. It's breezy and chilly across the region as we drop below freezing.
Again, because of this no model is showing any real snow west of the Cascades. Possibly some wet spots that freeze for Sunday morning, but with that much dry east wind it's possible roads just dry out before freezing.
With all this in mind, we come up with a 7 day forecast like this for Portland. Notice no FIRST ALERT WEATHER DAYS in red this time around. That's because it won't be crazy cold, wind won't be extreme, and widespread sticking snow is not in the forecast. Assuming we go calm Sunday night and Monday night (without clouds), I could see as low as 15 in coldest outlying areas and 20 in the city.
Keep in mind, with cold air banked up against the east side of the Cascades Sunday...it's going to be COLD at the ski resorts. Around 10 degrees those days.
This is the same time of year some of our coldest low temperatures have been set. Check out the late January/early February cold spell in 1950. That was Portland's coldest month on record; interesting because the rest of that winter was quite mild. Warmer than normal in December, February, and March.
That's it for now. Make sure you have your outside faucets covered up again (if you uncovered them) by Saturday afternoon. And turn off any outside water lines, or lines in unheated buildings/garages too!
Copyright 2023 KPTV-KPDX. All rights reserved.