OLCC recalls 2 marijuana vape products for high pesticide levels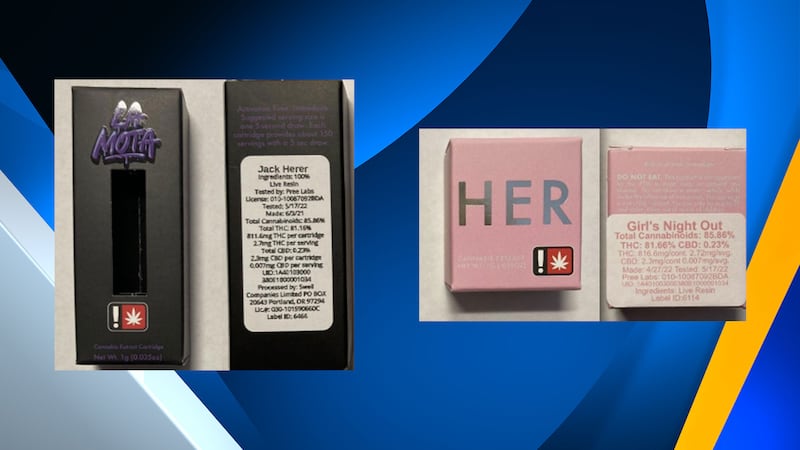 Published: Jan. 26, 2023 at 3:46 PM PST
PORTLAND Ore. (KPTV) - The Oregon Liquor and Cannabis Commission has issued a recall on two vaping products that have tested positive for pesticides.
OLCC says the products were sold between June 10, 2022, to January 24, 2023 across the entire state.
During tests, the products tested positive for Pyrethrins and Piperonyl butoxide, OLCC says.
SEE ALSO: Jefferson man arrested, charged with animal abuse after standoff with police
"At this stage in the OLCC's investigation, it appears that the OLCC licensed lab responsible for testing the products may have incorrectly entered into CTS that the products had 'passed' a pesticides test, when in fact the products had 'failed,'" OLCC says.
The affected products were produced by company Swell Companies Limited and are the following:
Product name: La Mota – Jack Herer vape cartridge | Manufacture Date: 6/3/2021 (Label ID 6466) | Tested Date: 5/17/2022 | Sold starting 11/11/2022
Product name: Her – Girl's Night Out vape cartridge | Manufacture Date: 4/27/2022 (Label ID 6114) | Tested Date: 5/17/2022 | Sold starting 07/10/2022
Officials reported more than 1,000 units being sold to 29 licensed retailers and over 800 units having been sold to customers. According to OLCC, across all retailers, 240 units are still on hand.
OLCC says consumers with health concerns should contact the Oregon Poison Center at 800-222-1222, or their medical provider.
Copyright 2023 KPTV-KPDX. All rights reserved.