Mild & benign weather pattern continues as we head into the final weeks of "winter"
Published: Feb. 6, 2023 at 9:21 PM PST
I'll be honest; it's been quite boring for meteorologists most of the time these past 6 weeks! Yep, it's been 6 weeks since the December 27th windstorm and very little of interest has happened weather-wise. But "boring" for meteorologists means that your life has continued mainly unaffected by weather. My wife works early mornings, doesn't like to drive on ice/snow, and hasn't dealt with a single delay or issue during this time. Happy wife, well, you know.
Since that windstorm, we've seen a brief/weak downslope wind "event" on January 4th, and a mini-blast of cold air a little over a week ago. That's it. You may recall this happened last winter too; also a La Niña winter. It was 7 weeks of uneventful weather last year. Here's the graphic I used in my winter recap. In last year's case the ridging nearby (blocking weather systems) lingered the rest of the winter.
Winter so far looks like this; cool November and December then warmer January (compared to normal)
Last week's brief cold snap gave us a 25 degree low temperature for February, similar to recent years
I've mentioned this in the recent past, but in the past 10 years our "snow season" has shifted to a little later in the winter. Is it temporary and just a blip? Or something new? We don't know, but check out the past 30 years of snowfall at PDX
Compare that with the previous 30 years, notice February snow was a bit more sparse in the 60s through 90s. March snowfall has always been rare in the lowest elevations, in every decade. And April? About once every 60 years.
WHAT'S AHEAD?
This week we're seeing a continuation of the slow pattern. One cold front moves through the region tomorrow, then a very weak and "stretched" system Friday. That's it through Sunday the 12th.
I do see one item of interest though. A cold and organized upper-level trough drops down out of the Gulf of Alaska early-mid next week.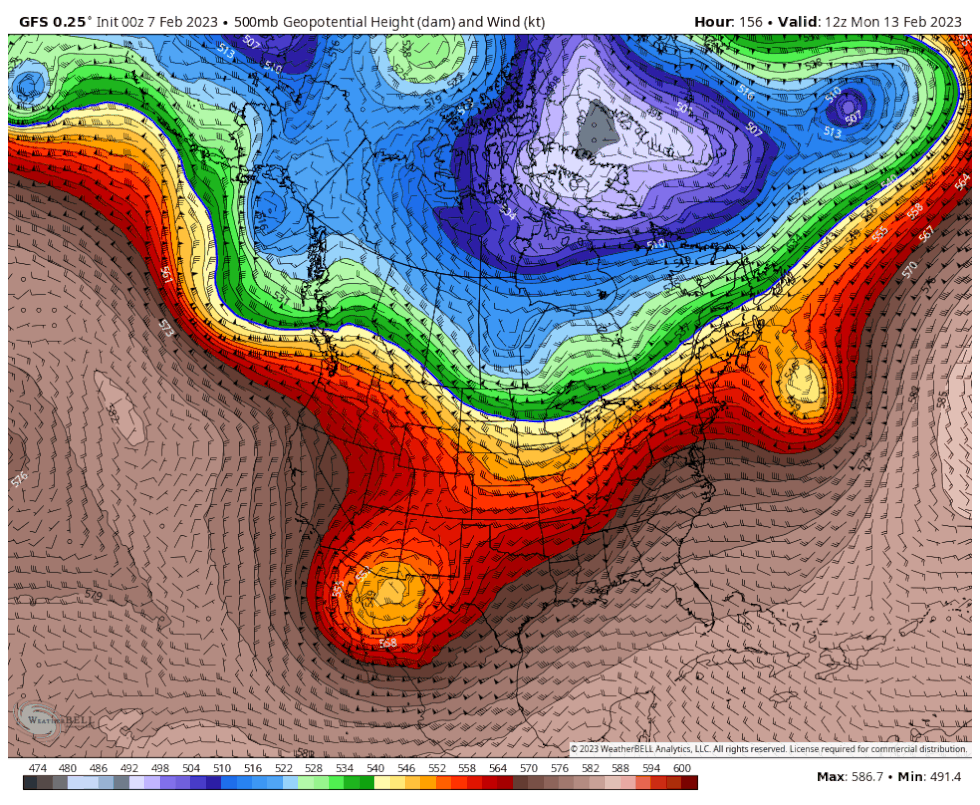 This will bring a chilly "maritime polar" airmass through the Pacific Northwest. That means cold showers follow (next) Monday's cold front. Models are forecasting 850mb temperatures (temperature in Celsius around 5,000′) down around -6 to -8 Monday night through Wednesday morning. Their ensemble averages are a little warmer. With onshore flow showers like these, a temperature of -7 or colder can bring sticking snow down below 1,000′. That's at nighttime and if showers are heavy enough. This is the sort of setup where 1″ of snow falls at Council Crest in the West Hills at 1,000′ and little or nothing falls in the city. Ah! Maybe we'll get another official 0.1″ to add to our other 0.1″ accumulations so far this season. My point is that I don't see any sort of arctic air intrusion coming south from Canada in the next 10 days thus no chance for a widespread snow event. The setup next week is air coming off the 50 degree Pacific ocean water. We'll keep an eye on that of course. You can see the EURO model ensemble snow forecast shows a hint of snow early next week and that's about it. No sign of a bigger event.
In the short term, tomorrow's front will bring a nice surge of snow and wind to the Cascades. That's needed because snowpack has now slipped to a bit below average in northern Oregon. Be careful traveling over the passes tomorrow afternoon and evening.
That's about it for this evening, another quiet 7 days ahead!
Copyright 2023 KPTV-KPDX. All rights reserved.