Snow flakes in the forecast for early next week; what we're seeing in the maps & models
Your Valentine's Day plans shouldn't be affected by the weather
Published: Feb. 9, 2023 at 9:34 PM PST
Today was a glorious day, our first "false spring" day of 2023. You can't go wrong with sunshine, blue sky, not too much easterly wind, and temperatures up close to 60 degrees in early February. But I don't see any temperatures in the upper 50s for at least the next 7-10 days; we're headed into a cooler pattern starting early next week
This weekend's forecast is easy. After a weak system brings scattered showers tomorrow, expect dry weather both Saturday and Super Bowl Sunday. Temperatures remain near normal; around 50 degrees each afternoon. The reason for a break from the rain is a weak upper-level "ridge" in the atmosphere overhead. That keeps systems well north of us through the weekend. These maps show the circulation at 500 millibars; that's about 18,000′ overhead.
But look at the change by just after midnight Monday night; a cold upper dip (trough) in the flow is sliding southeast across the region.
But just over 24 hours later, the trough has moved into the SW USA
So this isn't a situation where a cold trough is moving south over us and lingering; it's here and gone. The result will be rain on Monday, then as the atmosphere cools the rain showers will change to mixed showers in the lowest elevations (and coastline) well after sunset Monday through early Tuesday. But since it's moving quickly, most likely we run out of moisture for snow showers by sunrise (or soon after) Tuesday. This is the graphic I'm using in the evening shows; what we DON'T expect first.
Then what is looking most likely right now. An important point is that even if we DO get a dusting of snow for Tuesday morning, the rest of your Valentine's Day will be unaffected by weather; you won't need to alter your plans.
Models are in pretty good agreement on this scenario, and have been for at least 4 days! Check out total snow forecasts from 4 different models from 4pm Monday to 4pm Tuesday. First the Canadian (GEM), then the GFS, ECMWF, and WRF-GFS (from University of Washington). They are all basically the same; little or no accumulation in the lowest elevations west of the Cascades.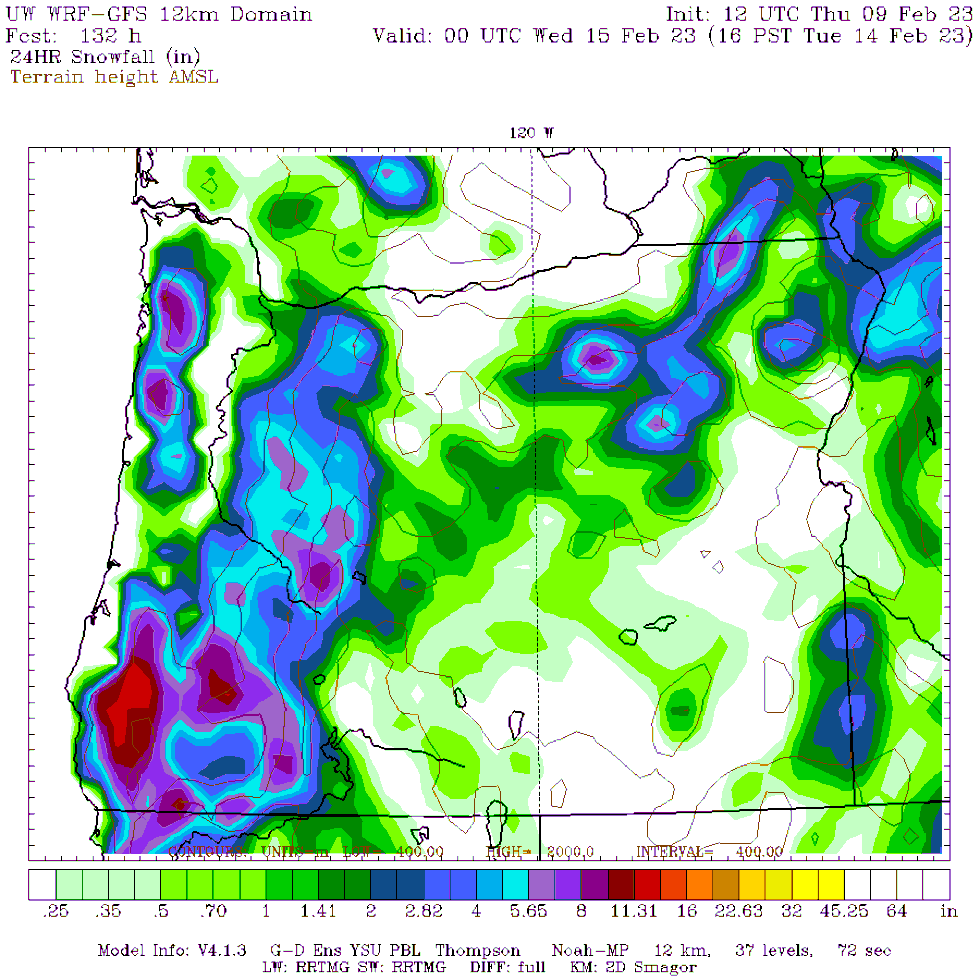 Models have been in very good agreement that 850mb temperatures will bottom out around -7 to -8 on Tuesday morning. This forecast of little/no snow is based on us just getting a few scattered snow showers later Monday night. IF, that's a big IF, an organized area of showers were to develop it would be a different forecast. At times I've seen model ensembles try to develop a weak area of low pressure offshore and move it onto the central/southern Oregon coastline Monday night. With those 850mb temps, that could bring sticking snow right down to sea level. So I'll be watching that closely the next 4 days.
In case you are wondering, the chances for sticking snow go downhill in the month of February in general. Of course more important is whether the "right pattern" sets up, and that can produce snow anytime from Thanksgiving to early March. These numbers cover 80+ years at PDX. The chance for 1″ of snow in the city drops by about half over the next 10-12 days. Notice that 2% chance after March 7th? It was only 1% last year, but that 1″ in early April last year doubled the chance of early spring snowfall.
That's it for tonight. Enjoy your dry weekend!
I'll be working Sunday so I'll get another post done that day. We'll be on-air Sunday starting around 8:30pm or so after the Super Bowl and another show.
Copyright 2023 KPTV-KPDX. All rights reserved.