Sticking snow likely for many of us early Tuesday morning; a First Alert Day
But most of your Valentine's Day plans should not be affected
Published: Feb. 11, 2023 at 6:35 PM PST
It's a Saturday evening and a day off, but I've got a quick update for you. We've been watching, and telling you about the possibility for lowland snow Monday night and Tuesday morning for the past 5 days! There's your First Alert weather. Well, now models are "juicing up" a bit which means the chance for sticking snow (possibly disrupting your Tuesday morning commute) has increased.
Quick Summary
Expect showers of mainly rain Monday, some may mix with snow or hail, or even thunder. Otherwise all the way through late Monday evening I don't expect weather to affect your life much

Late Monday night up to right around sunrise Tuesday morning a burst of snow showers may lay down a swath of snow in the lowest elevations west of the Cascades. That even includes the coastline.

It's a bit too early to give you a specific total forecast, my gut feeling is many of us see AT LEAST a dusting, but some spots pick up a bit more. Elevation will help, but it's really more about where the heavier showers move overhead. You could be at 1,000′ Monday night, showers go around you, and you only get a dusting. Your buddy 10 miles away, near sea level, gets an inch because a heavy shower passed over his town! Ignore any forecasts that tell you snow will be only at a specific elevation...like 250′, 500′, 700′ etc... In this situation we can say the chance IS better the higher you go, but that's only on factor.

School delays or closures are possible Tuesday morning anywhere west of the Cascades, including the entire I-5 corridor and coastline. Less so at the coastline since the precipitation might be done by 6-7am there.

Whether it's nothing, or 2″, it's over soon after sunrise Tuesday. Skies clear and temperatures reach the lower 40s by mid-afternoon Tuesday. Thus my thinking that if you have lunch or romantic dinner plans with your bestie, you should be just fine moving around the lowlands. That said, if you live up around 1,000′ or higher, there could be leftover snow on roads in the shade all day.
Here's your summary in TV graphics form
DETAILS
It's minor, but just a slight change in the upper-level flow has given us the better chance for sticking snow. The 2nd upper level "shortwave" trough is still forecast to pass overhead around 4am Tuesday, but it's just slightly deeper and sharper.
That allows a very weak area of low pressure to develop and move quickly down the coastline. See the cluster of showers that develops offshore and spins down through our viewing area? This is 5pm Monday to 10am Tuesday. Notice it leaves the area quickly too
Our GRAF model, based on the Euro is somewhat intense looking at 2am Tuesday. Almost a secondary cold front moving over us at that time
The text form of that same model looks like this. About .20″ precipitation which then turns into an inch of snow
Total snow accumulations from that model show Nothing to 2″ or even a bit more in the lowest elevations
The WRF-GFS from UW also hints at spots getting more than 1″, but THIS ONE ONLY GOES TO 4 A.M. TUESDAY. Probably more right after that time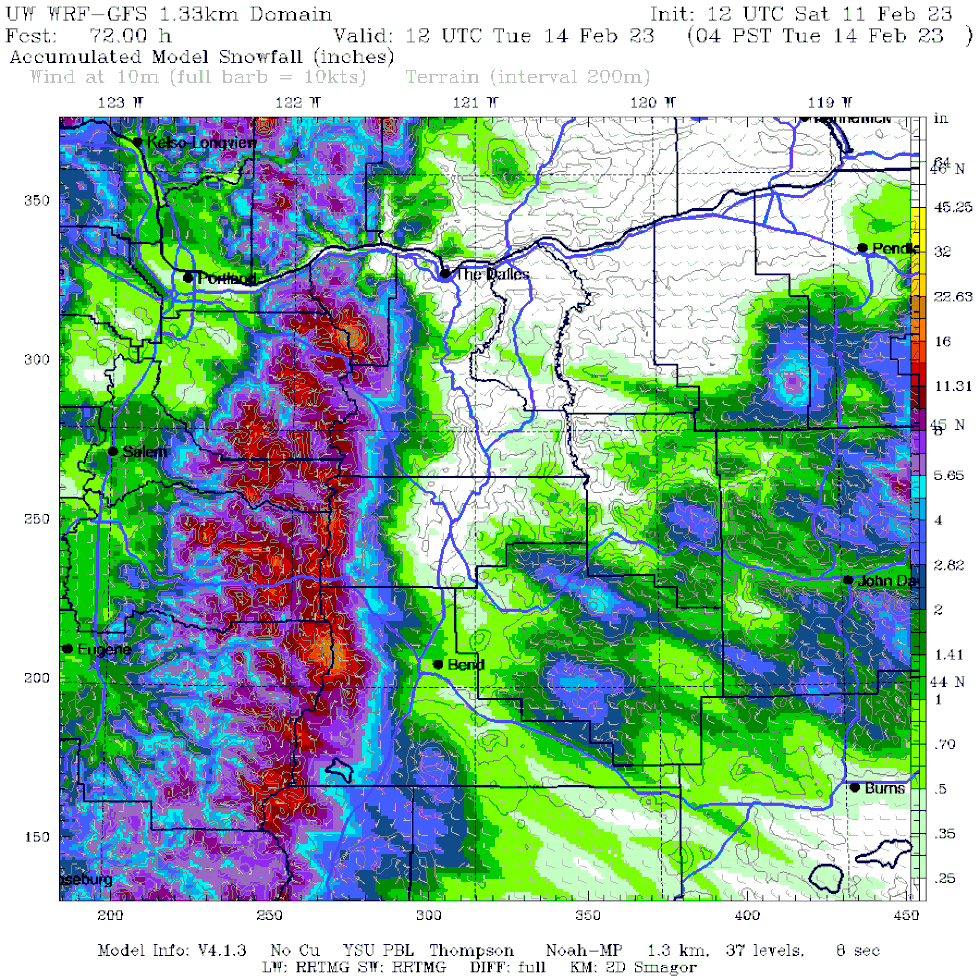 One more...the WRF-GFS cross-section is plenty cold for snow to sea level
When we have these cold onshore flow showers, it's always a tough forecast, and often we get disappointed with little/no snow. But this time all the critical items are lining up in favor of actually getting a bit of snow.
1) 850mb temps -7 to -8
2) Surge of precipitation at coolest time of day
3) Wind turns light right when precip arrives
4) Soundings support snow all the way to sea level
That's it for now, I'll be on TV and probably pushing out another blog post the 2nd half of Sunday. We are on after the Super Bowl again starting around 8:30pm. See you there!
Copyright 2023 KPTV-KPDX. All rights reserved.