Many of us wake up to at least SOME snow on the ground Tuesday; but most of your Valentine's Day should be unaffected by weather
Published: Feb. 13, 2023 at 1:01 PM PST
We've been talking about the possibility of lowland snow for almost a week, so let's get it done and move back into some sunshine!
The lowest elevations of NW Oregon and SW Washington are under a Winter Weather Advisory later tonight and early Tuesday morning. Keep in mind the criteria for a Winter Weather Advisory in the lowlands is now only 1″! The Cascades and Coast Range are under a Winter Storm Warning right now.
Due to the fact that SOME of you will see snow on roads in the lowlands tomorrow morning, we're calling it a First Alert Weather Day.
KEY POINTS
This is NOT a snowstorm, not a freezing rain setup, no day-long frozen roads event, etc...

But we will see a brief period of snow showers late tonight and the first few hours of daylight tomorrow that will stick in many areas. That means snow on some roads for the Tuesday AM commute. The chance of that is higher as you go up in elevation. Typically the temperature drops 3 degrees or so for each 1,000′ you go up in elevation. Higher = colder and that's why it snows in the mountains most of the winter. A 45 degree day in Portland means around 30 degree day at Government Camp.
Some areas will get just a dusting on the grass and nothing on roads. Again, this isn't a widespread "shut down the city" sort of setup.
A burst of snow showers arrives around midnight or soon after. These snow showers continue through about sunrise or shortly after. A Trace to 2″ is our forecast for all areas around and below 1,000′ west of the Cascades. This includes all parts of the Portland/Vancouver/Salem metro areas.
Then skies clear and we'll have a beautiful mainly sunny lunch and afternoon tomorrow. A bright Valentine's Day with afternoon temps in the lower 40s!
* NOTE OUR FORECAST APPLIES TO ALL AREAS WEST OF THE CASCADES, INLUDING THE NORTHERN OREGON COAST *
And yes, there could be some school delays or closures in spots tomorrow
WHAT I'M SEEING
Actually I didn't change anything on the graphic above; the same one I used last night on the air. Models really haven't changed much since Saturday morning when they began showing a bit more precipitation. It's amazing how, with normal weather, a slight change in expected precipitation isn't noticed by anyone. Would you really care or notice if I had forecast .10″ precipitation tonight (scattered showers), and then changed it to "widespread showers" and .30″ instead? No. But when the temperature comes down to right around freezing, we ALL notice the difference. Thus the change from "little or nothing" snow forecast late last week (for tonight) to "Trace to 2″ now.
Models are still forecasting 850mb temps to drop down to -7 or -8 around sunrise Tuesday. Wind goes calm about the same time. A weak little surface low is sliding down the coastline later tonight; hopefully that southerly breeze ahead of it doesn't keep temperatures up 2-3 degrees as the heavier precipitation arrives. That could be a snow killer and keep many of us in the TRACE range.
Models in pretty good agreement that most of us get at least a little snow. Our GRAF is looking a bit sparse and gives me confidence that 2″ is the high end. I live at 1,000′ and I'd be surprised if I get 3″. 1-2″ seems more likely up here. Note the blank areas on this map don't necessarily mean ZERO, but that less than 1/2″ falls.
The ol' reliable and trusty WRF-GFS from the Huskies is still painting a strip somewhere in the lowlands reaching 2″
A closer look at the hi-res 1.33km resolution run of same model strongly implies there will also be areas with little/no snow in the lowest elevations. A meteorologist's forecasting nightmare. There WILL be disappointed kids in many areas tomorrow! Get your school work done. If this is correct, we'll be lucky to get .5″ official snowfall at the observing site in Parkrose.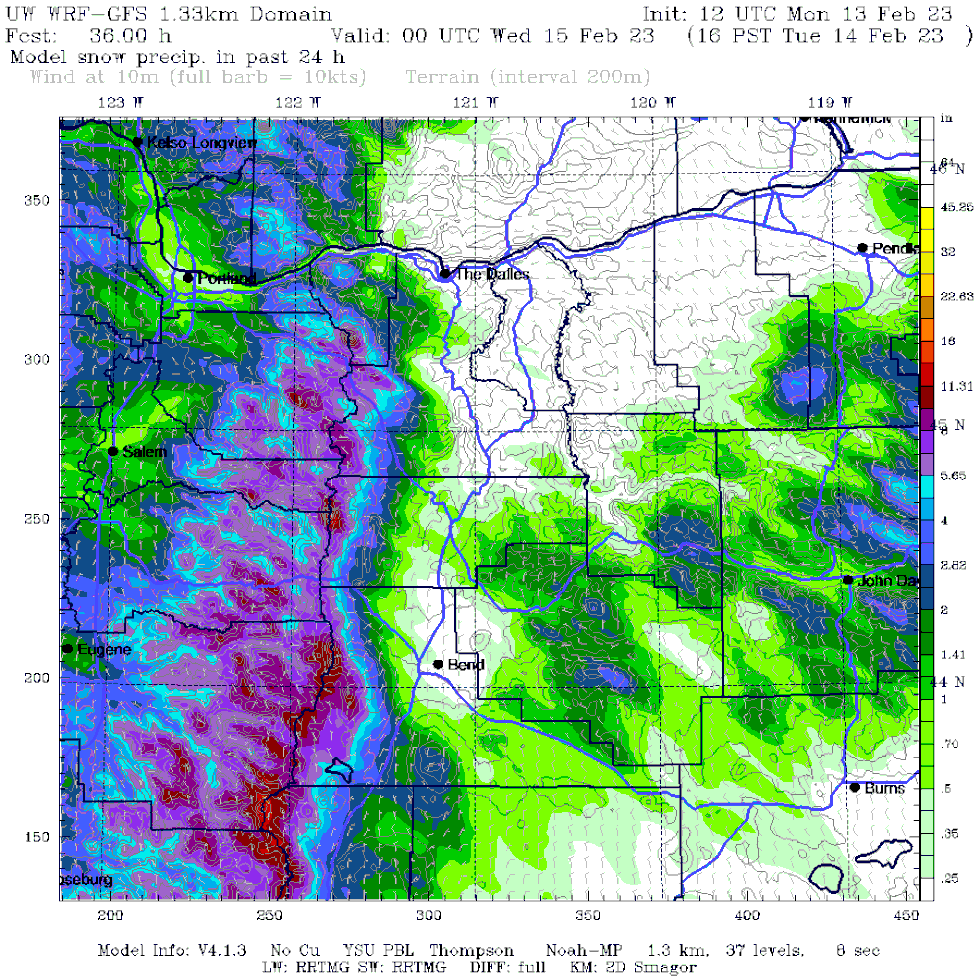 One more, the ECMWF. Lower resolution global model so not as much detail, but some snow here and there.
So that pretty much sums things up, this is a one-shot deal and it's back to mainly dry weather the rest of this week. You can see the upper-level ridge trying to build to our west once again even as the cold trough is passing overhead tomorrow morning.
I'll be on TV this evening. Make sure you are following me on Facebook @marknelsenweather and Twitter @marknelsenKPTV too. No, I don't need the likes and follows, I'm well beyond that. It's just that sometimes I post a quick image or two when there is no time for a lengthy blog post.
Copyright 2023 KPTV-KPDX. All rights reserved.