Some of us will be sledding in the lowlands by Thursday morning. Others? Just a dusting
Published: Feb. 21, 2023 at 7:24 PM PST
The snow forecast for the lowest elevations of NW Oregon and SW Washington is EXTREMELY challenging this evening. Of course it's always at least a little challenging, but the current predicament is something else. That's because scattered showers will be roaming around the region tonight through Thursday morning. But where will the heaviest showers drop snowfall? And will it be in the middle of the day when very little sticks or tomorrow morning/evening when it can easily stick? Each of the weather models models we look at is different.
In normal times (temperatures above freezing), we'd just give you a forecast of "scattered showers tomorrow and tomorrow night". Some of you would get more, some less, and no one would really care about exact rain totals. All would be good. But when we're talking about temperatures near/below freezing, we all demand much more accuracy. Take a look at several different model forecasts (just one example). Almost nothing in central metro area by Thursday morning, but 6″ around Oregon City!
Or...4-8″ in far SW Metro (Newberg/Dayton), but almost nothing Clark County.
How about our midday GRAF model? 6″ right across central/NW metro area, but almost nothing down in the valley
You see our forecasting conundrum?
So this is what we're forecasting... TRACE-3″ in the lowlands (and coastline) west of the Cascades. I'm confident the majority of us will be in this range. But I also feel confident some town/towns in this area could see 5″ or more. Even somewhere along the coastline!
A bit more detail on the timeline; note that we don't actually get below freezing until sometime after sunset Wednesday evening as the cold easterly wind starts to pick up:
You may recall this setup happened back on Christmas Day and the 26th in late 2021. Here's the snow map from that event; some spots almost nothing, yet 5-8″ at a few sea-level locales around Salem/Dallas!
So tomorrow morning it'll be briefly cold enough at sunrise that snow could stick anywhere, but will a shower pass over your neighborhood? Possibly. Most likely we'll just see scattered slushy dustings around with up to an inch in spots. But many of us get nothing for tomorrow morning's commute.
Then during the daytime tomorrow we'll see snow showers mix with sunbreaks and temperatures around 40 by afternoon. But a chilly east wind will start blowing out of the Columbia River Gorge, reminding us that winter is still here.
As more of the cold air arrives tomorrow after sunset, temperatures drop below freezing. At that point snow can once again stick anywhere. There will still be showers left over in spots. That's when I see another Trace-3″ anywhere west of the Cascades, including the coastline. There are hints the best chance for 1″ plus will be south of Portland. If I were a betting man, I'd say Salem to Eugene could be the sweet spot this time around.
By Thursday morning all showers have ended, and whatever falls tomorrow evening/night will be frozen on the ground. Again, some areas have little/no snow on the ground Thursday morning, but other spots in the lowest elevations or coast could see 3″ coating the ground.
A FEW QUESTIONS ANSWERED
Will there be school delays? Yes, I think a few tomorrow, but likely more widespread Thursday morning since leftover snow spots will freeze.
What about evening commute Wednesday? Pay VERY close attention to radar and the forecast midday/afternoon tomorrow. My gut feeling is most areas won't see a freeze-up until after sunset (almost 6pm). I'd plan on being home by 7pm. Of course if heavy snow showers start falling at 4pm somewhere, snow could stick around for the evening commute in that spot.
Is it possible some areas get even more than 3″? Yes! That's quite a surface low spinning down the coastline tomorrow evening through Thursday midday. This IS the setup to spin up some hefty showers in spots. It wouldn't shock me if someone along the coast or central/south Willamette Valley picks up 6-8″ snowfall.
Will the metro area be a snowy, frozen hell-scape all day Thursday? No, especially if we get less than 4″ snowfall. If just a trace to 1″ falls Wednesday night, most roads will be clear by noon or earlier. Shady spots could stay frozen into the afternoon though. I don't see a setup that would bring the city to a halt for the entire day. Even a partly cloudy day with a high of 34-35 would see melting on most roads due to the high February sun angle.
How much east wind and how cold? The cold east wind is back tomorrow afternoon/evening, and peaks on Thursday. Gusts 35-40 mph with temperatures only in the low-mid 30s feels more like 20 degrees. This will be the coldest temperatures we have felt since Christmas Eve. Wind sticks around Friday, then goes calm for all areas Saturday as temperatures recover. Assuming we don't get 2-4″ snow in Portland, we should have no problem getting above freezing Thursday. But if skies remain partly-mostly cloudy and 4″ snow is sitting on the ground, this could be the first time we get a sub-freezing high after February 20th in 60 years!
Speaking of the surface low, the first one slides into NW Oregon and dies tomorrow morning. Notice easterly flow has already begun in the Gorge tomorrow morning.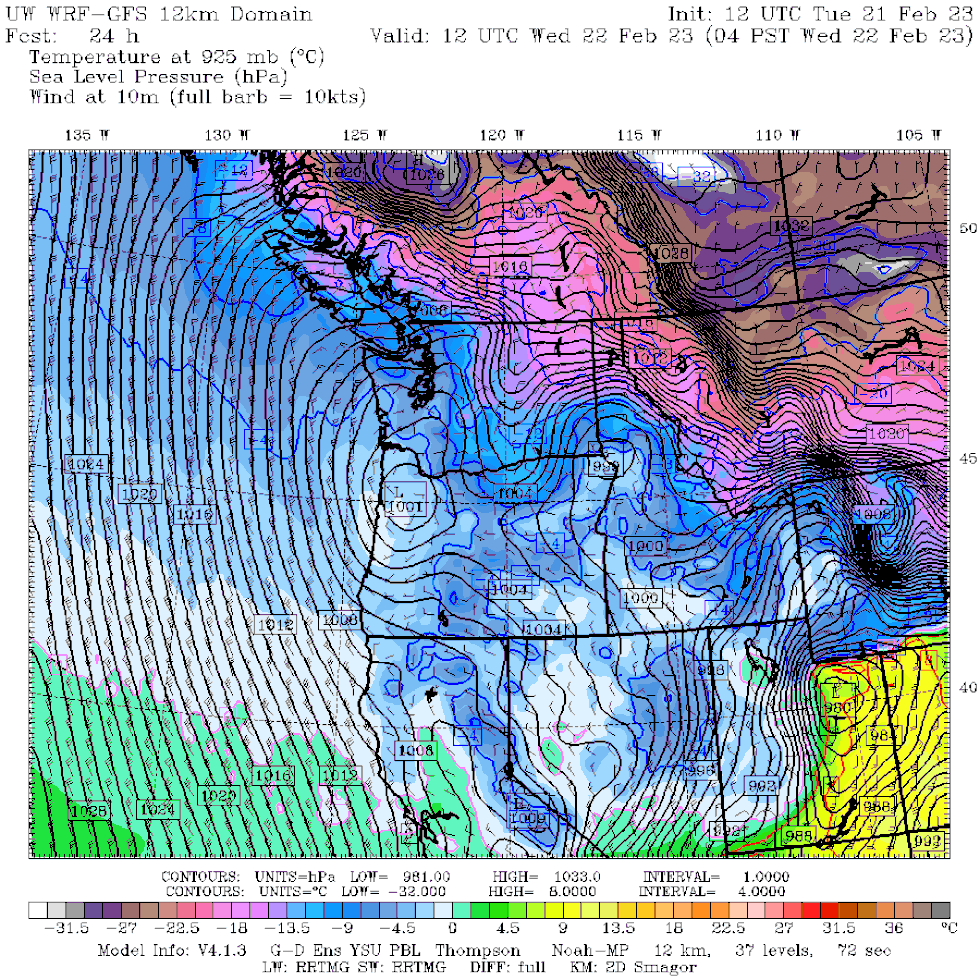 Then a 2nd low develops off the southern Washington coast and slides down to off the central Oregon coast by sunrise Thursday. By this time the east wind is really cranking with 8 millibars through the Gorge. We're frozen...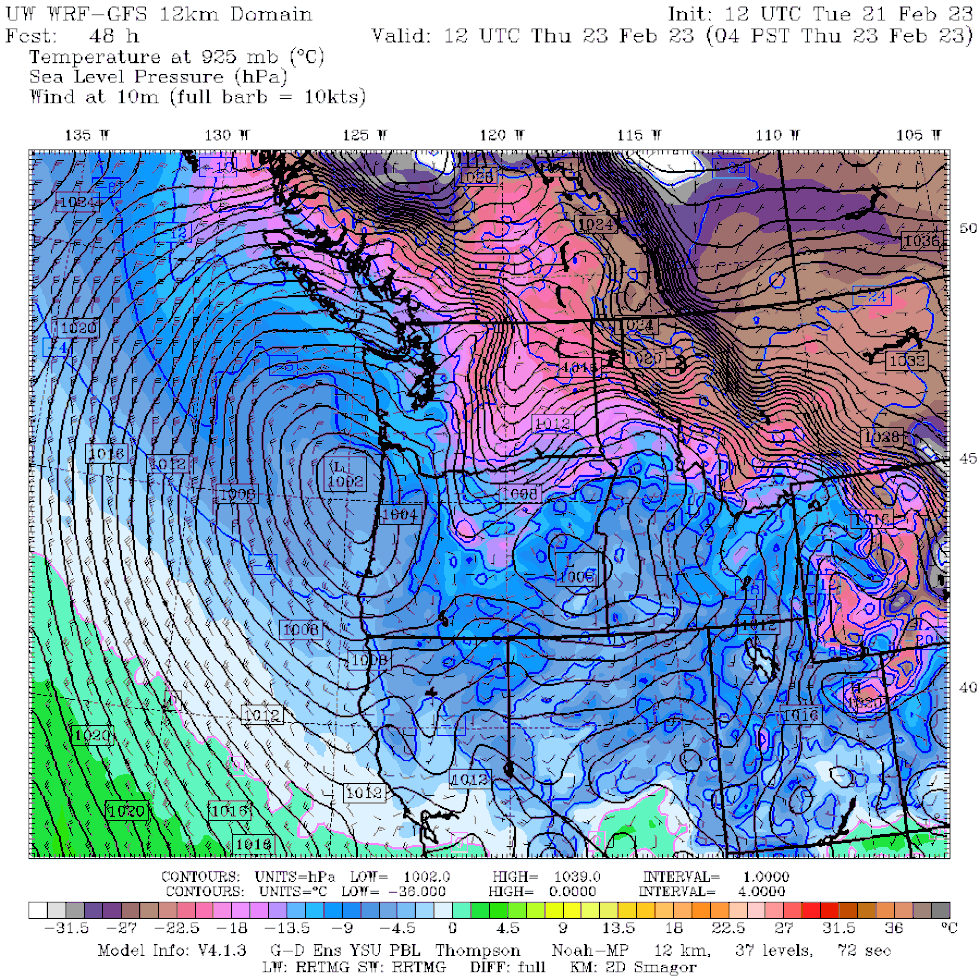 That's it for tonight. To recap, this is what we're expecting the next 3 days...
Copyright 2023 KPTV-KPDX. All rights reserved.