Wednesday morning: Forecast on track so far, but snowy models stressing out forecasters
Published: Feb. 22, 2023 at 9:49 AM PST
I'm "under the weather" this morning, but luckily I've searched all cabinets for strong cold meds and should be knocked out soon. After a few more hours of sleep, I should be ready for a very interesting afternoon/evening. I've got 3.5″ snow here, but that's at 1,000′. Most of the lowlands have little/no snow on the ground with temperatures a few degrees above freezing. That's about what we expected for this morning.
A quick update here is to tell you that we are very nervous about the late afternoon/evening/overnight forecast. That's because several models continue to insist we get a real "snow storm" late this afternoon through tonight as temperatures cool down to freezing.
HIGHLIGHTS
If you don't have to be at work this afternoon/evening and want to play it EXTRA safe? I'd consider just going home in the next few hours. Just this one day. If I'm wrong and roads stay clear through the evening commute, no harm done.

There's a "non-zero" chance that roads in at least parts of the metro area are covered in snow sometime after sunset (after 6pm). Do you really want to be sitting on a freeway at 6-7pm when a heavy snow shower passes over, dumping 1-2″ snow? It's a possibility.

A few of our models are forecasting significant (more than 3″) snowfall this evening and that concerns me considering how easily just a few inches could accumulate. It didn't take much time for 3″ to accumulate at just 1,000′ this morning. Other models are still thinking "Nope! Just flurries".

Temperatures fall to freezing during the evening hours and overnight throughout much of the metro area, even if not much snow falls. That's due to the cold easterly wind arriving from the Gorge. So roads will turn frozen/icy by midnight at the latest.

Whatever falls in the next 24 hours will be on the ground for Thursday morning's commute. A cold east wind will be blowing as well. It'll feel like midwinter tomorrow!

We're still forecasting as little as a TRACE/DUSTING in spots west of the Cascades the next 24 hours (some of us won't be sledding). But other spots could easily pick up 2-4″.
A surface low pressure center is located over the northern Oregon Coast Range right now right where it was forecast to be. In that location it produces a south wind in the Willamette Valley. That is keeping us above freezing right now and most likely that continues through at least early afternoon. The low backs off the coastline the next 12-24 hours. The effect is to pull increasing east and north wind down into the region as the mild southerly wind goes away. This is drier/colder air, but plenty of showers will keep forming over that cooling ground level airmass. This IS the perfect setup for sea level snow in our area. But as mentioned the past few days, where do the heavy showers pop up?
This morning I've very nervous that a band of heavy snow will develop somewhere over NW Oregon and SW Washington. Several morning models are very snowy. Last night the Canadian model and ECMWF were forecasting 6″ plus in parts of the metro area. Our morning GRAF, which has just about all sticking snow falling well after the evening commute is done, says we get a snow storm in parts of the metro area tonight (mainly west). Same for parts of the Willamette Valley and coastline. But other areas get just 1/2″ or less.
Morning WRF-GFS says "no, don't worry about it, that Trace-3″ forecast is still just fine. Lay off the cold meds Nelsen."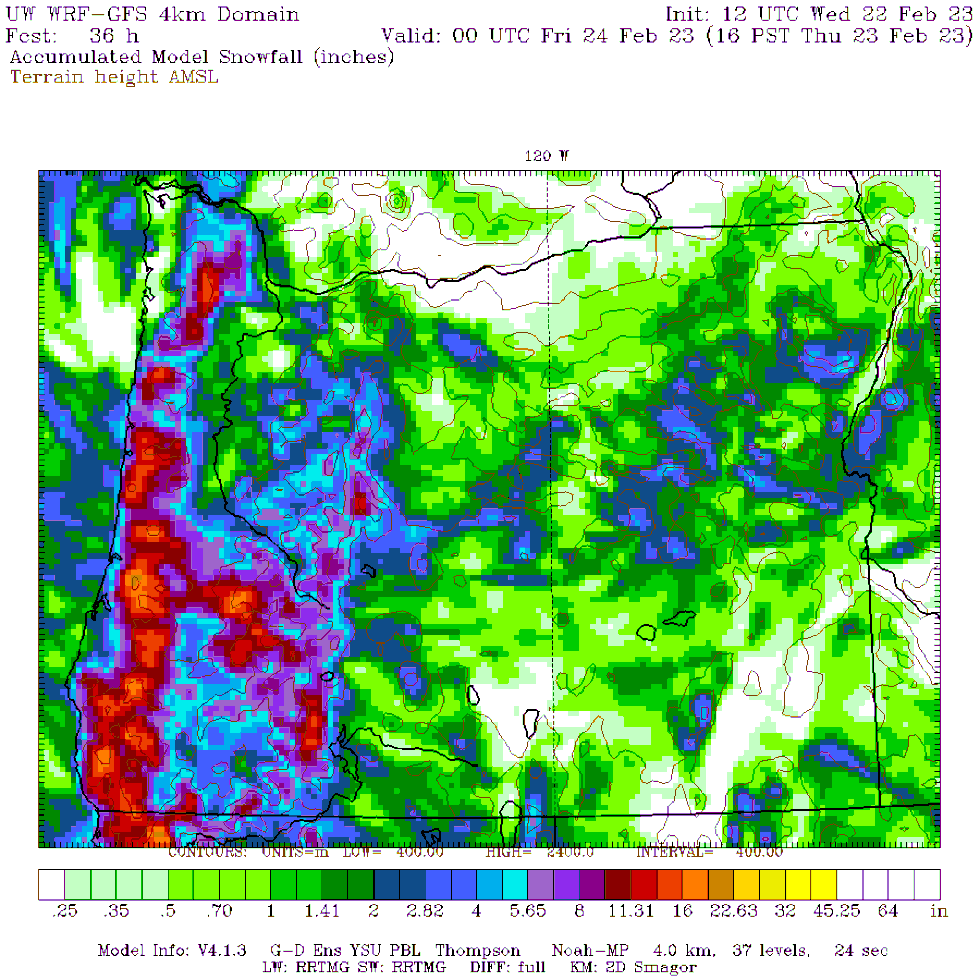 What really gets me wound up this morning?
For the 2nd consecutive run, Euro and Canadian models say that SOMETHING IS UP for tonight. Implying we get some sort of "January 2017 surprise". That was the 1-4″ forecast that turned into 2-15″ in the metro area. No, I don't really believe 28″ snow will fall in Beaverton in the next 24 hours with 1/2″ in Canby.
The ECMWF still is painting a large area of 6-10″ snowfall within the metro area this evening and tonight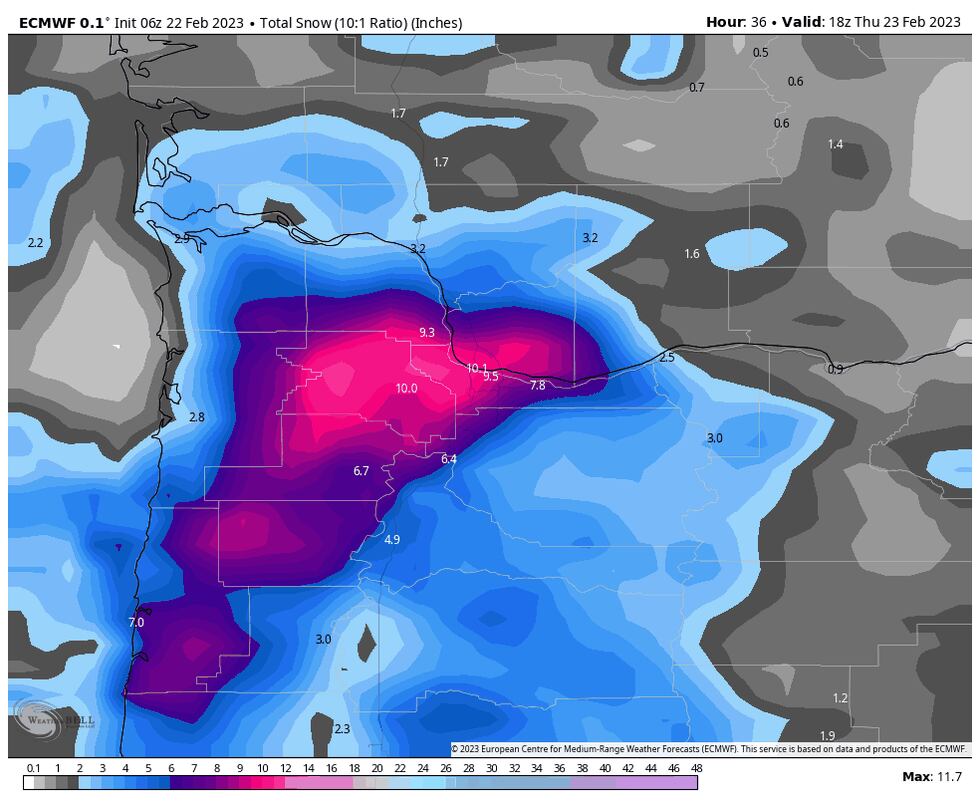 This global model doesn't handle small areas of snow showers, but the point I'm making by showing you these two images is that the possibility is there for a "surprise big snowfall" this evening/tonight. All the ingredients are there.
That's it for now. I'll be on TV this afternoon/evening starting at 4pm.
Copyright 2023 KPTV-KPDX. All rights reserved.