Slow thaw continues Saturday, then wet/sloppy snow for some of us Saturday night
Snow sticks down onto the hills at times over the next week
Published: Feb. 24, 2023 at 3:52 PM PST
It has turned quite a bit warmer this afternoon with some spots in the metro area approaching 40 degrees. Extreme cold doesn't last long in late February. That said, with clear skies, a calm wind, and snow on the ground, we've got another very cold night ahead! Temperatures dip down into the teens in outlying areas again tonight with Portland stopping around 20 degrees. The gusty east wind goes calm tonight. except right near the mouth of the Gorge (Troutdale & Camas). Tonight may be the coldest night of winter for some of us in the Portland/Vancouver metro area. We're forecasting 18 at PDX, which would be slightly colder than December.
A warming airmass tomorrow means far more melting and I think most of us will be able travel around the region fine by 3-5pm. Bright sunshine will be the rule again tomorrow.
Tomorrow night the weather turns interesting again. A weak weather system moves quickly through the region during the overnight hours. Precipitation likely begins as snow, but it'll be fighting a mild southerly breeze this time around. I've seen this setup quite a few times in the past. Sometimes I've said "no snow" but then that's been a bit too pessimistic. In these setups it's rare for significant sticking snowfall from the middle of the metro area southward, at least at the lowest elevations. But central/northern Clark county can really score snowfall because the mild southerly wind doesn't make it up there. Now that "mild southerly wind" isn't all that warm to start with. Check out the ECWMF sounding for 1am Sunday, just barely cold enough for sticking at along the Columbia River.
So most likely you'll see sticking snow late tomorrow night from Clark county north and west into Columbia county and possibly up to Kelso/Longview. But temperatures will actually WARM a few degrees by daybreak, so some of us may sleep through the falling snow. The rest of Sunday will be showery with sunbreaks and temperatures warming further, into the mid 40s...an uneventful weather day. The National Weather Service has issued a WINTER STORM WATCH for the metro area northward just FOR THE POSSIBILITY we get more than what I'm forecasting. That may get cut back to a Winter Weather Advisory by tomorrow. We will see. Don't worry, there's not a single model forecasting significant snow out of this little "event" Saturday night.
Our GRAF model says almost nothing shows up in the metro area; you'll want to be west/north of Banks and north of the bulk of the metro area if you like snow
The text data for PDX airport itself isn't encouraging for snow. That's for tomorrow night OR Monday morning (more on that in a minute)
The higher-resolution WRF-GFS says hills around the metro area could see 1-2″, mainly up around 1,000′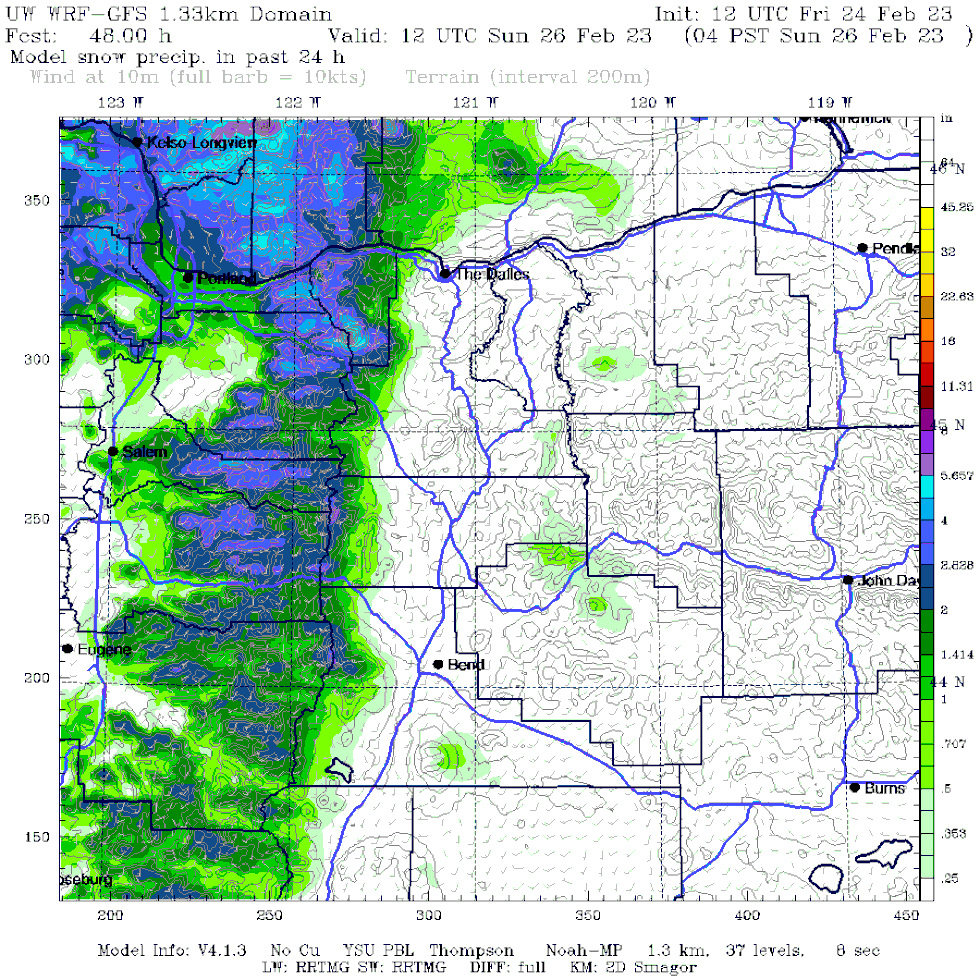 An important point...this is done by sunrise Sunday.
If you have plans Sunday, most parts of the metro area will be snow-free on the roads. Which brings up a question..
WHEN WILL THE SNOW MELT OFF THE ROADS?
Of course we've seen lots of melting today. All wet roads will freeze again tonight. Then more widespread melting (in sunshine) tomorrow. Notice we don't have any freezing weather in the following days? That means melting really accelerates. After tonight we're done with the cold/dry east wind that keeps snow in place. Expect lots of melting each of the next few days. Sunday's 45 degree day with sunbreaks and southerly breeze will be especially helpful. It won't be long...
We'll continue to see snow at times in the foothills of the Coast Range and Cascades at the edges of the metro area through the end to next week. Cool systems bring plenty of snow to the mountains, and in the mornings sticking snow will come a bit lower at times, possibly below 1,000′. This is a classic late winter or early spring weather pattern. There's no sign of cold arctic air returning so it's going to be tough to get anything significant to the valley floor next week. But some dustings are possible at times. Notice high temperatures are in the 40s each day and temperatures will struggle to get to freezing at night.
The Monday First Alert Morning is for precipitation possibly showing up on a morning when there is no mild southerly breeze blowing. Some models are wet, others dry...stay tuned. The rest of Monday will be snow-free even if something DOES fall in the morning. But I'll be watching that day closely.
Copyright 2023 KPTV-KPDX. All rights reserved.