Cold pattern continues into early March; Monday and Tuesday morning commutes will feature spots of snow
Daytime hours should be snow-free on most metro area roads
Published: Feb. 26, 2023 at 12:08 PM PST
Today was day #1 of a sloppy/wet snowfall pattern. We'll see two more mornings in which snow COULD stick all the way to sea level, but with temperatures just barely dropping down to freezing.
The cold east wind is gone today and now we settle into a classic late winter (or early spring) "morning snow, uneventful daytime" snow shower pattern. In this pattern, hilly areas do better with more snowfall. BUT, heavy showers can drop sticking snow right to the valley floor, or coastline.
I'm feeling much better and on the rebound today which is great. By the way, Saturday morning lows...brrr!
Wow, coldest of the season in Portland at 18 degrees, and some of us down around 10 degrees yesterday. The good news is that I don't see any significant freezing in sight. The sticking snow chance is the sloppy/wet variety.
SUMMARY
We are ALL CLEAR FOR TODAY. This morning was a FIRST ALERT MORNING, but as you can see outside, life is back to normal. There are no watches/warnings/advisories for the lowlands as of noon. Weather won't be impacting the rest of your day below 1,000′ in the I-5 corridor.

We'll also call the next 2 mornings FIRST ALERT WEATHER MORNINGS. Each of the next two nights as temperatures cool, bands of showers moving through the region will change to snow and could stick in spots. Exactly where and how much is a tough call. But in general, you can expect NOTHING to 1″ in the lowest elevations, and 1-5″ near/above 1,000′. Elevation is only part of what can help you get snow in your neighborhood.

If you live at/above 1,000′, snow could stick ANYTIME, but it's still more likely in the nighttime and morning hours when temperatures will be closer to freezing.

Morning commutes? Snowy roads are possible in spots the next two mornings. I'm switching cars with my wife the next 3 days because I drive the AWD Subaru (snow car). She heads into work at 7-8am. I'm going into work early afternoons when roads will be clear. She might have to travel through some sloppy snow each morning. Just an example of how you might want to be thinking for these next 2 mornings. For sure if you live up around 1,000′, expect snow on the ground each morning.

If a cluster of heavy showers moves over your neighborhood, you could pick up 1-3″ snow, even at the lowest elevations. This will be the tricky part of the forecast. For example Forest Grove could see 2-3″ snow Monday morning, yet Tigard has green grass only. Just an example.

Each midday/afternoon/evening should be snow-free for just about all of us in the lowest elevations as temperatures climb into the lower 40s each day...unless a freak cluster of showers passes overhead and dumps a load of hail/graupel/snow briefly.

There may be spots in the Coast Range (Vernonia?), or foothills around 1,500′ that pick up a foot of snow the next 3 days.
This graphic summarizes our forecast well
And our 3 day forecast...notice afternoons in the 40s
I was very happy with last night's forecast; glad we didn't go for much (or any) snow. Officially just a TRACE accumulated at the NWS office, and sure enough the southerly wind showed up right on time. I see some light accumulations in the hills, and central/north Clark county, but that was about it. Temperatures have bounced back into the 40s at midday
An upper-level trough is sitting offshore and will be there through Tuesday
A couple of surface lows are spinning offshore and in this setup we lose the southerly breeze tomorrow, and possibly Tuesday. Tomorrow's 850mb temps are typically not quite cold enough for sticking snow to the valley floor (-5C), but some models are producing heavier showers tomorrow morning. Check out precipitation from the WRF-GFS 4pm this evening through 4pm Monday
Quite wet west and north metro, much drier south and east. Then you can see the snowfall forecast from 10pm this evening through 10am Monday, the time in which temperatures are cold enough for sticking
Yet other models don't have such heavy precipitation. Our GRAF looks like this through Monday morning at 10am (snowfall)
My gut feeling is that reality will be this, but with a few more pockets of "surprise" snow thrown in. ECMWF model is a bit weak with the snowfall, but it also doesn't handle small areas of showers well because it's a global model. Same timeframe, 10pm tonight to 10am Monday
Checking in with the Canadians (HDRPS model)...looks a little like the WRF-GFS with wetter (whiter) west/north metro
This cool weather is going to go on for at least the first 7 days of March, maybe longer. Check out another cold trough over us NEXT weekend.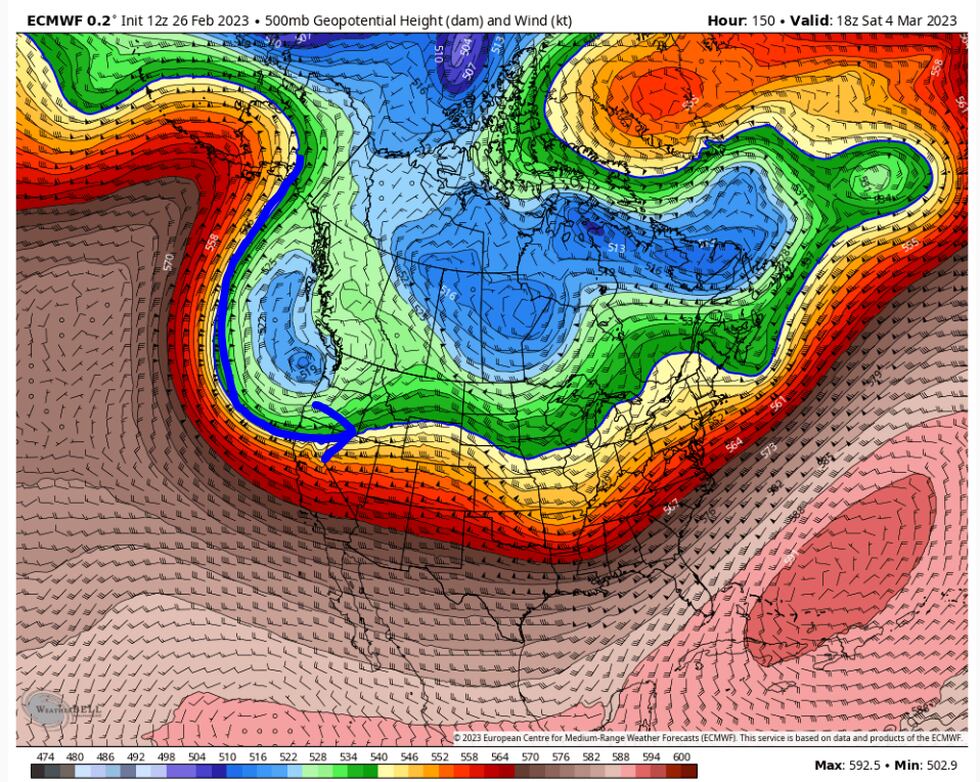 An interesting graphic from the GEM model shows a temperature cross-section the next 10 days. I drew in the 1,600′ elevation. Any of the light colors are below freezing. Notice how many times the freezing level is down around 1,500′!
This means we'll see regular cold snowfall in the Cascades (dry powder!), and snow down into the hills at times. The big dips, where freezing comes down to the surface, are with the dry days. So we'll still see some frosty nights between weather systems. As for snow, the best chance for sticking at the lowest elevations appears to be this week as temperatures warm a little for next week (5th-11th). Each horizontal line here is one model ensemble member and time on the right side is 15 days out.
Copyright 2023 KPTV-KPDX. All rights reserved.