Two mainly snowless mornings; but we've one more snow chance in the lowlands Tuesday
Published: Feb. 27, 2023 at 7:23 PM PST
Forecasts the past two days have been pretty good. We expected little or nothing both Sunday and Monday mornings; that's what happened. Yesterday it was because of the mild southerly wind. Today we just didn't have many showers around during the coldest overnight and morning hours. Most of us were at the low end of "NOTHING TO 1 INCH″ today. Officially Portland has not recorded snow since late Wednesday night. Our monthly total still stands at 10.8″
What about tomorrow? I see LOTS of showers offshore and there are hints we have a slightly better chance of seeing a wet/sloppy sticking snow in more areas. The atmosphere will be cooler tomorrow as well.
HIGHLIGHTS
We're calling tomorrow morning another FIRST ALERT WEATHER MORNING. As temperatures cool, bands of showers moving through the region will change to snow and could stick in spots. Exactly where and how much is still a tough call. But in general, you can expect NOTHING to 1″ in the lowest elevations, and 1-5″ near/above 1,000′.
There will probably be a few towns/spots that pick up 1-3″ in the lowlands. I have a feeling someone between Longview and Eugene in the I-5 corridor will get nailed by at least 2″ of snow in the next 24 hours. That didn't happen this morning, but it's more likely tomorrow morning. We can't tell you where that will happen, which is even more reason to give yourself extra time in the morning. Check out radar and Good Day Oregon on FOX12 or streaming online. Meteorologists Jeff Forgeron and Drew Reeves will be tracking who's getting the snow, and of course we all love Tony! He'll be watching road conditions. I'll be asleep...
Morning commute? Snowy roads are possible in spots tomorrow morning. Of course, just like these last two days, if you live up closer to or higher than 1,000′ you are just about guaranteed a snowy start Tuesday morning.
Tomorrow afternoon/evening should be snow-free for just about all of us in the lowest elevations as temperatures climb into the lower 40s again.

School Delays? Yep, more likely we get a few tomorrow. Maybe some closures in the hills.

For now, I don't see any other obvious lowland snow possibilities within the next week. Sure, snow levels remain near 2,000′ or even a bit under, but no cold arctic air coming in through the Gorge. The first week of March will be chilly!
TECHNICAL STUFF
A cold upper-level trough is swinging onshore tonight.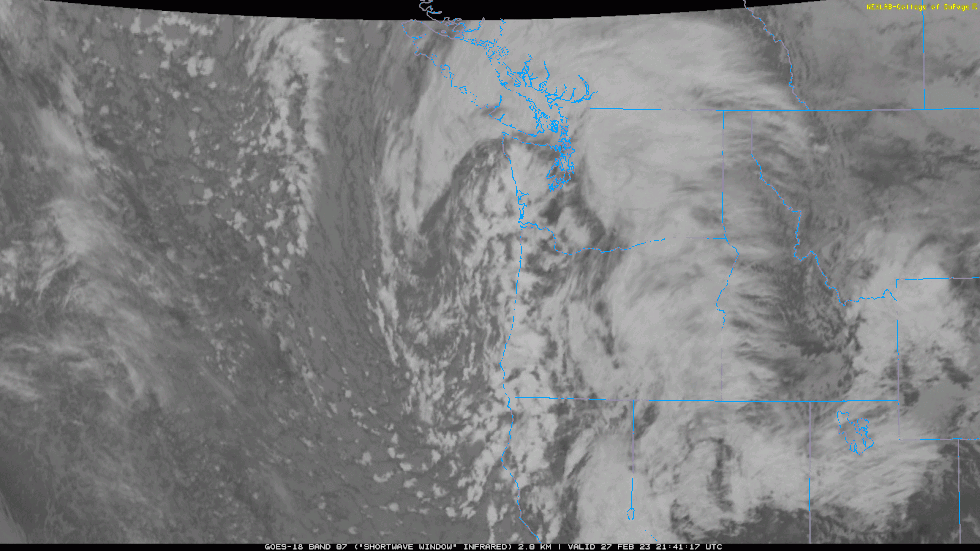 That is one juicy looking trough! There are a couple of surface lows embedded in there too. As one of those swings north tonight, we get a gusty southerly wind through midnight or so. But then a 2nd low may linger/die right over Western Oregon tomorrow morning/midday. That means lots of mixing wind during the night = milder. But then any heavy showers around/after sunrise tomorrow morning could drop sticking snow to sea level with no wind. 850mb temps around -4 right now drop to -7 or -6 as the trough moves overhead tomorrow. That's plenty cold to get snow to ground level with heavy precipitation.
How about some model shopping? Obviously not how we make a forecast (cherry picking a few), but these show the possibilities.
Our GRAF model sees spots of 1-3″ in the valleys as a surface low swings onshore tomorrow morning and dies over Western Oregon. This model has been very good with temperatures this past week. Sure, it missed the heavy snowfall last Wednesday, but has been correct on very light/non-existent snow totals Saturday night through this afternoon. See the heavy precipitation in the morning moving inland.
In the end (by 5pm tomorrow), it produces a cold/showery day (colder than today) with wide variation of snow totals. Nothing to 4″ in lowest elevations
WRF from UW says NOPE in the metro area, but Salem to Eugene a solid 2-4″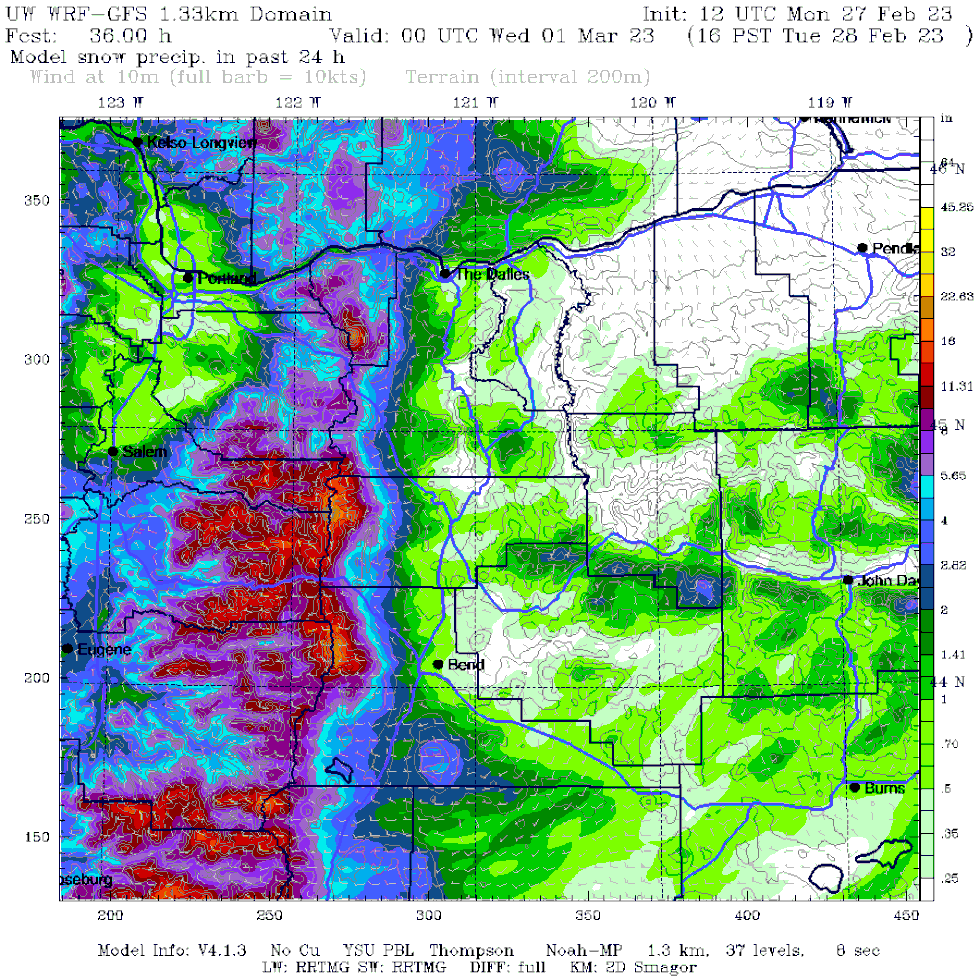 Canadians? Seems to favor central/southern valley as well
Evening NAM-3KM also favors spots south of Portland metro area around Salem
Of course we don't want to forget the Euro. A solid 1-3″ right across the metro area between 7am and 1pm tomorrow. That would be notable...
That's it for now. The main message here is that more of us will see white on the ground before noon tomorrow.
Copyright 2023 KPTV-KPDX. All rights reserved.