Another close call with lowland snow Saturday morning, but most of us see nothing once again
Cool pattern continues through the middle of next week
Published: Mar. 3, 2023 at 3:18 PM PST
Just a quick blog post to let you know we do NOT expect any sort of widespread lowland snow Saturday morning. This is what I'm saying on-air this evening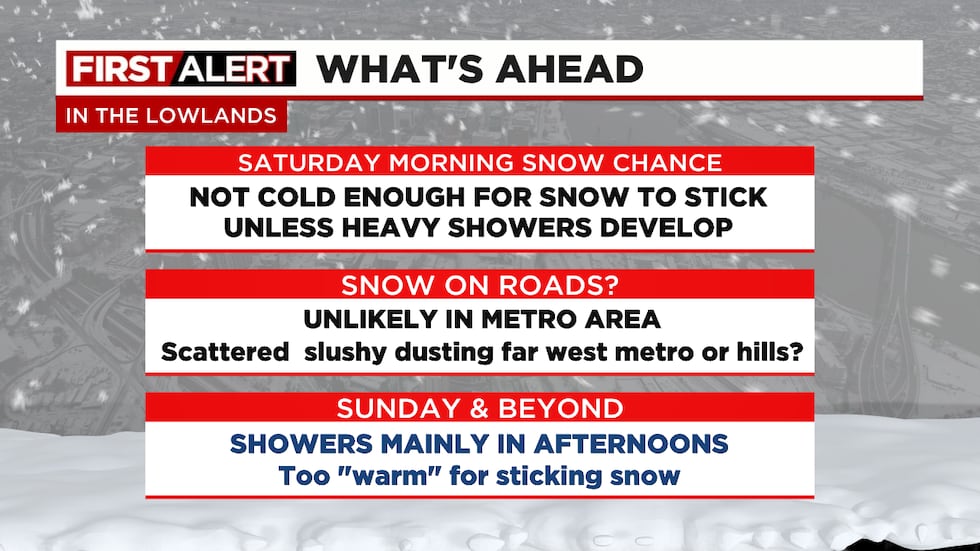 Over the past few days models have been hinting that a weak Pacific weather system moving inland tomorrow morning COULD bring sticking snow to the lowest elevations. The idea is that even though the atmosphere technically isn't cold enough to allow snow to make it to sea level, heavy/sustained precipitation could allow it lower. Well now models are in pretty good agreement that's not going to happen.
Our IBM-GRAF model has done an EXCELLENT job with temperatures the past 7 days, showing the slow warmup correctly after the snow storm. More important, it has been consistent telling us we wouldn't be cold enough for sticking snow several of the past 6 mornings when a Winter Weather Advisory has been up for at least part of the metro area. Now for two days it has been showing this for tomorrow morning...4-8″ over the Coast Range summits, and maybe a dusting or so out around Banks, Forest Grove, or Vernonia. But even that might be a stretch.
Look at the forecast for 7am and 10am tomorrow on the text product. That's for PDX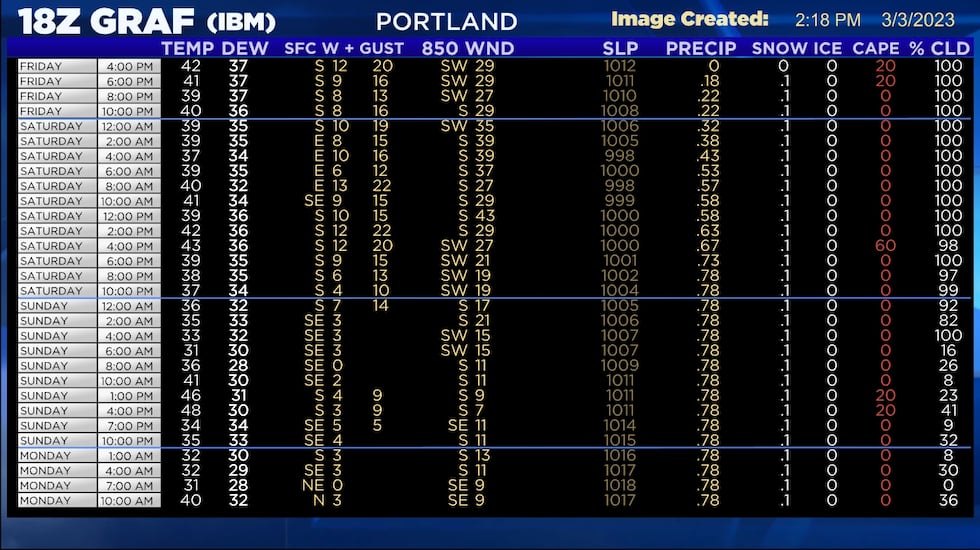 37 degrees with a breezy easterly wind. That's a "mixing wind" in this case which isn't helpful. There's no cold air coming from the east. WRF-GFS is a little too warm as well, notice the zero degree line (in blue) doesn't quite touch the surface tomorrow morning. Same mixing wind from the ESE as well in the city. This isn't a snow setup for us.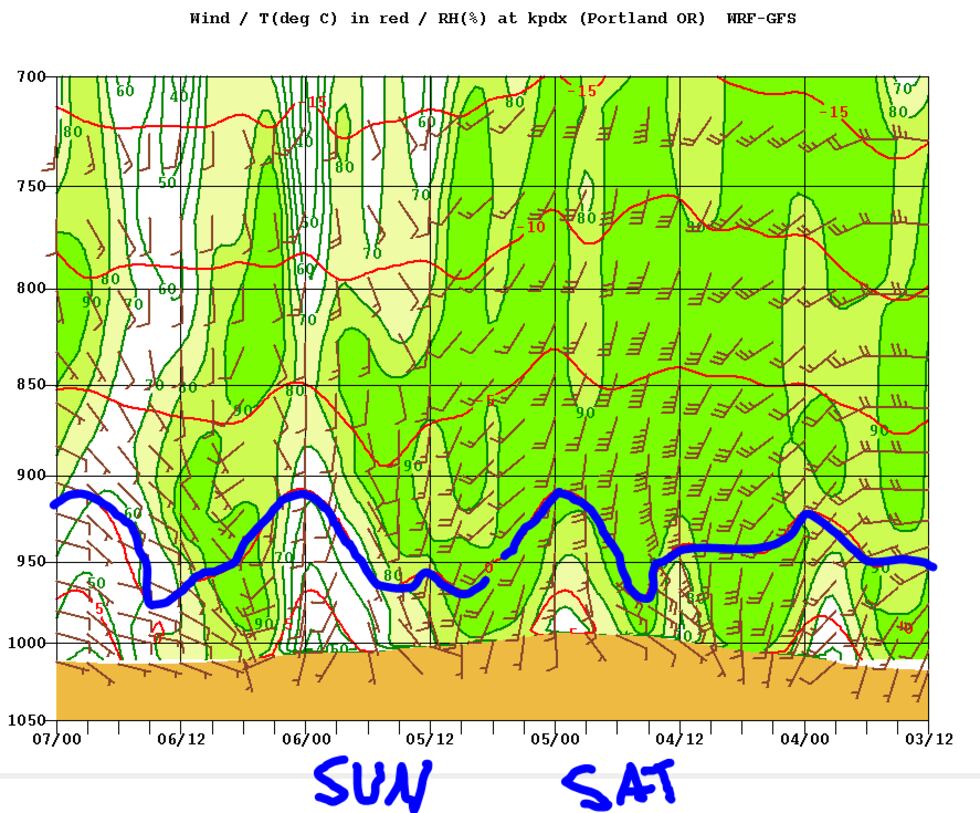 You can see where it sends the sticking snow tomorrow, maybe a dusting or so on Chehalem Mtn, or even the West Hills. Maybe...
Other models have the same idea. The GRAF is the contour pictured, but amounts from those models are in the panel. Basically a big ZERO for the vast majority of us.
So maybe some "conversational snow" in the air tomorrow morning, especially west metro where it'll be a bit wetter.
If you are planning to travel over the Coast Range tomorrow, best time will be in the afternoon as precipitation lightens up and temperatures warm a bit.
The weather pattern next week features an upper-level low offshore with a cold airmass over us, but more of a spring pattern. By that I mean showers will tend to pop up in the afternoons as the atmosphere destabilizes. We won't get snow in that setup, but maybe hail, graupel, or thunder at times.
Sunday will be mainly or all dry for many of us. That's it for now, enjoy your weekend!
Copyright 2023 KPTV-KPDX. All rights reserved.