Thoughts about that snow storm; what went wrong and why it will happen again
Published: Mar. 6, 2023 at 9:15 PM PST
It's been just about two weeks since the big snowstorm. I've wanted to post something of a recap and/or my thoughts on that storm. Mostly so that in the future I'll have something look back on. What this isn't is a meteorological recap of the event. Our local Oregon AMS Chapter is planning a meeting (likely next fall) on the storm with local meteorologists and experts; that should be an interesting recap!
First, keep in mind that at the Parkrose NWS office location the one-day total was 10.8″. Just south of PDX airport, it was 7.5″. The snow recording location changed when the NWS office moved from the airport to Parkrose around 1996. So IF the office had never moved, the snowfall would likely not have been in the "Top 5″. That said, the January 2017 storm dumped 10″+ most likely at the airport, but there was no observation there at the time. The point is...snowfall observations are finicky and rarely uniform across the entire metro area; just like rainfall. Believe it or not, in an area bounded by Oregon City to the south, Forest Grove to the west, Ridgefield to the north, and Troutdale/Camas to the east, we picked up a TRACE to 12″ with this storm. A huge range!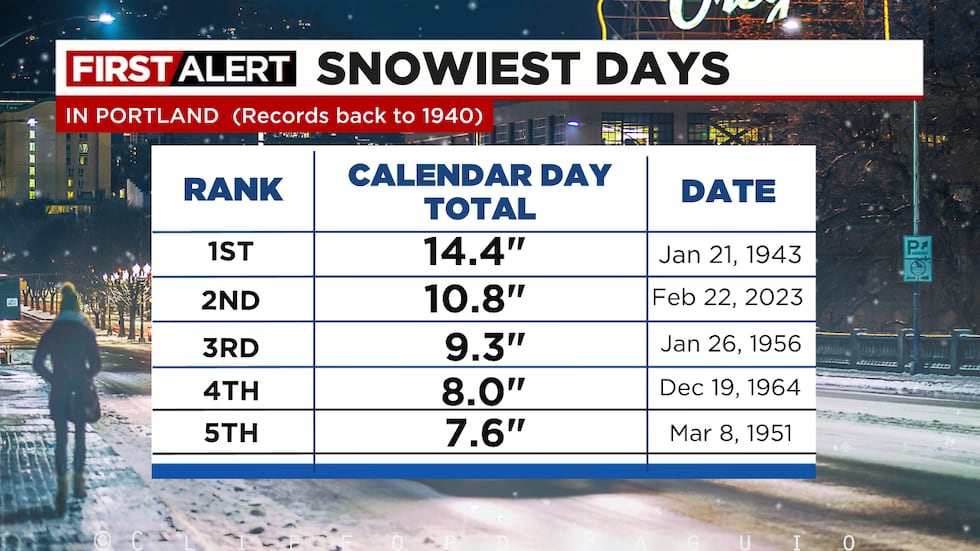 WHAT WENT WRONG?
More precipitation showed up than expected directly over the Portland/Vancouver metro area. PDX picked up about .84″ precipitation on Wednesday the 22nd. Most of that was snow.
Most people were not expecting much (if any) snow. Keep in mind we had a First Alert Weather Day (all red on 7 day forecast) on that Wednesday for almost a week! We knew SOMETHING was up. In the end we forecast TRACE-3″ the night before (for the metro area) both on TV and social media. Jeff Forgeron, our morning meteorologist, upped the forecast to 5″ in parts of the metro area both on TV and social media. That said, I know there were forecasts out there for just a trace or almost nothing. So many of you made choices based on that forecast. For example: you took the 2WD car instead of AWD, or went to work instead of telecommuted. Schools stayed in session...etc... We didn't have any major road issues during the ice storm leading up to Christmas because all of us just stayed off the roads.
Several reliable models were showing that 2-6″ snow storm. But forecasters (including me) played it more conservative with the forecast. Only after seeing the morning models looking "juicier" did I sound the alarm a bit in this blog post at 10am on snow storm day: https://www.kptv.com/2023/02/22/wednesday-morning-forecast-track-so-far-snowy-models-stressing-out-forecasters/. I only wish I would have yelled "GET HOME NOW!" from the rooftops at 10am. Just one example of what we were seeing the morning of the event. Not such a bad forecast???
WHAT YOU DON'T WANT TO HEAR, BUT SHOULD
Even our forecast of up to 3″ would have shut down the city. Keep in mind that Snowmageddons of 2016 (Dec 14, 2016), and December 2009 were both caused by only 1-3″ snow in the metro area. Snow started falling at 2pm, roads froze, and everything stopped. You can find a recap of 2016 here: https://fox12weather.wordpress.com/2016/12/15/the-worst-commute-ever-what-went-wrong-last-night-in-portland/ and 2009 here: https://fox12weather.wordpress.com/2009/12/30/snow-storm-09-wrapup-what-happened/
This happens all the time, but you just don't notice. What does THAT mean? There are many times we expect light showers in a specific location (Portland). Instead the showers are heavier, or linger over us much of the day. 3/4″ rain falls instead of 1/10″. Do you notice? Not really. Sure, a little wetter than we expected. But it's 40, or 50, or 60 degrees. In this case temperatures were very close to freezing. Suddenly it really matters!
It was a major story and dominated media only because happened directly over Oregon's largest metro area. I know this because we have seen at least two big snowfalls just like this in the central/southern Willamette Valley to our south. And I still remember the 12-16″ overnight snowfall from Longview up to Olympia in early February 2017. TV stations send a reporter (or two if it's huge) and it's just a part of the newscast. So if this same event would have occurred 50 miles south or north, we would have been hearing from our viewers that 5″, or 7″, or 11″ has fallen in Corvallis, Albany, & Lebanon and sent a reporter down there. Just an example.
Forecasters don't get credit for all the correct forecasts that don't alter your life. I don't mean to sound like a whiner, but it needs to be mentioned. It's only human nature (I do it too!) to be negative and say "they are always wrong", or "all politicians lie" even when we know it's not true. Remember following the big snow, we had 4-5 mornings with "close call" snow events forecast last week. I think there were Winter Weather Advisories for at least parts of the lowlands for 4 or 5 mornings. Each time we (at KPTV) said "Nothing to one inch at best", or just plain "it's gonna be too warm". All those forecasts were correct, but no one remembers those. Or the perfect heatwave forecasts every summer. We nailed the entire December cold spell and ice storm a couple of months ago...and we did that many days ahead of time. For good reason you remember the 5 hours spent on the freeway on the 22nd instead. I can deal with the criticism over bad forecasts, but please give us credit when it's right. That's most of the time nowadays.
It could be next winter, or maybe not for another 10 years, but I'm confident a "surprise" like this WILL happen again. Numerical weather modeling is excellent compared to what was available 15-30 years ago, but getting exact amounts of precipitation correct right in the 31-34 degree temperature range will always be a challenge. It's much easier when temperatures are in the 20s of course because we know whatever falls (whether a little or lot) will be frozen. Luckily most of the time our temperature is well above that temperature.
To wrap things up...in my 32 year career forecasting here (starting October 1991), this has happened 3 times (2009, 2016, 2023) on weekdays. February 1995 was very similar to this last event, but on a weekend. Most people were home on that Sunday morning. Maybe I can make it to retirement before it happens again? We will see!
Copyright 2023 KPTV-KPDX. All rights reserved.