Wheeler shoots back at Texas gov. on Twitter over Portland Walmart departures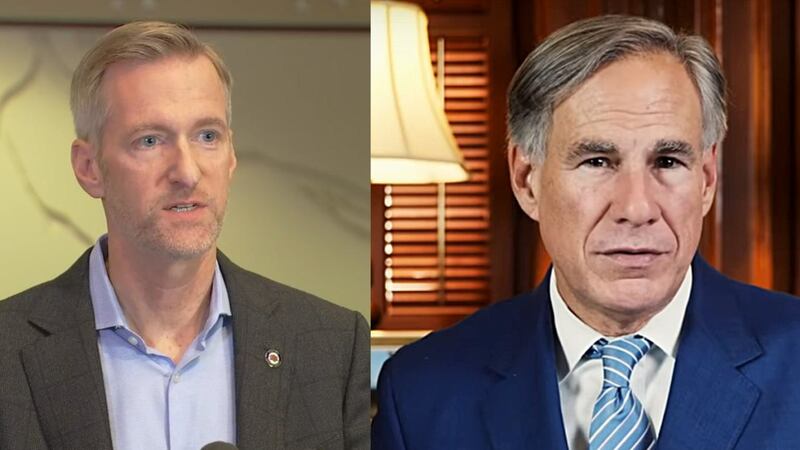 Published: Mar. 7, 2023 at 11:28 AM PST
PORTLAND Ore. (KPTV) - Mayor Ted Wheeler has fired back at Texas Gov. Greg Abbott on Twitter over Abbott's comments about Walmart pulling out of the city.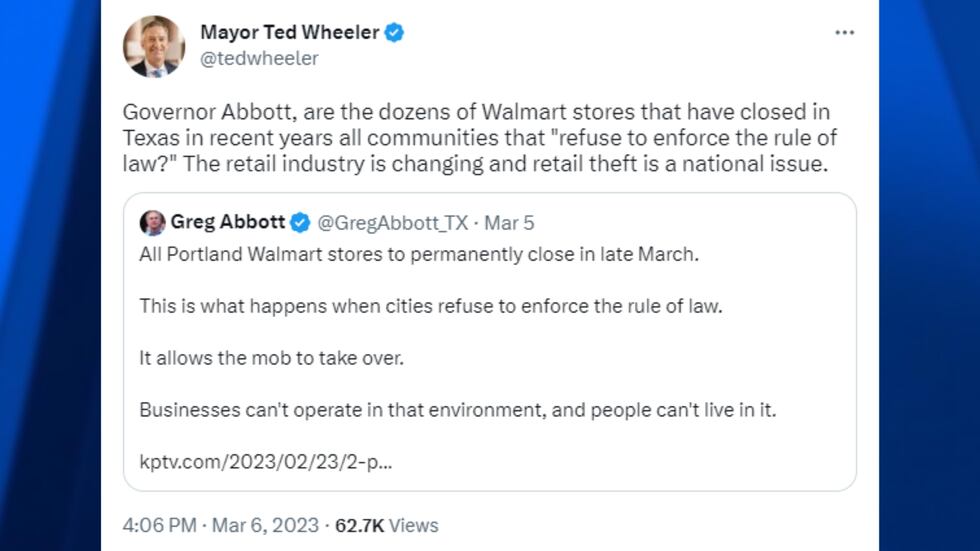 On Sunday, Abbott shared FOX 12′s story on Twitter about Walmart pulling it's last two remaining stores out of Portland and commented, "This is what happens when cities refuse to enforce the rule of law. It allows the mob to take over. Businesses can't operate in that environment, and people can't live in it."
On Monday, Mayor Wheeler quoted Abbott's tweet and responded.
"Governor Abbott, are the dozens of Walmart stores that have closed in Texas in recent years all communities that 'refuse to enforce the rule of law?' The retail industry is changing and retail theft is a national issue," wrote Wheeler.
Walmart's decision to completely pull their business out of Portland has gained national attention over the past week and highlighted what many say is a rampant property crime problem in the city.
Multiple local business owners in northeast Portland all point to crime as the main reason many are leaving Southeast 82nd Avenue. Though a spokesperson for Walmart said last week there is no single reason for the decision, local business owners said they're dealing with similar problems as Walmart: vandalism and shoplifting.
The Eastport Plaza sits in the Lents Neighborhood in Southeast Portland. According to Portland Police crime data, between Jan. 2022 and 2023, there were 147 burglaries, 634 personal property thefts, 424 car thefts, 53 robberies, and three stolen property offenses. This is just what's reported to the police.
An example can be seen on the north side of the Eastport Plaza. The U.S. Post Office has every window covered with plywood to hide broken windows. Those who use the post office told FOX 12 it's been like that for weeks. A spokesperson for the United States Postal Service said on Monday they were sending out a contractor to get measurements to replace the windows.
Portland police conducted an anti-shoplifting operation in the northeast area over the weekend. Last month, police conducted a similar crack-down in northeast Portland which resulted in a reported 40 arrests and 60 warrants served with 32 felony charges and 28 misdemeanor charges handed out.
Wheeler's office also said they are working to hire 300 additional police officers to serve the city.
Copyright 2023 KPTV-KPDX. All rights reserved.