Oregon's spring break starts a bit wintry, but warmer temperatures follow next week
Published: Mar. 23, 2023 at 7:41 PM PDT
A cold front with steady rain moved through the region this morning. Now we're into the cool/showery airmass behind and we'll be in that for the next two days. Get ready for two days of that on/off again showery weather. That's when it's partly cloudy then 5 minutes later it pours with some hail or a rumble of thunder. Then 10 minutes after that it's back to sunshine. You know the routine if you've lived here long enough!
Oregon's spring break begins tomorrow afternoon when the kids get out of school; it looks like perfectly normal weather (for late March) is on the way.
HIGHLIGHTS
Chilly showers & sunbreaks are on tap now through midday Sunday. They will mix with hail or a rumble of thunder at times

During the warmest parts of each day (11am-8pm), sticking snow remains above 1,500′, outside of the metro area

During the coldest parts of the day (2am-10am), showers will mix with, or even change over to, snow at the lowest elevations

Expect a trace to 2″ each morning near/above 1,000′. A trace to 3″ is likely each day near/above 1,500′
Under very heavy showers (anytime of the day) hail or snow could briefly stick all the way to sea level

Showers die down Sunday, then it's on to more dry than wet weather next week. Temperatures warm back to normal as well.
If this sounds familiar? It is. In the 10 days after the big snowstorm on February 22nd we saw this setup repeat numerous days. I call it "conversational snow". That's snowfall in the air that may (or may not) briefly accumulate. But it doesn't really affect our lives. Roads remain clear and commutes continue as normal. The weather setup these next few days consists of wave after wave of chilly showers moving onshore. The airmass has travelled over the Pacific Ocean for hundreds of miles so the lowest couple thousand feet has been modified traveling over the 40-50 degree water. As I've mentioned previously this winter, these cold "onshore flow" snow showers almost never give us anything other than a dusting here and there in the lowlands. We need a stalled cold front, or deep low pressure system to bring widespread significant snow in mid-late March. That happened in late March 2012, and last April. Notice that only once have we seen measurable snow beyond this Saturday's date; last April.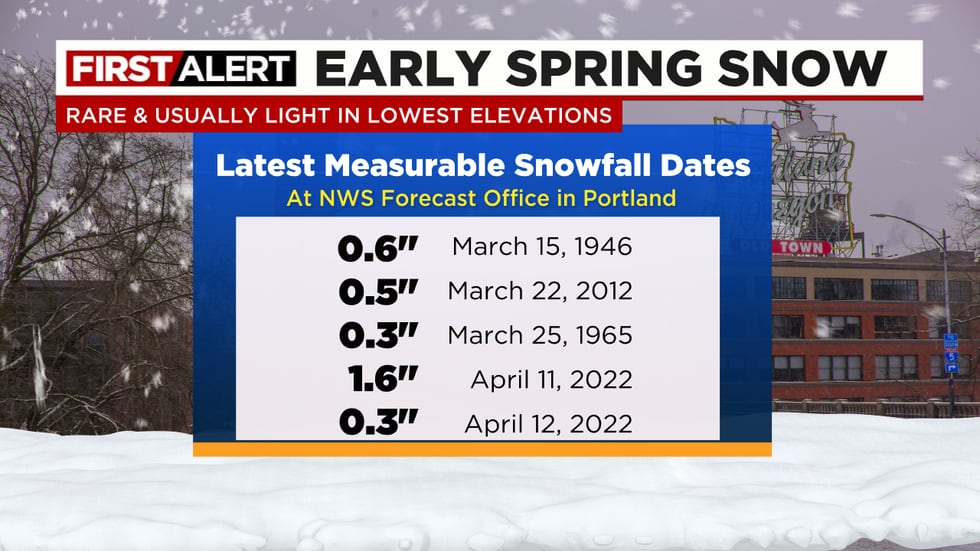 The GRAF model says just a few spots in the highest hills may see accumulating snow early tomorrow morning
WRF-GFS model from UW is similar for Friday night through Saturday morning; little or nothing in lowest elevations
I think a sudden dumping of hail from a midday/afternoon thunderstorm is more likely than snow, but of course that would only be in an isolated spot or two. Check out the WRF-GFS cross section; I've drawn in the freezing line in blue. Notice it dips very low the next 3 mornings. 850 millibar temperatures are forecast to bottom out around -7 to -8 (Celsius) the next three mornings; cold enough for snow to stick to sea level if showers are heavy enough. The blue dots are pass elevation (about 4,500′). Well below freezing up there = great quality dry snow ahead for skiers!
Due to all the snow expected, a Winter Storm Warning is up for the Cascades and Coast Range tomorrow and we're calling it a First Alert Weather Day
Since it's late March, roads through the Coast Range will only be snowy during the late night and very early morning hours. That strong spring sunshine should keep highways clear 10am-8pm each day; unless a hailstorm passes by
The string of days in the 60s the last week or so has been nice, and we'll see temperatures rebound again next week. Showers may return next Thursday, but at least we'll have some reasonable weather for a few days. Looks like spring break...Oregon style!
Copyright 2023 KPTV-KPDX. All rights reserved.